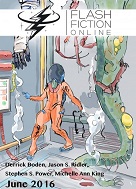 Flash Fiction Online #33, June 2016
"A Winner's Smile" by Derrick Boden
"A Partial Inventory of Things I Have Loved" by Michelle Ann King
Reviewed by Jason McGregor
This month's Flash Fiction Online brings us four stories. One is a non-SF/F story neither read nor reviewed. One is a reprint ("Charlatans and Magi" by Jason S. Ridler) which I read but which will not be reviewed (other than to say it's a good fantasy) and two original genre pieces which will be reviewed: one success and one near-success. A very decent issue this month. (One quibble, though: Flash Fiction Online bills both reviewed stories as SF but the second is fantasy, albeit "contemporary fantasy.")
"A Winner's Smile" by Derrick Boden
"You" are a traumatized poor child, living in a charity house and being inspected by some of the deformed super-rich who have physically ruined and sterilized themselves trying to become immortal. You are hoping fervently to overcome your own infirmities to be adopted by one of these potential Parents. And you have further wishes as well.
One thing about flash fiction that continually surprises me is how many changes it can take the reader through in so few words. A settling-in moment of confusion replaced by dawning understanding of the situation, nicely done. A growing intensity of feeling as the author piles on the pain and vileness, leading to a sympathetic resonance and a conviction that the story will end with a wallop and be superb. Very nicely done. A growing uneasiness that the story's effect is being blunted by overwriting and piling it on too much. And a kind of simple, "tipped ball" mis-hit at the end rather than the necessary wallop. I wanted to like this story but ultimately didn't. Still, some people may find it worthwhile as they contemplate it and the state of the world and wonder whether it's really set in the future at all.
"A Partial Inventory of Things I Have Loved" by Michelle Ann King
A woman whose son has died goes to the local empath redirector to deal with her grief. It works. For certain very limited values of "works." So much that she becomes a regular customer.
There is one objection to this story that might be sufficient of itself to make some people want to avoid this: it's been very frequently done. However, this is such a concise and elegantly constructed tale which packs surprising punches in places that I think it was worth doing again and carries a fairly fresh extra twist as well. The list of some of the things the protagonist has loved very naturally structures and sections the story which doesn't feel rushed like bad flash and, oddly, doesn't feel cleverly compressed like most good flash, but actually feels like a "normal" story. The story also possesses a sort of psychological verisimilitude that I like a great deal, from her appreciation of the empath's brisk professionalism (not that there's anything self-serving in her appreciation) to her defense against her husband's accusation of cowardice, which was quite affecting (and, again, not that it's self-justifying or fails to recognize there'd be more than one way to deal with it). In sum, quite a good story.
---
Jason McGregor's space on the internet (with more reviews) can be found here.