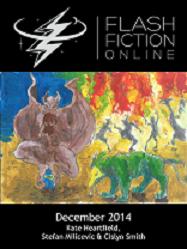 Flash Fiction Online #15, December 2014
"Hairbrush, Socks, Pencils, Orange" by Kate Heartfield
"When Death's Daughter Deals the Cards" by Stefan Milicevic
"The Secret Life of Sea Monsters" by Cislyn Smith
Reviewed by Charles Payseur
Approaching the Christmas season a little differently than most, "Hairbrush, Socks, Pencils, Orange" by Kate Heartfield introduces two sisters and a mother who have a peculiar tradition for the holiday. After finding tracks in the snow outside, and noticing that their father is missing, the sisters want to protest the yearly ritual of eating the gift of oranges and casting the pips out into the snow. But the mother is adamant, and as the story progresses it becomes clear that things are not quite so serene as they seem, and that the tracks in the snow are definitely not from reindeer. The story is tense, chilling because it comes from a child's point of view, one just realizing something new and dangerous about her world. Things were still a little vague for my tastes, but the prose itself is solid and the imagery of the Christmas morning both picturesque and warped enough to be disturbing.
Death is a family business in Stefan Milicevic's "When Death's Daughter Deals the Cards," and for Hugh Matthews that's a very good thing. Because instead of simply reaping his soul, Death's daughter just wants to play games, in this case a hand of poker for his life. Only she seems less inclined to kill Hugh, who has quite a bit to live for. At least, less inclined to kill him yet. There is a sort of randomness to her, and to the situation, that conceals the fact that it is anything but, that Death's daughter seems to make more judgements than her dad about who to take and when to take. Charming in its style and execution, the story wants for a little more depth, but unfolds entertainingly enough. And while it might not distance itself too much from other interpretations of Death and his family, it manages to be fun and heartfelt and worth a read.
Cislyn Smith reveals the passions and goals and deep purposes of those sea creatures who decide to go about on land in "The Secret Life of Sea Monsters." Less a linear story and more a map, like those the sea monsters are obsessed with, the tale lays out how they live, their weaknesses and fascinations with the walking world. Imaginative and moving, the sea monsters are portrayed as both spies of sorts as well as immigrants, leaving behind an old world in favor of a new one. There is a delightful darkness to the text, though, to the way that these monsters navigate the world, to their loves and their temperaments, all building towards the reunion at the end, the purpose of their leaving the waves behind. Subtle and devious, the story does an excellent job of building the world in which these monsters live, of mapping its contours and soft edges and providing a moving picture.
---
Charles Payseur lives with his partner and their growing herd of pets in the icy reaches of Wisconsin, where companionship, books, and craft beer get him through the long winters. His fiction has appeared or is forthcoming at Perihelion Science Fiction, Heroic Fantasy Quarterly, and Fantasy Scroll Magazine, among others. You can follow him on Twitter @ClowderofTwo