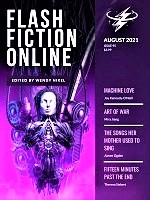 Flash Fiction Online #95, August 2021
"Machine Love" by Joy Kennedy-O'Neill
"Art of War" by Mira Jiang (not genre, not reviewed)
"The Songs Her Mother Used to Sing" by Aimee Ogden
"Fifteen Minutes Past the End" by T. R. Siebert (reprint, not reviewed)
Reviewed by Tara Grímravn
Flash Fiction Online returns this month with four tales that explore the theme of brokenness. Though only three of these gems fall within Tangent Online's chosen genres (and one of those is a reprint) all four of them will touch readers on some level. So, let's dive in to this exploration of broken lives and loves.
"Machine Love" by Joy Kennedy-O'Neill
As his wife, Jill, prepares to leave for work, a man listens to the coffeemaker burble away as he watches the news. The news anchor reports that a flood in Houston has sent evacuees fleeing their homes, trying to save their appliances from the rising water. According to the latest reports, the lockdown is causing people to fall in love with their appliances.
On first glance, this story may have one wondering whether it fits into the science fiction genre. As it progresses, though, the telltale signs of the genre start to creep into the story, becoming fully apparent at the end. Given the events of the past year, during which much of the world spent far too much time with our gadgets and, in some cases, with loved ones, most readers will be able to commiserate with this strange, sad, and entertaining little tale.
"The Songs Her Mother Used to Sing" by Aimee Ogden
Marigold and her husband, Brian, are having their first child. Brian provided the deer entrails, but Marigold scraped together the rest of the parts from kitchen scraps. Although the child is alive, Marigold can't help but feel she's not doing something right. She's sure her mother must have told her something about child-rearing all those years ago, but if so, those memories are gone. Brian isn't any help either, leaving Marigold to figure things out on her own.
I've read a few pieces by Aimee Ogden before, and I've always enjoyed them. This story is no different. It's strange, to be sure, and leaves one pitying poor Marigold, who wants nothing more than to provide for her baby the best she can. The imagery used throughout the tale is visceral in every sense of the word. The opening lines, for example, describe birthing a child not in the usual way but through mashing together an assortment of entrails and other things. This, coupled with the sad state that is Marigold's life, comes together in a tragic commentary on how, sometimes, we are what our parents made us.