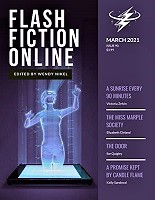 Flash Fiction Online #90, March 2021
"A Sunrise Every 90 Minutes" by Victoria Zelvin
"The Door" by Ike Quigley
Reviewed by Michelle Ristuccia
In "A Sunrise Every 90 Minutes" by Victoria Zelvin, astronaut Josephine watches helplessly from orbit as strange clouds cover the Earth. Obvious parallels to Covid-19 shut downs may elicit strong reactions from readers, as individual readers either dislike stories about our current circumstances, or seek them out. The contemporary SF premise gives a clear visual, but little plot explanation. While the lack of information may be part of the point, as a hard SF reader, I would have enjoyed a little more data. Josephine's story is a positive narrative about taking control of your internal response even when circumstances suddenly spin out of your control.
Ike Quigley delivers a creepy and concise horror flash with "The Door." Formatted as a series of voicemail messages, Quigley gives just enough weird detail to allow readers' imaginations to fill in the rest. Entertaining epistolary SFF.
---
Michelle Ristuccia enjoys slowing down time in the middle of the night to write, read, and review speculative fiction, because sleeping offspring are the best inspiration. Find her on Facebook and twitter @mrsmica.