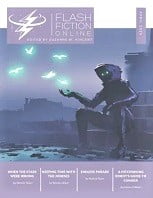 Flash Fiction Online #79, April 2020
"A Hitchhiking Robot's Guide to Canada" by Marie Vibbert
"Endless Parade" by Hailey Piper
"When the Stars Were Wrong" by Wendy Nikel (reprint, not reviewed)
"Keeping Time with the Joneses" by Wendy Nikel
Reviewed by Victoria Silverwolf
All of the original tales in the latest issue of this magazine of very short stories deal with travel, in very different ways.
"A Hitchhiking Robot's Guide to Canada" by Marie Vibbert takes place in a future when all motor vehicles are completely automated, making normal methods of hitching a ride impossible. Hitchhikers get around this problem by using spider-like robots, which attach themselves to the back of trucks, to carry them as passengers. The narrator is one such robot, who faces a crisis when another robot attaches itself to the same truck. The premise is an interesting one, but implausible.
"Endless Parade" by Hailey Piper follows the protagonist from early childhood to his teenage years. He lives in a bizarre world where people must constantly march during daylight hours or burn to death for their slothfulness. He eventually learns the reason for this exhausting way of life. This eerie tale begins in an intriguingly surreal way, but turns out to be a typical horror story.
"Keeping Time with the Joneses" by Wendy Nikel is a comic tale of a time machine that causes chaos in a suburban neighborhood. The local homeowners association tries to use the device to prevent its own existence, leading to paradoxes. Readers familiar with time travel fiction will find little new here, and the joke ending is weak.
---
Victoria Silverwolf would like to emphasize the fact that the same author has both a reprint and a new story in this issue; the above table of contents is not in error.