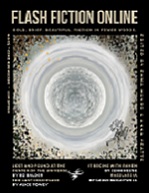 Flash Fiction Online, #111 December 2022
"Lost and Found at the Center of the Universe" by Bo Balder
"It Begins with RAVEN" by Jenn Reese
"The Last Cold Place" by Alice Towey (non-genre, not reviewed)
"Rasslab́sia" by Gerri Brightwell (reprint, not reviewed)
Reviewed by Kevin P Hallett
The December issue of Flash Fiction Online has two first publication genre stories, one first publication literary story, and one literary reprint.
"Lost and Found at the Center of the Universe" by Bo Balder
Balder's flash SF is set in the Department of Lost and Found, where they deal with big or small things that have either gone missing, or been found lying about the universe. Ilmar must find a way to help a large belligerent alien who is close to setting them all on fire. Can he find an unclaimed item to appease this unruly being?
This story lacked strong appeal.
"It Begins with RAVEN" by Jenn Reese
Tess is an engineer on a colonizing speaceship in this SF flash story. She is infatuated with Raven, who doesn't seem to care much in return. Near disaster strikes the ship, forcing the crew to crash land the spaceship. Raven is seriously injured. In nursing her back to health, Tess discovers her true path to happiness.
The author engaged the reader throughout this character-centric tale.
---
You can follow Kevin P Hallett's writing on www.kevinphallett.com. There are links there to join his mailing list for a weekly newsletter on the recent release of his second novel, The Fifth Kingdom.