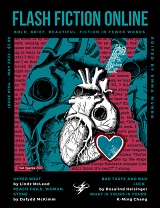 Flash Fiction Online #104, May 2022
"Upper Bout" by Lindz McLeod (nongenre, not reviewed)
"Peach Child, Woman, Stone" by Dafydd McKimm
"Bad Taste and Bad Luck" by Rosalind Helsinger
"What Is Yours Is Yours" by K-Ming Chang (nongenre, reprint, not reviewed)
Reviewed by Victoria Silverwolf
The two original fantasy stories in this issue offer a sharp contrast between an event that is obviously miraculous and one that may not be magical at all, but only a coincidence.
"Peach Child, Woman, Stone" by Dafydd McKimm takes place among a group of women at a time when men have gone off to war. They witness an infant emerge from a peach, then quickly age into an elderly woman, then die and turn into a seed. The image is a striking and original one, but I have no idea what the author intends to mean by it.
In "Bad Taste and Bad Luck" by Rosalind Helsinger, all the women in the narrator's family lose their spouses to death after less than ten years of marriage. Driving through Florida to obtain very risky but potentially lifesaving surgery for her lover, she comes up with a desperate way to try to end what seems to be a family curse. It is possible to read this story as mainstream fiction, as even the lover dismisses the so-called curse as nonsense. It is best appreciated as a slice-of-life story with strong emotional appeal.
---
Victoria Silverwolf likes peaches.