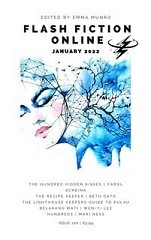 Flash Fiction Online #100, January 2022
"The Hundred Hidden Kisses" by Carol Scheina
"The Recipe Keeper" by Beth Cato
"The Lighthouse Keepers Guide to Pulau Belakang Mati" by Wen-Yi Lee
"Hundreds" by Mari Ness (reprint, not reviewed)
Reviewed by Kevin P Hallett
The January issue of Flash Fiction Online has three first publication stories themed around the number one hundred and split between SF and fantasy.
"The Hundred Hidden Kisses" by Carol Scheina
Scheina's flash fantasy tells the story of two people hiding their kisses so they can return in twenty years to retrieve them. But life intervenes, and Petra must collect the kisses alone, hoping to make it up to their goal of one hundred hidden kisses.
This story accomplished a rare feat for flash fiction when it captured a character and story well enough to emote empathy. This was an excellent read.
"The Recipe Keeper" by Beth Cato
This flash SF introduces Brooka, who promises to memorize one hundred recipes. Normally this would not be dangerous, but after the Juran conquest of Earth, it is illegal to perpetuate the Earth language even in your thoughts. However, she needs just one more recipe to reach a hundred, and neither hunger nor the presence of a Juran auditor will deter her from her goal.
This was a well-crafted snippet of a story.
"The Lighthouse Keepers Guide to Pulau Belakang Mati" by Wen-Yi Lee
The lighthouse keeper guides the visitors to her island in this flash fantasy. She tells the visitors they must pay a tithe to the victims of the war that shaped this island. And so, the visitors place one hundred coins into the sand of the beach where the martyrs died.
This was an interesting story though its speculative elements were light.
---
You can follow Kevin P Hallett's writing on www.kevinphallett.com