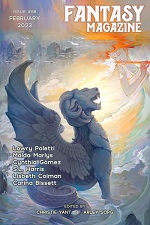 Fantasy #88, February 2023
"Secondhand" by S.L. Harris
"The Dead Return in Strange Shapes" by Lowry Poletti
"The Books Would Like a Word" by Cynthia Gómez
"A Princess With a Nose Three Ells Long" by Malda Marlys
Reviewed by Victoria Silverwolf
Inanimate objects come to life in this issue's works of flash fiction, while its longer stories feature ghosts, gods, and a variation on an old fairy tale.
A rocking horse and a wooden comb in a thrift store are half-alive in "Secondhand" by S.L. Harris. A girl running away from a strange older woman offers the opportunity for full life. Reminiscent of the classic children's book The Velveteen Rabbit by Margery Williams, this brief tale offers a striking scene of transformation at its climax. The exact nature of the woman pursuing the girl remains unexplained, which may frustrate some readers.
The main character in "The Dead Return in Strange Shapes" by Lowry Poletti can perceive the ghosts of the departed, which take the form of various animals. In a fantasy world where gods are sometimes born to human parents, he meets a mysterious man accompanied by a ghost in the shape of a tiger. Following the pair to an altar in the woods, he learns of their true nature.
I have offered only the barest outline of a dense, complex story with a unique mythos. The author creates an effectively haunting mood throughout. The relationships among human, gods, and ghosts are subtle. This quietly brooding tale may prove obscure to many, even after careful reading.
The narrator of "The Books Would Like a Word" by Cynthia Gómez is confronted by multiple volumes that demand she put aside other activities and spend more time reading. This miniature bit of whimsy is sure to appeal to bibliophiles. For full enjoyment, it is necessary to be familiar with the various works mentioned, particularly one that serves as the punchline.
"A Princess With a Nose Three Ells Long" by Malda Marlys is a new version of the Norwegian fairy tale "East of the Sun and West of the Moon." In brief, the original deals with a prince who is cursed to be a bear during the daytime, and how a peasant girl saves him from being married to a troll. In this retelling, the main character is the troll. She has no interest in marrying the rather foolish prince, and eagerly helps the peasant girl. The happy ending is unexpected.
The story is told with a great deal of sly wit and a touch of gentle feminism. Those who have not read the old fairy tale (probably best known to readers of English as it appears in Andrew Lang's The Blue Fairy Book) are unlikely to fully appreciate it.
---
Victoria Silverwolf has to admit that she has not read many of the books mentioned in one of these stories.