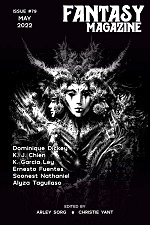 Fantasy #79, May 2022
"Mirage-Stories" by Ernesto Fuentes
"One Day the Cave Will Be Empty" by K.J. Chien
"Drowned Best Friend" by Dominique Dickey
"How To Make Love to a Ciguapa" by K. Garcia Ley
Reviewed by C.D. Lewis
Ernesto Fuentes' epistolary-style "Mirage-Stories" is a flash-fiction vignette with a fantasy vibe but no overt fantasy element. A former pirate writes from retirement to a still-pirating colleague about his experience slowing down to smell the roses sand and enjoy life in a desert so different from their once-shared ocean-centered world that its inhabitants regard seafaring tales as the delusions of one who believes in a mirage. Although the piece hints at an old disagreement about the possibility a pirate could ever retire, no on-screen adversity appears and no conflict-resolving climax. It's a mood piece about successful retirement in an alien land, directed to someone who hasn't yet made the leap and may not believe it's possible. The slowness and relaxed vibe suit the subject and its comfortable upbeat suggestion: maybe you too can find peace.
K.J. Chien's third-person "One Day the Cave Will Be Empty" quickly moves from calm domestic activity to a creepy horror tragedy. The main character, mother to a sea creature, sees her daughter as a hideous monster and feels convinced she too must have been a hideous monster. Her fears, self-criticism and dark convictions cost her everything: her relationship with her husband, her daily peace of mind, her hopes for the future. The climax reveals the protagonist's tragic error. Dark.
Dominique Dickey's short story "Drowned Best Friend" is a first-person coming of age story whose transgender middle-school protagonist suffers harassment as an outsider at school while trying to get a car-driving parent to enable a lake trip to visit a drowned friend whose ghost is visible only where it's wet. Middle-school cruelties and parent-child tensions feel realistic. "Drowned Best Friend" builds a heartstring-plucking tension between trying to move ahead with life and trying to keep faith with a dead friend. "Drowned Best Friend" gives emotionally honest treatment to a new adolescent's experience with loss, survivor's guilt, social exclusion, bullying, transformation, self-acceptance, identity/self-respect, and friendship. The upbeat conclusion shows the protagonist accepted in as-is condition.
K. Garcia Ley's flash-fiction "How To Make Love to a Ciguapa" entertainingly presents as a fourteen-point list of numbered steps but slides into a dark cautionary tale. Some may be unfamiliar with the cuguapa, a dangerous raven-haired beauty dwelling in the mountainous part of the Dominican Republic, but no particular background is required to enjoy this piece, which reveals both the beauty and then, at appropriate points, the danger. Works written in second person are uncommon but at short length can work; since the work transitions from instructions to a warning, the second-person voice fits particularly well.
---
C.D. Lewis lives and writes in Faerie.