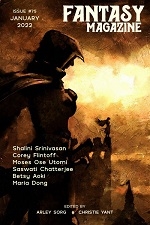 Fantasy #75, January 2022
"The Mirror Test" by Moses Ose Utomi
"Markets: A Beginner's Guide" by Shalini Srinivasan
"Pest Control" by Saswati Chatterjee
"Free Coffin" by Corey Flintoff
Reviewed by Victoria Silverwolf
This issue offers two short stories and two works of flash fiction.
"The Mirror Test" by Moses Ose Utomi is narrated by a dog that has just recently become aware of itself as an individual. This very brief tale relates the dog's feelings as its mistress comes home and gives it a bath. The author writes convincingly from the point of view of an animal, but there is very little else to the story.
"Markets: A Beginner's Guide" by Shalini Srinivasan alternates quotations from the imaginary article mentioned in the title with narrative sections. In the latter, a young girl, whose mother is dying, confronts a mysterious man who leads her into the mystical world of spirits within a banyan tree.
Without the explanatory quotations, the child's experiences would be much more mysterious and surreal. This makes the story less confusing than it might be if these were not provided, even if the technique seems somewhat artificial. The author creates an effectively dream-like mood.
(We are told, at the very end of the work, that the article is from the year 2103. This futuristic touch, in a tale of pure fantasy that takes place in the modern world, seems out of place.)
Barely over six hundred words long, "Pest Control" by Saswati Chatterjee consists of one side of a conversation. A monster hunter offers to remove a mermaid from a fisherman's fields. From the words spoken by the hunter, we learn how the mermaid came to be, and the fisherman's fate. (It should be noted here that the mermaid is a hideous, deadly creature, and not the alluring being familiar to most readers.) The story is cleverly done, if minor.
In "Free Coffin" by Corey Flintoff, an elderly man claims the item mentioned in the title, left out on the sidewalk with other discarded items. A young boy wants it for himself, but agrees to help the man transport it to his home.
The story's fantasy content will not surprise many readers. Told in a more traditional narrative style than the other pieces in this issue, this plot-driven tale reminds one of an episode of Night Gallery or Tales From the Crypt.
---
Victoria Silverwolf has to get her car fixed in a couple of days.