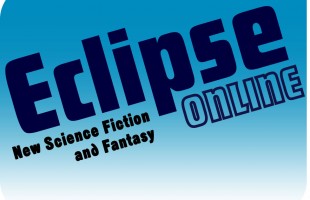 Eclipse Online #3, December 2012
"Invisible Men" by Christopher Barzak (posted Dec. 10th)
"The Memcordist" by Lavie Tidhar (to be posted last week of Dec.)
Reviewed by Chuck Rothman
Eclipse Online is a new short fiction venture by Nightshade Books, with two new stories published per month. The December issue shows two first-class stories.
"Invisible Men" is a story with a concept that makes you think, "Someone should have used this before." With the current passion for recycling horror and SF tropes from the past from new perspectives, one would think that a different look at H.G. Wells' The Invisible Man would have surfaced by authors other than Alan Moore. The story takes the point of view of Millie, a servant in the inn where Wells' Invsible Man takes up residence. She develops an interest in "goggle-eyes," as she calls him and is the first to discover his secret, which causes her to reflect on her own life and possibilities. Millie is a wonderful character and Christopher Barzak does a great job of making her come to life, as well as touching on some serious points about life in general.
Lavie Tidhar's "The Memcordist" also treads on some familiar ground, as it follows fitfully the Narrative of Pym, whose life is documented from the day he was born until the day he dies. Like The Truman Show, Pym has millions of followers desperate to watch even the most mundane aspects of his life as he travels through the solar system, though, unlike Truman, Pym knows people are watching and knows he has to please his audience. It's a search for lost love and missed opportunities, and I especially like the way Tidhar created odd but believable planets and societies in the story.
Both stories take concepts that should be familiar to most SF readers and uses them as a springboard to something new and very different. I look forward to seeing how the magazine evolves in the future.
Chuck Rothman's stories will soon be appearing in Unidentified Funny Objects, Futuredaze, and Mortis Operandi