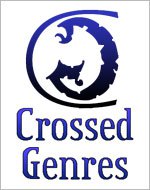 Crossed Genres #29, May 2015
"The Corpsman's Tale" by Iain Ishbel
"Let Down, Set Free" by Nino Cipri
"The Tragically Dead Girlfriend" by Kate Marshall
Reviewed by Herbert M. Shaw
May 2015's issue of Crossed Genres featured three stories on the theme of Failure. In each narrative, the main character finds him or herself questioning the effectiveness of their life practices as they are faced with the random oddities that can only be effected through the power of SFF.
Starting it off is "The Corpsman's Tale," the story of James Bowcott, a British time-traveling policeman who needs to stop two American jumpers from altering the past to stop World War II from happening. Despite the noble cause, their efforts would cause an anomaly that has the potential to destroy the space-time continuum. Iain Ishbel said in an interview with CG, "The villain in my story … speaks up for honour and for heroes, [but] he is not to be trusted." History buffs will enjoy the references to The Great War locales, but some may be taken aback by the characters Ishbel introduces and then never revisits, although clearly the focus of the story is Bowcott.
Next on the list of fails is "Let Down, Set Free." Join the narrator on a letter to her very-soon-to-be-ex-husband that is written during a flight on a floating tree. Nino Cipri invites you to an area inhabited by two Kentucky-raised residents who have been warned by the government of these plants that just seem to be many leaves on the wind. The trees terrorize local horses while the intrigue and wonder of their existence has been lost over the course of time. The main character, Melissa, takes her airborne trip on treeback as the getaway from a failed marriage. Her journey with the reader is one that could be set to an amazing score were it to ever be visualized, even though the conclusion may be unclear.
Finally, Kate Marshall gives a very dark take on the feeling of letting go when a man goes on a Charles Bronson mission in "The Very Dead Girlfriend." Told in the present tense, the unnamed boyfriend sets out to avenge a hit on his equally anonymous female partner. Once the vengeance is carried out, though, he comes home to find that his girlfriend is alive and well. Or is she really? Marshall's mental roller coaster ride is a tale of twisted thoughts, scattered dreams, and a botched plan to find closure.
---
Herbert Shaw currently works as a commercial litigation paralegal in New York City, but his background in competitive tabletop and video gaming coupled with his seven-year trudge in toy retail sales make him a prime candidate for sci-fi fantasy fiction. He currently contributes a weekly radio show "The Shaw Report" to WCDB Albany 90.9 FM, and writes film reviews for www.filmtakeout.com. Herbert lives in Yonkers, New York, and can be found practicing yoga when not training his pokemon.