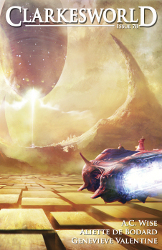 Clarkesworld #78, March 2013
Reviewed by Chuck Rothman
The March Clarkesworld has three stories with a common theme: failed revolutions and the reactions afterwards.
"The Weight of a Blessing" by Aliette De Bodard focuses on Minh Ha, who is visiting her daughter Sarah in prison after an attack on a monument she sees as a sign of oppression. Sarah is about to be sent in exile to another planet and Minh Ha wants to be there to comfort her before it happens. But Sarah is unrepentant. Minh Ha is a good character, but I couldn't really warm to the story since too much of it seemed murky to me.
You can't help but like a title like "The Last Survivor of the Great Sexbot Revolution" by A.C. Wise, where the second-person narrator breaks into the apartment of Alma May Anderson, an ancient woman who is one of the few who still remember the revolution, when the sexbots rose up. Or did they? There are several different stories about what might have happened. You learn a bit about Alma May's take on the situation and how she was involved. I didn't feel the story really lived up to the promise of its title.
Genevieve Valentine contributes "86, 87, 88, 89," which involves cleaning up in the aftermath in an anti-terrorist attack. The narrator is an archivist, which involves finding and cataloging every sheet of paper, looking for connections to the terrorists, or archiving them if there is none. The story has a nice sense of authoritarian menace but doesn't bring anything new to the table, and refuses to do anything other than be evocative instead of sitting down and showing what's going on.
I can't really say I cared much about the issue. Only one character — Minh Ha — has any sort of memorable personality, and the literary conceits only obscure the stories. I just couldn't find much in this issue to be excited over.
---
Chuck Rothman currently has short stories in the anthologies Futuredaze, Unidentified Funny Objects, and Mortis Operandi.