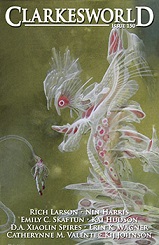 Clarkesworld #150, March 2019
"But, Still, I Smile" by D.A. Xiaolin Spires
"When Home, No Need to Cry" by Erin K. Wagner
"Death of an Air Salesman" by Rich Larson
"Dreams Strung like Pearls Between War and Peace" by Nin Harris
"Treasure Diving" by Kai Hudson
"The Thing With the Helmets" by Emily C. Skaftun
"26 Monkeys, Also the Abyss" by Kij Johnson (reprint, not reviewed)
"The Future is Blue" by Catherynne M. Valente (reprint, not reviewed)
Reviewed by Mike Wyant Jr.
"But, Still, I Smile" by D.A. Xiaolin Spires is heartfelt and utterly disturbing. We join the narrator, Dengwen, as she recovers from the latest in a long string of miscarriages. The feeling of loss from that event permeates the story in a palpable way. Spires weaves that pain into the fabric of a tale about finding alien life on another planet and the world sending a team to find them in the hopes of saving the Earth.
The initial plot itself is worn—the Earth is dying, only the aliens can save us—but it's not the point. The purpose of the story seems to be to highlight the loss of Dengwen and, ultimately, the lengths she'll go to create life.
"But, Still, I Smile" is a fine example of emotional resonance. Be prepared to tear up at least once.
Erin K. Wagner's "When Home, No Need to Cry" is a hauntingly beautiful tale of an astronaut grounded because she has cancer and her fight to get back to the stars. It's vulnerable and raw and I get the feeling I'll wake up in a month thinking about this story. There's not much more to say; Wagner knocked it out of the park with this story.
"Death of an Air Salesman" by Rich Larson isn't the story you think it'll be. The story starts with us following Maya, an Apex Air salesman in the undefined future, as she goes about her day slinging designer air to the choking populace of her city. When she sees Dima walking to the same sleepstack, the story takes a romantic turn that, honestly, makes the story more fulfilling, if less action-oriented.
Larson manages to flesh out a dirty, hopeless world while showing that not all is lost because, with love, even the most horrible of places can be beautiful.
"Dreams Strung like Pearls Between War and Peace" by Nin Harris is an interesting concept for a story. Our narrator, Raneka, is an heiress trying to lie low as a war simmers in the background. After finding out she's been getting mind wiped for years, Raneka decides to join the resistance and, instead of avoiding the war, start the fight.
There's a ton of world-building threaded through this story. Harris adds bits of lore in almost every sentence, from hinting at socio-economic ties via a fabric store to defining a crystal magic system with a chest freezer analog.
It's because of this I found myself re-reading many sentences in order to understand the content. Additionally, I felt Harris's focus on world-building was done at the expense of character development. My perception of who Raneka is at the beginning of the story and the end doesn't change much; it's just her memories that evolve.
Overall, "Dreams Strung like Pearls Between War and Peace" is an interesting story with a well-fleshed out world, but the story itself didn't really do it for me.
In Kai Hudson's "Treasure Diving," we follow Ilana as she dives to some ruins deep in the ocean looking for treasure in the days following her mother's death in the hopes of distracting her sister from the loss. What Ilana finds in the deep is both terrifying and life-changing.
Hudson nails the pacing, especially during the action scenes, and does a great job threading emotional tension throughout. Kai's description of the senses from the perspective of someone who breathes underwater is incredibly well done. It's a great read, even if you guess at some of the plotting throughout.
"The Thing With the Helmets" by Emily C. Skaftun is extremely entertaining. Set in a world where alien invaders will only talk to people dressed like they're about to jump into a roller derby ring, the only thing that can save the world are fifteen magic roller derby helmets and the Smash Sisters.
Trying to explain the loops Skaftun goes through to make this story seem matter-of-fact would be difficult. Suffice to say, it's fun, periodically violent, and overwhelmingly approachable. Great story!
---
Mike Wyant, Jr. is an ex-IT guy, who has finally committed to a writing life out in the Middle of Nowhere, New York.