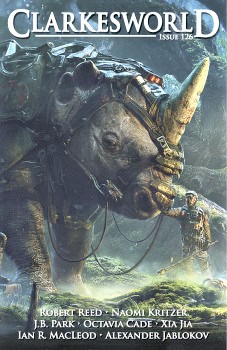 Clarkesworld #126, March 2017
"Two Ways of Living" by Robert Reed
"Real Ghosts" by J. B. Park
"Waiting Out the End of the World in Patty's Place Café" by Naomi Kritzer
"Crown of Thorns" by Octavia Cade
"Goodnight, Melancholy" by Xia Jia
Reviewed by Bob Blough
Clarkesworld is consistently putting out good issues. Not every story is great or even good but they always have something that satisfies the reader's itch for speculative fiction. March 2017 is no different.
We begin with the ever reliable Robert Reed. In "Two Ways of Living" he posits a world where the hibernating system devised for long range star colonies caused hallucinations which most people could not handle. But there are ways to use it by those who can handle the "dreams" and not necessarily as you might think. The idea here is really wonderful. It plays out though in a story that seemed weak to me. One such hibernator is stalked by a crazy woman and an AI enhanced dog. We see these three meet up when the hibernator must wake up and replenish his food intake. The idea is A-1 but the story falls flatter than it should. Not bad but not Reed's best.
J. B. Park posits a future in which imaging before death allows ghosts to really hang around. Maury Hong is dying and wants to make one last image so it will be as up-to-date as possible. The ghost of his sister, Maureen, visits him and tries to get him to make up with his brother named Maurice. It was at this time that I thought the author was trying something deeper than a normal sibling and death story. But it eventually reveals itself to be something more mundane than that. Not a poor story but much less impressive than it could have been.
Which could also be said for the lovely story "Waiting Out the End of the World in Patty's Place Café" written by Naomi Kritzer. I am not sure this is properly genre but it uses an asteroid bearing down on the Earth to create the plot, such as it is. Three people meet after running out of gas in Belle Fourche, SD. They bond and form their own familial unit as they await the fate of the world. It is a sweet story that is well told, but I fear it has been done over and over again. Perhaps this idea is not found as much in SF but as real, as the situation and characters are it was not very compelling.
"Crown of Thorns" by Octavia Cade, however does not work at all. She tries to put into words a man's despair after the end of the world comes through a plague that killed his daughter. He and his wife were not infected because they were scientists on a coral reef. 12 have survived there and could live there but salvation is seen in a New Zealand scientific station that survived as well. The story is only this man's grief and shame as it plays out with his wife and the idea of desertion of his post. It all becomes too lugubrious and frankly whiney. By the end I just wanted him to decide or cheer up or kill himself so I could get out of this situation. Describing despair so that it truly communicates to a reader is a delicate thing and must not fall into pretension. Ms. Cade needs much more growth in life and writing to make something like this work but I do admire her gutsiness to try.
There is one real gem this month and that is the novelette, by Xia Jia, called "Goodnight, Melancholy." This is again in part a story about despair and deep dark depression, but we see it without being told about it. An unnamed woman is dealing with her depression sometime in the future with AI's designed to help her though the steps she must take to become whole again. But this is twinned beautifully with a story from Alan Turing's final years after the British government forced him to become chemically castrated due to his homosexuality and his suicide. This makes it fascinating and more honest and we feel these people's despair, but then Ms. Jia does a surprising thing and adds a fictional situation in the Turing story where he creates a computer to have conversations with him during those years. Somehow the idea of the father of thinking machines using his technology to keep going a while longer and a future daughter in spirit using his matured technology in the same fashion becomes an orderly well-thought out SF novelette of outstanding power. I think this is a story to be on awards ballots next year.
Thank you, Neil Clarke, for continuing to give us well written and fascinating SF stories each month.