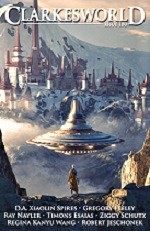 Clarkesworld #180, September 2021
"Yesterday's Wolf" by Ray Nayler
"Xiaolongbao: Soup Dumplings" by D. A. Xiaolin Spires
"The Winter Garden" by Regina Kanyu Wang (translated by Emily Jin)
"Excerpts from the Text of an Explanatory Stele Erected for Our Edification by the Scholars of the Outer Orion Tendril" by Timons Esaias
"It is a Pleasure to Receive You" by Ziggy Schutz
"Dog and Pony Show" by Robert Jeschonek
"In a Net I Seek to Hold the Wind" by Gregory Feeley
Reviewed by Kevin P Hallett
The 180th issue of Clarkesworld contains seven stories, including two novelettes. There are several excellent stories in this collection.
"Yesterday's Wolf" by Ray Nayler
This short science fiction story takes place after the war. The nomadic sheepherders finally return to their summer pastures and yurts. Elmira enjoys her family life, but the wolves constantly take some sheep. One day she finds an old war dog half-buried in the damp soil, its batteries drained.
Slowly, she reprograms the robot to guard the sheep rather than kill people. Though her skills are essential to all the nomads, she faces the uncertainty of this misogynist culture that steals young women to make them wives.
'Yesterday's Wolf' was a fascinating story with several subplots and set on an unusual stage.
"Xiaolongbao: Soup Dumplings" by D. A. Xiaolin Spires
A young woman mourns the loss of her mother in this SF short. Chui lost her mother shortly after they arrived on this new planet. Still, her mother had instilled the traditions of their culture in the creation of the steamed dumplings or xiaolongbao. Chui's friend Lihui lost her mother on the same day, and each year they commemorate the death day with perfectly made dumplings.
This time, though, their ceremony is disturbed by explosions in the sky that create dark lines. The other villagers gather in fear, but the two young girls continue making the dumplings feverishly. Chui's hands are shaking, and her dumplings begin taking on impossible configurations. Designs that legend predicts will precede the breaking of the world.
This was a mysterious story that quickly grabbed the reader's attention until the unimaginative ending.
"The Winter Garden" by Regina Kanyu Wang (translated by Emily Jin)
Wang constantly makes poor choices in this SF novelette. Fearful of taking the wrong path in life, she usually leaves things until it's too late to make another choice. And all her indecision and procrastination lead her to a menial job in a lab experimenting with inter-dimensional travel.
Then Wang hears from a student that he met her other self in another dimension. Could this be her chance to break away from her dull and meaningless life? It would all depend on her making a good choice this time.
The author developed the story slowly as a variation on parallel universes. But in the end, it lacked pace and originality.
"Excerpts from the Text of an Explanatory Stele Erected for Our Edification by the Scholars of the Outer Orion Tendril" by Timons Esaias
A landfill in Pennsylvania exudes a purple ooze in this short SF tale. It begins flowing out and seems intelligent, or at least aware of its surroundings as it flows over hills. At first, it targets certain businesses and bars.
Other landfills join in, and the Purple Tide expands into neighboring states, defying all military efforts to slow it down. And when other Tides form across the continents, the biggest question is can the world come together to find a solution?
The author's story had many tongue-in-cheek moments as he uses the tale as an allegory of current global problems and attitudes. But in the end, the prose was too repetitive to be engaging.
"It is a Pleasure to Receive You" by Ziggy Schutz
Nirah-89, a communications satellite, spins around the Earth in this short SF story. Inside, Simon picks up radio transmissions, cleans them, and stores them. His job isn't to respond or determine a message's value. And though his shift lasts five months, he's been up here for fourteen with a sense he has nowhere else to go.
Then he hears a simple message and breaks the rules by replying. Soon he has a friend, Lyric, a kindred spirit who struggles with their identity too. And two months later, Nova joins to form a trio. Each, in their unique way, collects the flotsam of humanity and turns it into something better.
Simon has friends and company he never had, though he is still orbiting alone in a satellite. He can't think of what else he could want. Surely it would be too much of an intrusion actually to meet either of these voices?
The author created a character-centric story showing three young people working to find the identity they can best relate to at that moment. The prose was strong and easy to read.
"Dog and Pony Show" by Robert Jeschonek
In this enigmatic SF novelette, Beneathy is a boy who likes his dog, Wazoo, a mechanical beast that flies like a beetle. All his Playtime friends like their pets too, cats that resemble oversized robotic caterpillars or horses that are giant mechanical praying mantises.
Beneathy's idyllic life is disturbed when a friend entices him away from the safety of Playtime and into the surrounding forests. Here he encounters monstrous creatures with fur, teeth, and slobbering tongues. Scared of these alien creatures, Beneathy can't believe it when a wild boy calls them dogs.
This was the ultimate show don't tell story, and the reader needed to keep their thinking caps on. The story rewarded those who read until the twisted end.
"In a Net I Seek to Hold the Wind" by Gregory Feeley
In this SF short, humankind is now long-lived and undertaking a massive project to convert one of Neptune's moons to a cable to be dipped into Neptune's turbulent atmosphere. The people live out their lives on this generational project, residing in the nearby hollowed-out moons.
Those people that started the project now must adjust to the new ideas of the second generation of engineers. Meanwhile, there lurks in the background the presence of the Mind. But is this something made by humans, and if not, is it benign?
This story built an interesting world, but the first half had little adversity to engage the reader's imagination and was slow to pick up speed or interest in the fate of its characters.
---
You can follow Kevin P Hallett's writing on www.kevinphallett.com