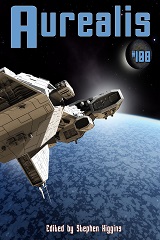 Aurealis #108, March 2018
"Machine Language" by Anya Ow
"The Astronaut" by Jen White
"May I Borrow Your Lighter, Please?" by Abhishek Sengupta
Reviewed by Christos Antonaros
In "Machine Language" by Anya Ow, everyone but Julian evacuates the Arunta star-cruiser as it is the first of its class to host an extraterrestrial navigation technology. After a ritual that took fourteen days, a Medium installs Ben's ghost, which becomes the dominant software of the ship. Julian, faithful to his beloved boyfriend Ben, stays behind, hoping to see him again after his accidental death.
A romantic science fiction short story that expresses the human need to move on after we lose someone suddenly. The anger and pain we feel, the moments we had with them, that we miss, and all those things we crave to tell them that we never had the chance to say. But at the end, we realize that the best way to move on is to stay attached to the living and not to the ghosts of the past.
In the next short story, "The Astronaut" by Jen White, Kevin returns home after a five-year mission in space, carrying back an unknown virus that alters his DNA. Finn, his wife, will soon notice the changes on Kevin's body, as he, a man she knew for seventeen years, slowly turns into a woman. And this is not the only surprise waiting for her in the coming days.
Ultimately the question asked and answered by the author is: Are our feelings, such as love and devotion, part of our genetic material, or do they stay the same based on our attachment to someone?
Unlike the first story of this issue, where we were taught to move on after the tragic loss of a loved one, here we are taught to stay next to our life partners even if something changes their body shape and gender. An extraterrestrial disease could as well be some real-life illness, which would not stand in the way of a relationship if there is love, honesty, and endurance.
Lastly, in the surrealistic setting of "May I Borrow Your Lighter, Please?" by Abhishek Sengupta, a strange looking woman insists on borrowing the protagonist's lighter to end up committing self-immolation. The fire satisfies the woman instead of destroying her, and the rain burns her like acid instead of extinguishing her martyrdom. Walking through a history of abuse and inhuman treatment, the protagonist will face the shadows of the past that, unknowingly, still torture him. Continuous symbolism plays a considerable role in this dark story, with images that hide strong messages, but at some point, I felt like it needed to pause, just for a second. Perhaps it should have had a longer length.