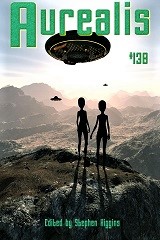 Aurealis #138, March 2021
"Doing the Right Thing" by Maddison Stoff
"Next Door to Gallipoli" by David Harris
"Like We Practiced" by Joanne Rixon
Reviewed by Kevin P Hallett
The 138th issue of Aurealis has three original short stories.
"Doing the Right Thing" by Maddison Stoff
Constance is a psychotic, clairvoyant telepath in this SF short. It is a difficult combination, and when Constance wakes from her hibernation pod, she finds herself almost alone on a dying spaceship. Her handler is missing, and she doesn't know what to do.
At times her mental challenges help her and at others hinder her, as she tries to find a solution to the dying ship. What she really needs is to connect with her handler once again.
The second-person prose was jumpy and hard to follow, and the author gave the reader no good reasons to care for Constance's fate.
"Next Door to Gallipoli" by David Harris
Rachel is dreaming about the flash-bang of an artillery barrage in this short fantasy. She sees a man sitting at the bus stop in her dream, and something compels her to go outside. At first, the man scares her, but soon she realizes he is harmless despite his military uniform.
Days later, when she steps outside in another dream, she finds herself in a trench under bombardment. The same man is there, and she begins to talk to the World War I ghost. Something draws her to stay in the dream until it all finally makes sense.
This story held the reader's attention as the author slowly revealed its purpose out from its complex mysteries.
"Like We Practiced" by Joanne Rixon
"Like We Practiced" is a short science fiction story that follows Loya's trials as her space station comes apart at the seams. Loya is the surrogate mother for a nursery of pre-school children. And when the space station tremors and groans, she springs into action.
With no information coming over the alarm system, she takes it upon herself to execute an emergency drill and get the children into pods. But outside the nursery doors, she finds a space station in a calamitous breakup. It may only be meters to reach safety; it could just as well be a kilometer as she pulls the string of pods behind her.
The author did an excellent job of portraying the mystery that confronted Loya and putting the reader into the action's center.