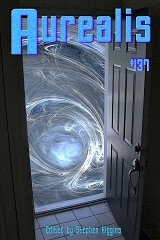 Aurealis #137, February 2021
"For Sale" by Michael Gardner
"Pistris" by Bethany Doherty
"The Redemption of Declan Callahan" by Steve DuBois
Reviewed by Michelle Ristuccia
Issue #137 of Aurealis brings readers three entertaining fantasy stories, each enlivened by horror, ranging from the innocent error of a would-be boyfriend, to mermaid corpses and the outright malice of revenge from the afterlife.
In contemporary fantasy "For Sale" by Michael Gardner, readers immediately feel for Soren's teenhood adoration of longtime friend and crush Pip, even as Gardner drops hints of the darker side of desperation and naivety. When a flea market hawker lures Soren inside his trailer of wares, we know that something is about to go terribly wrong. Gardner brings a horror-carnival feel to a heavily modern setting, and in doing so, convinces us that we, too, might dismiss our intuition as fantasy and fall for this deal-with-the-devil. Convincing characterization underpins this narrative of a sweet young man in over his head, counter-balancing visceral folk tale horror as the stakes shoot up from an unconfessed crush to life-or-death.
The discovery of a mermaid corpse provides a questionable opportunity for a poor fishing family in Bethany Doherty's "Pistris." Doherty's sharp, descriptive word choice infuses the narrative with a haunting, ominous tone from the very beginning, long before readers see the objectively creepy imagery that builds the narrator's story into a tight horror-genre piece. The end adds agency to the main character and highlights the theme of humanity warped beyond recognition by the pressures of a harsh life, of the blurring between what is Other and Wrong and what is human. The use of simple past tense fits the voice but may cause a momentary clarity issue for some readers. Past perfect tense would add clarity, but simple past adds immersion to this fascinating dark fantasy, and all becomes clear by the end. Overall, a tight piece with chilling imagery and diction.
As we watch Declan take the mic in "The Redemption of Declan Callahan," Steve DuBois skillfully paints two opposing pictures: how the world sees the charming soccer player star, and how much our entertainingly sardonic–and deceased–narrator Nicky despises his rival. Nicky's thirst for revenge against his successor is palpable, his life as the perpetual underdog relatable, and his target is certainly no saint. Readers will find themselves rooting for antihero Nicky as he races the clock of his quickly fading spiritual energy to do something, anything, to the star that does not deserve his spot on the field. DuBois' contemporary dark fantasy delivers on character rivalry, engaging voice and pacing, and its promise of a morally questionable end. Readers need not be sports fans at all to enjoy the so-called redemption of Declan. DuBois skillfully pulls off multiple aspects of this story that can be hard sells for readers.
---
Michelle Ristuccia enjoys slowing down time in the middle of the night to write, read, and review speculative fiction, because sleeping offspring are the best inspiration. Find her on Facebook and twitter @mrsmica.