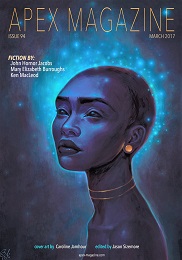 Apex #94, March 2017
"Luminaria" by John Hornor Jacobs
"Waste" by Mary Elizabeth Burroughs
Reviewed by Nicky Magas
In John Hornor Jacob's "Luminaria," devoted Renie works tirelessly to plan for the 100th birthday of her mistress Victoria. Everything has to be perfect, from the flowers to the dishes to the renovations on the carriage house. The whole family is coming to dinner for this celebration, after all, and they're bringing their long family history with them. There's a lot at stake for Victoria for this night to go perfectly, and even more at stake for Renie to behave herself.
Jacob is hard pressed to surprised readers given the subject matter of this story, yet "Luminaria" impresses with its ability to deliver a few twists along the way within an otherwise familiar trope. While at times the narrative dances a little too impossibly to keep the truth hidden from the reader, it is saved by the skill of the prose: elegant, punchy, and engaging. The concept itself might not be new, but the delivery certainly is, and if readers don't fall for Renie, they'll certainly be head over heels for Victoria before the story's end.
Eudora was the only one of her siblings to be born with a tongue in "Waste" by Mary Elizabeth Burroughs. That's saying something considering that her siblings are the castoffs of the golden class. Malformed and genetically defective, they've become the objects of sport among their golden parents. But Eudora is getting older, and the responsibility she feels for her family is intense. Whatever it might take she'll protect them, even if it means becoming something more than just a toy to her far off mother.
From the piles of waste known as the Heaps to the chasms between classes, "Waste" has a lot to say about society. Unfortunately, its mode of transmission is never quite in sync. There seems to be a lot more to this story that never quite makes it to the page. It feels rushed and disjointed, and the tone and character motivations slip out of alignment quickly within the short frame of the narrative. It is disturbing, however, to look at some of the seedier aspects of dystopian society, and to hope that we as a civilization never come to such lows.