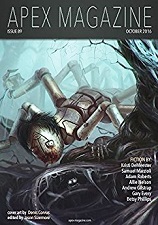 Apex #89, October 2016
"Damnatio ad Bestias" by Kristi DeMeester
"Pagpag" by Samuel Marzioli
"Zayinim" by Adam Roberts
Reviewed by Chuck Rothman
The October issue of Apex has some very different twists on well-used fantasy tropes.
"Damnatio ad Bestias" by Kristi DeMeester introduces Madeline, a werewolf in a time where they are a fact of life, and where she needs to take pills from the government to keep from being a threat. But Madeline doesn't like the side effects and buys black market pills from Bennie. His latest pills are different and lead her to a different outlook that affects her life. The concept is interesting and I do like Madeline as a character, but I did find the story rough going and a bit offputting.
Samuel Marzioli's "Pagpag" is set in the Philippines where Jay has recently lost his wife, Malaya, and makes his living by killing aswangs—essentially zombies, though not out for brains but rather for a return to their old life. Jay realizes he wants Malaya back and this might be a way to get what he wants. I found the bleakness a bit thick and wasn't drawn into the story enough to be moved by the ending.
"Zayinim" is also about the concept of zombies, but has a fascinating invented background. Adam Roberts's story is set on an alternate timeline, where Hitler won the war and later created a serum that creates immortal soldiers—but, of course, it's off limits to the Jews. Many years later, the immortals are losing their humanity (in many different ways) and are mindless attackers. Joanie is a young girl in an enclave of Jewish settlers, beset by the Zayinim so much that they need to pull up stakes or be overwhelmed. But that's not going to be easy. The backstory is clever and the description of the Zayinim is horrifying and imaginative. I was disappointed in the ending though; the story does not resolve the issues and leaves too much hanging. This would work much better as part of a longer work, but the story as written left me thinking there were too many unanswered questions.