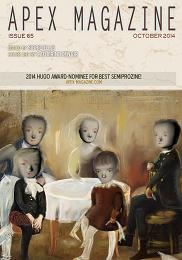 Apex #65, October 2014
"Primrose or Return to Il'maril" by Mary McMyne
"Coins for Their Eyes" by Kris Millering
"The House in the Winter" by Jessica Sirkin
"What I Am" by Tom Piccirill
Reviewed by Charles Payseur
The death of a sun and perhaps an entire alien race forces an aging xenoanthropologist out of retirement in Mary McMyne's "Primrose or Return to Il'maril." Virginia Booth, who spent time on the Il'maril as a younger woman, must seek out and implore Casstratil, the lead shaman on the planet, to encourage his people toward interplanetary emigration to escape the impending destruction of their world by their sun's supernova. The people of Il'maril are not what they seem, however, and Virginia ends up being convinced that they should not be forced from their homes, respecting their belief that they will not perish even as she struggles with her doubts and uncertainties. The story does a nice job of exploring the divide between faith and certainty, showing the dangers of assuming cultural superiority and benevolence. It also comments on the (human) cultural trend to assume certainty and to seek to impose that false objectivity on others, as Virginia's treatment when she returns to Earth shows. Though I felt it dragged just a bit toward the end, the story does manage to both challenge and entertain.
Kris Millering spins a chilling tale of life and death and the space between in "Coins for Their Eyes." A woman, never really named, rides across the country delivering dolls to the graves of dead people. These are no ordinary dolls, though, but rather vessels for those people trapped between life and afterlife, dolls that carry a bit of their essence and allow their spirits to move on. As she travels, she catches on the trail of a killer, and begins to remember more about what happened to her, and how she became what she is. Full of detail and depth, the story shines in part because of the creepy imagery of the dolls and the careful plotting. The end holds a number of confrontations, and something of a twist, mixing mysticism with murder and justice and transformation, and wrapping up everything in a satisfying package. Some aspects of the story were a little vague to me, some aspects of the mythology a little confusing, but I still felt that it delivered a powerful and exceptional experience.
Part horror and part fairy tale of the darkest kind, "The House in the Winter" by Jessica Sirkin provides a bit of the familiar with a refreshing edge of creepiness and despair. Anna lives in a house alone, not the owner so much as the owned, the subject of a dark presence that requires her to take in lost children and merge them with the house, so that it might feed off of them. When she takes in a pair of siblings, though, Jack and Clara, Anna finds what she has been desperately hoping for—a release from the cycle, a replacement. Evocative of stories like Hansel and Gretel, "The House in the Winter" turns things a bit by having the house be the villain and not the witch, and by drawing the tale longer and deeper by having each "defeat" of the witch only continue the cycle of death and feeding. Definitely disturbing at times with its imagery and mood, this one's probably best read with the lights on.
A criminal killed during a bank robbery becomes the city of New York in "What I Am" by Tom Piccirilli. Lyric and surreal, the story moves from thing to thing, a sweep through New York, the criminal merging with everything as he dies, as he intimates that all New Yorkers do upon their deaths. Unfolding alongside his transformation is the botched robbery, the criminal's partner panicking, the security guard who killed him mourning, a woman there to inspect her jewelry plotting. It all fits together nicely, with a flow and character that doesn't exactly paint New York in the rosiest of hues. As someone who has never been, I can't really attest to the accuracy of the depiction of New York, but it does seem to lean on some clichés. Overall, though, it is a poetic story, well told, and a fitting way to end the fiction section of the issue.
---
Charles Payseur lives with his partner and their growing herd of pets in the icy reaches of Wisconsin, where companionship, books, and craft beer get him through the long winters. His fiction has appeared at Perihelion Science Fiction, Every Day Fiction, and Dragon's Roost Press.