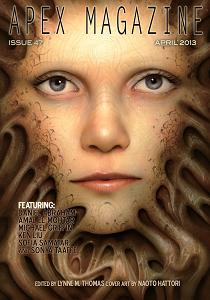 Apex Magazine #47, April 2013
Reviewed by Dave Truesdale
Michael Griffin's "The Lure of Devouring Light" concerns itself with a genius musician (a cellist primarily) involved in a sexual scandal (he's a pedophile rapist), brought to the United States from Europe to perform just before the scandal in Europe breaks and becomes a worldwide news event. The young female musician who has championed him and who is to accompany this strange, reclusive man in his latest performance seeks him out in the cabin retreat where he is being housed. He drugs her, and while under the influence surreal/supernatural events take place revealing his inner demons, literally, and what drives him and his music.
Griffin is an electronic musician himself and it shows in the musical detail he brings to the story, but aside from this I found this short tale (just over 4,000 words) to be a cliché in both theme and execution. I regret to say that this piece might have found better company in a middle of the road semi-pro magazine, but not here in a professional market.
"Dawn and the Maiden" by Sofia Samatar presents a sorrowful fable of the power of gods over our lives, the nature of reality, and love. A smitten serving girl and her love, the young gatekeeper of the palace of the Lady—who alone has the power to allow love to enter their lives should She accept their gifts—discover an ugly truth too late. Samatar's poetic prose and imagery are well suited to this kind of tale (the short bio provided at the end of the story reveals that she is a great fan of A Thousand and One Nights) and work well to enhance the mood and atmosphere of this cautionary reminder.
Ken Liu's "Build-A-Dolly" anthropomorphizes, humanizes, a young girl's sentient doll in order to bring home how it must feel to be used and abused by the immature whims of youngsters who either take out their violent aggressions on their "toys," or use them as disposable playthings in creative ways for which they were not intended, only to discard them when the infatuation has faded or they become broken. At roughly 1,000 words, the story achieves its intended function well.
The stories this month offer a mix of horror, fantasy, and SF. There's a little something here for fans of each, a pair of pleasant-enough reads, but nothing demanding exceptional attention.