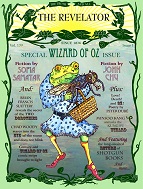 The Revelator Vol. 139. No. 1, March 2016
"Cities of Emerald, Deserts of Gold" by Sofia Samatar
"The Law and the Profits" by John Chu
Reviewed by Chuck Rothman
The Revelator came along a few years ago with a clever conceit: claiming it's been around for well over a century and has published some of the top science fiction in the field. The latest issue has a Wizard of Oz theme (pointing out how it championed L. Frank Baum from the very beginning).
Sofia Samatar keeps up the Oz theme with "Cities of Emeralds, Deserts of Gold." The story juxtaposes elements of Oz with the life of an immigrant from Kenya who is now in the US and is trying to express her feelings toward the new land. The writing here is wonderful and the use of the Oz metaphor is excellently done. It's more like a poem than a story, though I did find it hard to pin down the point of view characters.
"The Law and the Profits" is set in a world where souls are traded like drugs. Gilly traffics in them, going into a shady bar where the souls are traded and stolen. Gilly has lost her partner, Macro, and is being called in to do a special job to take down some soul thieves by pretending to be their customer—with great potential risk. John Chu has painted an interesting place and setting, which results in a new twist on the story of dealers of illicit goods.
Both stories are strong on imagination, with some thoughtful idea behind them.
---
Chuck Rothman's novels Staroamer's Fate and Syron's Fate are available from Fantastic Books.