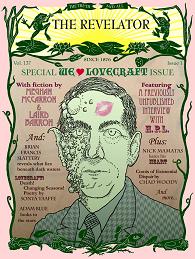 The Revelator, Vol. 137 #1, 2012
"More Dark" by Laird Barron
"Lovecraft in Brooklyn" by Meghan McCarron
Reviewed by Chuck Rothman
The Revelator showed up last year with a charming conceit: that it was the continuation of a famous and well-respected magazine that had a long history. Despite this, the current issue seems to settle in to be a modern horror/fantasy magazine. It's a special "We Love Lovecraft" issue, with a supposed "unpublished interview" with Lovecraft. There are two horror stories in the issue.
"More Dark" is about a fantasy/horror writer who is traveling to a rare reading (in Brooklyn) by the acclaimed and reclusive horror author Tom L. The writer is ambivalent about it all, having discovered his wife has run out on him. Laird Barron concentrates on building up the mystique of L, creating an alternate version of the SF writing community that I found fascinating. Some established names are hinted at (no full names, but you do have GVG and Ellen D), and the interactions of the politics of the genre is nicely drawn. The story flags toward the end. It would probably be hard for any writer to make the appearance of L live up to its buildup, but it becomes a variation on a black mass that tells us life's a bitch. I may be too cheerful to appreciate that particular message, and the final twist immediately turned me off.
Meghan McCarron contributes "Lovecraft in Brooklyn," a pure slice of life about living in a Brooklyn apartment that reminds the narrator of Exham Priory, complete with rats in the walls. The description and characters are first rate, but there no narrative to speak of and no payoff as the story describes life and does nothing more.
There is no doubt that the two stories here are well written and show fascinating characters, but if you're like me and like your fiction to have a narrative, the issue is disappointing.
---
Chuck Rothman has stories out in Unidentified Funny Objects and Mortis Operandi.