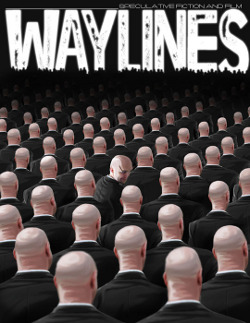 Waylines, Mar 2013
by Louis West
"The Air That I Breathe," by Eric del Carlo, is a post-environmental collapse story where humankind has force-evolved itself into lizard-like creatures to handle the new world. Gone was the blue sky, the wave-washed oceans and a sun that was not the enemy of human flesh. Lubrano is a cop, the last human cop, whose only beat is to "handle every non-violent detail involving a pre-ev in San Francisco," all 653 of them. He can't stand the new humans, the "Newts," who thrive in the hot, oxygen-poor, carcinogenic-laden atmosphere. Called out for a pending suicide, Lubrano gets paired with Sussman, a young cop and a Newt, and resents the intrusion. But there is more to Sussman's motives than Lubrano could have imagined. An interesting story set in a harsh possible-future world.
Sean Eads' "The Seer" is built around its own premise "that those who remember the past are doomed to repeat it." Edmonds is a young Seer, his father the eldest Seer. Edmonds and the peoples of the twelve cities of Almindor have been taught that the world was decimated when humans threw off the yoke of the Drosson alien invaders. But Edmonds doesn't see the same rosy future that the other Seers do. He doubts his ability and himself. That doubt leads to his capture by the traitors of the desert who had supposedly allied with the alien invaders. However, Edmonds learns that the world is not what he thinks, nor is his father. This story did not work for me–the protagonist is weak and the story's plot not credible.
"Stop Me If You've Heard This One," by KC Ball, involves an alien coming to Earth to swap jokes with a human in a bar until it pulls its face off, remote recording the resultant reactions to playback as immersive humor. Didn't work for me.