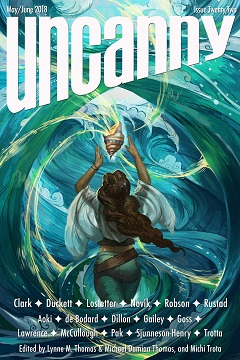 Uncanny #22, May/June 2018
"Blessings" by Naomi Novik
"Sucks (to Be You)" by Katharine Duckett
"Discard the Sun, for It Has Failed Us" by Marina J. Lostetter
"What Gentle Women Dare" by Kelly Robson
"If We Die Unjustified" by A. Merc Rustad
"The Cook" by C. L. Clark
Reviewed by Chuck Rothman
Uncanny starts out its May/June issue with a fable. "Blessings" by Naomi Novik shows what happens when fairies get drunk while being invited to celebrate the birth of a child. A blessing from a fairy is usually difficult to get, but the fairies involved begin to argue about which blessing is the best. Of course, the answer shows up in an unexpected way. The story is light fun, but gets by on both its charm and plot twist.
"Sucks (To be You)" by Katharine Duckett is about a succubus, or rather a creature that fits the mold but is a variation that fits in with modern social media. An interesting idea, but the character talks around any story here as she describes how people become obsessed with her. It's just a monologue with the interactions held at arm's length.
"Discard the Sun, for It Has Failed Us" has its protagonist making a pilgrimage to the old Solar System, which humans had left millennia before, in order to add hydrogen to keep it from going nova. The ship's captain thinks it's a waste—Earth is barren, the system nearly destroyed. Marina J. Lostetter teaches the lesson that there are reasons for not giving up, with an interesting perspective on what it means to worship something.
Kelly Robson's "What Gentle Women Dare" is set in the shadier side of 18th century England, where Lolly, a prostitute, finds a smock on a corpse and takes it as her own.
But it turns out the smock has a strange origin which leads to meeting a very strange stranger. The story has a nice feel for the squalidness of its setting, and Lolly is a truly memorable character.
"If We Die Unjustified" by A. Merc Rustad is set in a post-apocalyptic landscape as Sallow—a dog—tries to survive amid the death by eating corpses, and being a companion to the human, Bryony, who believes in a nursery rhyme of Angelcorpse who could save them from the situation. The story is very bleak and didn't really hold my attention.
"The Cook" by C. L. Clark is a poetic piece about a soldier who becomes enamored of a cook in an inn. It's more about mood than it is story, as we see the soldier being emotionally smitten by the woman. Not much really happens and I found the ending unsatisfying.
---
Chuck Rothman's novels Staroamer's Fate and Syron's Fate are available from Fantastic Books. He tweets at @chuckrothman