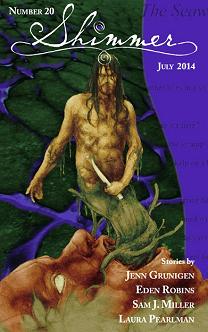 Shimmer #20, July 2014
"The Seaweed and the Wormhole" by Jen Grunigen
"Ellie and Jim vs Tony 'The Nose'" by Eden Robins
"Allosaurus Burgers" by Sam J. Miller
"Why I Hate Zombie Unicorns" by Laura Pearlman
Reviewed by Charles Payseur
Death and rebirth, consumption and hunger combine in the dark fantasy "The Seaweed and the Wormhole" by Jen Grunigen. Peregrine, a strange man with somewhat sadistic lusts, brings his lover deep into the swamp to meet his mother. A surreal experience, Ebb follows in submission to Peregrine only to find himself part of a dark ritual of rebirth, with himself as the sacrificial offering. As he struggles against the forces seeking his destruction, though, Ebb realizes that what he wants is not freedom from Peregrine, but complete joining with him. Murky and primal, the story does a good job establishing the relationship between Ebb and Peregrine, and yet I felt the ending was somewhat unfulfilling. The imagery was strong and moving throughout, but ultimately I felt it was just a little too dense and impenetrable to really pay off on all its promise.
Eden Robins presents a dead couple as they face the vast unknown of the afterlife in the philosophical science fiction tale "Ellie and Jim vs Tony 'The Nose'." Confounded to find that the afterlife is an old-fashioned automat, Ellie and Jim face boredom and confusion as they try to figure out what to do next. Jim, constantly needing to be doing something, and Ellie, content and resistant to change, find their relationship struggling in the face of an endless uncertainty. When Jim's actions threaten to pull them apart, though, both find what it takes to make the afterlife bearable, and learn a few of the rules of the great beyond. The setting might be strange, but the message is simple and powerful. Funny and poignant, the story does a good job setting the scene and growing the characters even after their mortal lives have ended.
"Allosaurus Burgers," a modern science fiction story by Sam J. Miller, tells the story of Matt, a young boy who lives near a farm where a real allosaurus is discovered. Living alone with his mother, a tall woman who works in a slaughterhouse, Matt's view of the world is wrapped up in his mother's opinions and prejudices. She towers over him like a god, and yet when he goes to see the allosaurus he comes face to face with something even larger. When his mother loses control after dealing with Matt's father, it is up to Matt to try and protect her, and in so doing he finally sees her as a person, as capable of error. Weaving a complex family life without succumbing to cliche or simplification, the story shows the characters in all their richness, and handles a pivotal moment in a child's life with art and power.
A group of kids fight against boredom in a world infested with zombie animals in Laura Pearlman's dark comedy "Why I Hate Zombie Unicorns." Having arrived along with normal unicorns a few years before, zombie unicorns lead to the infection of animals great and small, and the main character knows from tragic experience how dangerous the disease is. After the death of her mother, the main character begins hanging out with a small group of older children and inadvertently leads them on a series of schemes with poor outcomes. Humorous and definitely strange, the story is short and to the point, tightly constructed with a last sentence that ties everything together quite nicely, though the setting of the story never really worked for me.
---
Charles Payseur lives with his partner and their growing herd of pets in the icy reaches of Wisconsin, where companionship, books, and craft beer get him through the long winters. His fiction has appeared at Perihelion Science Fiction, Every Day Fiction, and Dragon's Roost Press.