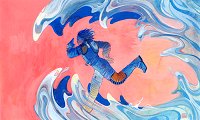 InterGalactic Medicine Show #68, April/May 2019
"All Times, All At Once" by Laurie Tom
"Domus Lemurum" by Donald S. Crankshaw
"Schrodinger's Grottoes " by Andrew Gudgel
"A Giant's Rightful Due" by Amanda C. Davis
"Out of the Belly of Hell" by Max Sparber
Reviewed by Kat Day
This is the penultimate issue of Orson Scott Card's InterGalactic Medicine Show, and it's great fun, mixing horror with traditional fantasy, historical fantasy and some straight-up science fiction.
"All Times, All At Once," by Laurie Tom, begins with the main character, Angela, making cha siu bao from her Grandmother's recipe. A biochemist, she's then sent to an alien planet to investigate what's happened to a frontier colony who sent out an alert before, it appears, all coming to a (literally) sticky end. Of course, we all know how this goes. Scientists investigating mysteriously-disappeared colonists always end up running for their lives—if they're lucky. However, this is a fun story with engaging characters and some original twists. Recommended.
"Domus Lemurum," by Donald S. Crankshaw, features a small group of ancient Romans who 'cleanse' houses of ghosts and then sell them for profit. It's an interesting mashup, but I found the leading character of Septimus difficult to care about. There is a sort of puzzle set up around a particular haunting, but somehow the resolution didn't feel very satisfying, and the horror elements didn't chill me. That said, it speaks highly of this issue that this was my least favorite story.
"Schrodinger's Grottoes " by Andrew Gudgel takes a look at history from the other end of the spectrum, so to speak, when we meet Dr. Hailan Zhou as she carries out a study of the Shaal Confederation on the planet Troph. The Shaal are an alien culture, but one that is less advanced than Earth. Due to the lack of interesting technology Earth's governments have largely lost interest, leaving a group of museums to band together to study the Shaal's rituals and collect artifacts. Of course there is an obvious metaphor here since, historically, European explorers in particular had a nasty habit of taking everything they could get their hands on with little thought for indigenous cultures. This story is much more than a simple morality tale, though: Hailan is a likable character who cares deeply about the people she's working with, and the piece has a satisfying ending that perfectly refers back to the elements introduced at the start. Highly recommended.
The title of "A Giant's Rightful Due," by Amanda C. Davis, is highly suggestive of fairy tales, and that is largely what we get here as Bay, a soldier travelling with a captive genie, gets drunk in an inn and brags of being a giant killer. It's not long before she's dragged in front of the King and tasked with killing a bothersome giant. Will she succeed? And will she need to use her genie's magic—a temptation she has so far resisted, much to the genie's frustration—to get her out of trouble? I enjoyed this story very much, loving the characters and the world. Right up until the end when it (to my mind) stopped at a rather unsatisfying point, leaving some key questions unanswered. Although this is a novelette of nearly 11,000 words, I wonder if it would have worked better given even more room to breathe.
"Out of the Belly of Hell," by Max Sparber, is a flash fiction piece featuring a sea monster that washes ashore at a fishing village. Hernandez, a local fisherman, investigates the beast and finds something very strange inside its mouth. Good flash fiction is hard to do, and this is brilliantly executed with a surprising, and satisfying, ending. Well worth a read—or a listen, as this story has been narrated and is available as audio.
---
Kat Day makes children handle fire and dangerous chemicals for a living (it's okay, she's a chemistry teacher). When not doing that, she spends her time writing and trying to wrangle her own two children into line (without fire or dangerous chemicals, because that would be frowned upon). She has been published in Daily Science Fiction, the anthology "24 Stories," and on the Cast of Wonders podcast. You can follow her on Twitter @chronicleflask.