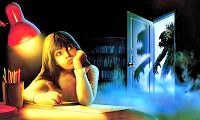 InterGalactic Medicine Show #60, Dec. 2017/Jan. 2018
"The Creation of Penelope Pine" by Allison Mulder
"If I Breathe, You Will Break" by Sofie Bird
"Dry Run" by Kurt Pankau
"The Stowaway" by Stephen L. Moss
"Mercy at Eltshan-time" by Stewart C. Baker
"Primum Non Nocere" by Caleb Williams
Reviewed by Victoria Silverwolf
All the stories in this issue of Orson Scott Card's magazine involve death in some way, ranging from black comedy to sentimental tragedy to gruesome stories of war and violence.
The title character in "The Creation of Penelope Pine" by Allison Mulder is a young girl whose father is a writer of horror fiction. He often leaves on long trips to research his novels. While he is away, a monster enters the girl's home. At first she is terrified, but it soon turns out that the monster thinks of herself as the girl's mother. When her father returns, we learn the child's real identity. This story mixes humor with terror in a way which is entertaining, but not perfectly balanced.
"If I Breathe, You Will Break" by Sofie Bird is a sad fantasy about a young man whose body is slowly turning into glass, which only he and his sister can see. Others think he is mutilating himself. The plot has no surprises, but is an emotionally effective parable about losing those we love to disease.
The protagonist of "Dry Run" by Kurt Pankau is a technician who specializes in the psychology of artificial intelligences. He is assigned to investigate why an entire platoon of soldiers died in battle when there were no enemies around. The only survivor of the massacre is the unit's AI. Through interviews with the machine the technician learns the frightening truth. This story reads like a darker version of Isaac Asimov's tales of robopsychologist Susan Calvin.
"The Stowaway" by Stephen L. Moss is a grim murder mystery set in a space station that serves as a prison for those infected with a fatal communicable disease. An intruder arrives, hidden in a shipment of supplies. Since he can never leave the station, lest he spread the disease, his motive is unclear. A violent death follows, for which he may or may not be responsible. The combination of a brutal tale of revenge with a traditional detective story leads to sudden changes in mood, which are not always graceful.
The narrator of "Mercy at Eltshan-time" by Stewart C. Baker is one of a team of soldiers sent to conquer other worlds. She discovers a planet surrounded by derelict starships, each containing the dead bodies of an alien species. The planet seems to be uninhabited, but contains mysterious patterns carved into monoliths. It becomes clear very early what will happen to the narrator, so there is little suspense, although the story contains many exotic details.
The title of "Primum Non Nocere" by Caleb Williams is a Latin phrase meaning "do no harm." It is the prime directive of a robot physician tending a fatally wounded solider. Unable to save her life, it attempts to understand human emotions while witnessing her death. This is a brief story which serves mostly as a mood piece.
---
Victoria Silverwolf is married to someone who studied Latin.