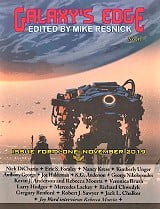 Galaxy's Edge #41, November/December 2019
"Sky and the Wheelchair" by Nick DiChario
"
Martian Maintenance" by Eric S. Fomley
"
Someone to Watch Over Me" by Nancy Kress (
r
eprint, not reviewed)
"
The Aborted Robot Uprising of Tastyhomethings" by Kimberly Unger
"
Point of Closest Approach" by Anthony George
"
Blood Sisters" by Joe Haldeman (
r
eprint, not reviewed)
"
Where the Train Goes" by K. G. Anderson
"
A Letter to Peter Jefferson from His Son, Peter Jefferson" by George Nikolopoulos
"
Loincloth" by Kevin J. Anderson and Rebecca Moesta (
r
eprint, not reviewed)
"
The City that Always Slept" by Veronica Brush
"
War of the Night" by Larry Hodges
"
Into the Night: A Secret World Chronical Prequel Story" by Mercedes Lackey (
r
eprint, not reviewed)
Reviewed by Kevin P Hallett
This 41st issue of Galaxy's Edge contains eight original stories, including one flash fiction.
"Sky and the Wheelchair" by Nick DiChario
Sky is an accountant in this short fantasy, who overhears wheelchairs complaining about their unfair treatment. After seeing a group of wheelchairs try to escape at an airport, she becomes determined to avoid forcing a wheelchair to bare her weight without its permission.
As Sky passes into old age and can no longer live without assistance, she tries to establish communication with the wheelchairs at her care home. Was it all in her imagination? Obviously, the chairs are reluctant to reveal to Sky that they can talk to her or each other.
This was one of those charming stories that are so hard to put down until the very end.
"Martian Maintenance" by Eric S. Fomley
In this short SF, Joe is the night manager at a hotel with a haunted closet. One night he hears someone banging to get out of the closet and inside he finds a Stetson-wearing stranger who enrolls Joe into hunting some Martians hiding in the hotel.
This was a short space-opera-like story, big on action and low on plot.
"The Aborted Robot Uprising of Tastyhomethings" by Kimberly Unger
Beatty is trying to purchase some ginger beer in this SF short. The AI running the checkout sees the word beer and treats the item as contraband. When she objects, the store security snail gets involved and insists on arresting her once Beatty has completed her illegal transaction.
From there things continue to escalate as different parties get involved, including the local news service. The last thing Beatty needs is publicity. Can she find a way out before her boss sees her on TV and fires her?
This quirky story had a nice pace to it and should be read as a tongue-in-cheek glimpse at a distant future.
"Point of Closest Approach" by Anthony George
George's SF short is about Dave, a retired astronaut, on a one-way mission to intercept an alien craft 'dropping' from Mars orbit to the Earth. He isn't alone, but his Russian counterpart is absorbed in self-pity over his lost family.
Dave must ensure the shuttle he's flying is adjusted to intercept the craft while trying to ignore the cosmonaut's depression. With plenty of time on his hands, Dave passes through several layers of a human's reaction to the finality of life. Day by day he closes in on the alien craft.
Though the subject was not original, the character-driven story was a pleasure to read and the ending had an unpredictable twist to it.
"Where the Train Goes" by K. G. Anderson
Jamie is close to graduating in this short SF fantasy set in a harsh future. The trains stopped running at the start of the war, but he still hears them running at night, though he can't find them.
When his teacher tells him he's not only heard the train, but seen it too, Jamie waits at the right place and sees the mysterious train rush by. Life for Jamie gets harder as he grows into a man. Will the train ever stop and offer him any alternatives?
The prose was engaging, and the story's mystery kept it interesting.
"A Letter to Peter Jefferson from His Son, Peter Jefferson" by George Nikolopoulos
In this SF flash, Peter is penning a letter to his father, saying that he is breaking the family tradition of cloning. Young Peter has found a girl and decided to have children through gene sharing. In time, his father may understand why he took such a radical step.
This was a pleasant snippet of a story about a reversal in technical advancement.
"The City that Always Slept" by Veronica Brush
His lover, Laila, has left him behind on the moon in this SF short. She always champions the poor and unfortunate, but now she's gone to Mars with someone else, leaving him behind to wander the Luna city listlessly.
The colony is the destination of the poor trying to escape Earth for a better life. But it's a trap from which the poor can rarely save enough to go to Mars. He wished they hadn't argued that last time. But he can do nothing to turn back the clock.
This story was rather pedestrian and had few new ideas for the SF genre.
"War of the Night" by Larry Hodges
Seth's spirit rises on All Hallows night, as it has for hundreds of years. He, along with the other spirits from his patrol, will battle the dead until the sun rises, because that's what he does.
This year, Seth's mission is to help take Smith's Hill. But his patrol finds this difficult to do until there is just Seth and one of the dead left 'alive' at the top of the hill.
The purpose of the fighting remained hidden until the end, leaving the first half a slow read.