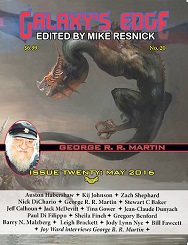 Galaxy's Edge #20, May/June 2016
"Lord of the Cul-de-Sac" by Auston Habershaw
"Tomorrow's Forecast " by Zach Shephard
"Stiches" by Nick DiChario
"Just Another Night at the Abandoned Draft Bar and Grill" by Stewart C. Baker
"The Gettysburg Game" by Jeff Calhoun
"This is Home. You are Well" by Tina Gower
"The Mirror Crack'd From Side to Side" by Paul Di Filippo
"Fork Points" by Sheila Finch
Reviewed by Chuck Rothman
I've generally been impressed with the stories in Galaxy's Edge and the May issue has some very good reading.
"Lord of the Cul-de-Sac" shows a nice mix of the supernatural and the mundane. A dragon has moved next door to Milly Petersse, and the neighbors have taken note, though he's far too secretive for the gossipy crowd. Milly, a widow, is on the verge of losing her house, when three dwarfs dressed in NFL licensed clothing show up and offer to rent her basement. She agrees, and soon learns they are up to something, and it probably involves the dragon. Auston Habershaw has fun with the lighthearted mystery angle and the paints a humorous portrait of the problems with life in the suburbs.
Zach Shephard contributes the flash fiction "Tomorrow's Forecast," where the various elements of the weather gather to determine the next day's weather. But they are joined by the human Bob, who has a special request, that they agree to fill – for a price. The story is very slight and only very mildly humorous.
"Stitches" by Nick DiChario is the story of Mara and Odo, a young married couple in an Italian fishing village. Mara goes out to fish and Odo stays home, sewing as her husband works. But one day there is a storm, and Mara does not return. Odo refuses to believe he's dead and her faith is rewarded when he returns in small pieces. Using her skills as a seamstress, she brings him back to life. The background is the real strength of the story; you get a real feel for life in the village. The plot does involve the depths of love and what it can accomplish and has a very romantic feel.
It's metafiction in a bar with Stewart C. Baker's "Just Another Night at the Abandoned Draft Bar and Grill," where a bunch of characters from bad fiction hang out, bemoaning their life and the mediocre things they had to do. Other than the concept, though, the story doesn't have a lot going for it; we get the idea and then see the bad first draft, which is too cute to be really funny.
Jeff Calhoun is clearly a Civil War buff. "The Gettysburg Game" follows Morgan Hunt, the CEO of a VR game company, as he tries out their new game about Gettysburg. Hunt prides himself on the realism of his games, but once inside, things seem to eventually become subtly wrong. The problem is that too much of the story seems to be an excuse to show the details of the battle, and there's plenty of space taken up by names and places and details. The setup for the main story is a bit contrived (isn't it lucky he happened to read the one bit of relevant junk mail in his inbox?) and I found the ending something of a deus ex machina.
"This is Home. You are Well" by Tina Gower is an extremely ambitious piece dealing with issues of duty, love, and war. Lani is a priestess in her society, one that is pure pacifist. He lover, Amil, was sent to negotiate with another tribe, and is forced into a position where it became necessary to go to war, something Lani and her tribe find abhorrent. Now, Amil is returning, wounded by the fighting. Lani is torn between her love for him and her hatred of his actions. It's an interesting philosophical point, but this is not a didactic exercise. Lani is has a very difficult choice, and the story has a lot of meat to it.
"The Mirror Crack'd from Side to Side" deals with a similar subject. David Vitrine invents a virus that removes all violent urges from people. Paul Di Filippo's short short doesn't really do anything with the concept that is obvious from the first paragraph.
Sheila Finch contributes "Fork Points," the story of actress Cass Romano, who takes part in a form of interactive entertainment, where live actors perform a play, which changes each night due to real-time audience voting. Cass was married to Johnny, an astronaut who returns, and with which she has a son, Jamie. The child is strangely disabled, and Cass has to deal with it and the stress it puts on their marriage. It's nicely tied in with the play, showing how our lives change due to the choices we make.
This issue was a bit more uneven than the other ones I've seen, but there's still plenty of good reading. One minor nit: they should proofread the titles of the stories more carefully, both on the main page and for each individual story.
---
Chuck Rothman's novels Staroamer's Fate and Syron's Fate are available on Amazon.