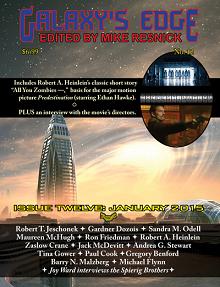 Galaxy's Edge #12, Jan./Feb. 2015
"A Little Song, A Little Dance, A Little Apocalypse Down Your Pants" by Robert T. Jeschonek
"Curtain Call" by Sandra M. Odell
"Game Not Over" by Ron Friedman
"The Book of Alexander" by Zaslow Crane
"In Secrets, Absolution (Sargasso)" by Andrea G. Stewart
"Calming the Tempest (Sargasso)" by Tina Gower
Reviewed by Michelle Ristuccia
In "A Little Song, A Little Dance, A Little Apocalypse Down Your Pants" by Robert T. Jeschonek, performance artist Jo Jawdropper joins the 'Stache for what he promises will be the best stand up act in the universe. Set in the distant future where technology makes anything possible, this smooth-flowing, cynical narrative leads to an interesting punch line.
Robotic nightclub singer Gina Starlight finds herself shoved aside for a newer model in "Curtain Call" by Sandra M. Odell. Starlight is a strong character who forges her own path separate from what other characters try to lay out for her.
"Game Not Over" by Ron Friedman follows fire imp Esh and she-daemon Sheda as they investigate the origin of the pesky adventurers raiding their world, only to discover that they are AIs in a virtual reality game. Friedman utilizes familiar tropes to deliver laughs.
"The Book of Alexander" by Zaslow Crane details the long life of the immortal protagonist as he contemplates suicide. This garrulous character study risks losing the reader's sympathy along with their attention.
"In Secrets, Absolution (Sargasso)" by Andrea G. Stewart follows inmate Rat as she reluctantly helps Marcus investigate the bizarre hallucinations plaguing the Ceres prison. Stewart cleverly uses Rat's hallucinations for backstory and character development, painting Rat as a convincing anti-heroine. Rat's dark tale connects directly to the following Sargasso story in this issue, "Calming the Tempest (Sargasso)" by Tina Gower, but can be read on its own.
In "Calming the Tempest (Sargasso)" by Tina Gower, Lucky Lily discovers that someone has tampered with her samples, endangering her research and therefore the well being of her mysteriously ill son, Mateo. Lily's tale is one of a mother's determination to out-maneuver her hidden enemies to save her son. Lucky Lily is a character referenced in "Song of the Sargasso" by Marina J. Lostletter in issue #11 of Galaxy's Edge, and other characters appear and are referenced from each from other Sargasso stories. Despite the multiple tie-ins, this Sargasso story is a stand-alone.
---
Michelle Ristuccia enjoys slowing down time in the middle of the night to read and review speculative fiction, because sleeping offspring are the best inspiration and motivation. You can find out more about her other writing projects and geeky obsessions by visiting her blog.