Galaxy's Edge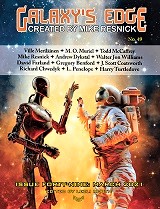 #49, March/April 2021
"The Language of Leaves" by Ville Meriläinen
"After a Lean Winter" by David Farland (reprint, not reviewed)
"Ping" by J. Scott Coatsworth
"A Matter of Time" by M. O. Muriel
"The Doctor and the Spectre (A Doc Holliday Story)" by Mike Resnick (reprint, not reviewed)
"A Clean and Liquid Madness" by Andrew Dykstal
"Golden" by Todd McCaffrey (reprint, not reviewed)
"Incarnation Day" by Walter Jon Williams (serial, reprint, not reviewed)
Reviewed by Victoria Silverwolf
Four new works of fiction appear in the latest issue of the magazine founded by the late Mike Resnick.
The viewpoint character in "The Language of Leaves" by Finnish author Ville Meriläinen is a wolf. It is able to understand the speech of plants, but not that of human beings. Exceptions to this rule are a woman and her grandmother, both witches, who are able to communicate with the wolf. Mourning for the loss of a mate to a hunter, the wolf witnesses the same man commit a crime of violence. Together, the young witch and the wolf exact revenge.
Written in a simple, direct, and yet poetic style, this dark fairy tale creates a haunting mood. There are echoes of the tale of Little Red Riding Hood, but these are very subtle, and the plot is completely original. The author manages to balance the beauty of nature with grim scenes of violence, creating a unique work of fantasy sure to linger in the reader's memory.
In "Ping" by J. Scott Coatsworth, a science fiction fan who works at a museum of popular culture encounters tiny aliens who need his help in order to return to their home planet. This is a very silly story, full of references to SF books, movies, and television series. In essence, it's a mildly amusing in-joke.
"A Matter of Time" by M. O. Muriel takes place in a steampunk setting that mixes elements of the Victorian Age with advanced technology. A crisis threatens the inhabitants of a city when the atomic clock that runs all its machines fails to synchronize with clocks in other communities. A scholar and a pilot discover their strange relationship with the master clock, while falling in love.
The plot of this romantic tale is very simple, but the background is full of imaginative details. The solution to the mystery of the atomic clock comes out of nowhere and seems implausible, even in this fantasy world.
The main character in "A Clean and Liquid Madness" by Andrew Dykstal is a convicted pickpocket, forced to become a spy or face the gallows. His assignment is to infiltrate an enemy empire and find out how they use the art of building model ships to win naval battles. The secret turns out to be an even more powerful form of magic than suspected. The reluctant spy must decide how to deal with what he discovers, and the implications it has for both past and future.
The fantasy content of this story is unusual and intriguing. The protagonist is a believable mixture of hesitancy, boldness, compassion, and selfishness. The other characters are also depicted in realistic fashion. In addition to telling an exciting tale of adventure, the author provides a great deal of insight into the protagonist's motivations.
---
Victoria Silverwolf just received an assignment to review the 1966 movie Women of the Prehistoric Planet for the Galactic Journey website.