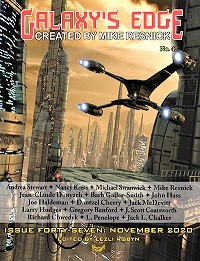 Galaxy's Edge #47, November/December 2020
"The Ecology of Broken Promises" by Andrea Stewart
"Machine Learning" by Nancy Kress (Reprint, not reviewed)
"A Midwinter's Tale" by Michael Swanwick (Reprint, not reviewed)
"Lamplighter" by J. Scott Coatsworth
"Queen's Robot Sacrifice" by Mike Resnick & Jean-Claude Dunyach (Reprint, not reviewed)
"The Monster" by Joe Haldeman (Reprint, not reviewed)
"A Farmboy, a Wizard and a Dark Lord Walk into a Tower" by Dantzel Cherry
"Saving Sarah" by John Haas
"To Hell with the Stars" by Jack McDevitt (Reprint, not reviewed)
"The Untold Christmas Carol" by Larry Hodges
Reviewed by Kevin P Hallett
This 47th issue of Galaxy's Edge contains five original stories, including one flash. In addition, this issue contains five interesting stories that were previously published. Tangent Online does not write reviews for previously published works.
"The Ecology of Broken Promises" by Andrea Stewart
Lisa's body has three extra mouths in this short fantasy; each one represents a broken promise. She has fallen out of love with her husband and one of her extra mouths represents her first extra-marital affair.
Lisa is partly ashamed of the extra mouths and sews them shut with flesh-colored thread. Then she meets a woman with nine extra mouths that she carries like a badge of her resiliency. Can Lisa ever hope to be that strong?
This character-centric story started with a bizarre concept and took it to an interesting conclusion.
"Lamplighter" by J. Scott Coatsworth
In this SF short, Fen, a journeyman Lamplighter on a distant planet finds a secret storeroom of lamp fuel. The Lamplighter guild claims a shortage of fuel to justify their high prices, but here was enough to light the entire city for a long time.
Soon after, the domed city experiences a series of earth shakes and a failure of daylight to arrive. Fen and his boyfriend must go out and light the lamps to replace the daylight. Fen remembers that storeroom, and when the city talks to him, he realizes he must act, regardless of the consequences.
After a slow start, the story picked up its pace and quickly became an intriguing read.
"A Farmboy, a Wizard and a Dark Lord Walk into a Tower" by Dantzel Cherry
Wesley is the Chosen One in this flash fantasy. The old wizard has brought him to this high tower to find the Blood Stone which will give Wesley great power.
But Wesley's nemesis the Dhar Klord appears and laughs at Wesley's futile attempts to use the uncharged talisman. All seems lost for Wesley until he remembers a simple secret.
This was an amusing snippet of a fantasy with a simple ending.
"Saving Sarah" by John Haas
Haas' SF fable begins with William using a time machine he has cobbled together over the past fifteen years. His five-year-old daughter, Sarah, had died from a misdiagnosis and he plans to break all the rules to go back and save her.
To his surprise his son Tyler has stowed away with him. Obsessed with building the machine, William hasn't spent much time with Tyler. Now he finds himself dependant on Tyler's cool head to get him through the intervention and save Sarah. But time travel has consequences that are hard to foresee, except in hindsight.
This story was an engaging, character-centric look at the pitfalls of time travel.
"The Untold Christmas Carol" by Larry Hodges
The Devil watches and admires the work of his son Tiny Tim in this very short fantasy. Scrooge refuses to help save Tim's life, which is perfect on one level, but also poses a problem for Satan since he cannot directly intervene, and his son will die without that help.
The Devil decides on a compromise, sending Benedict Arnold to play three ghosts and scare Scrooge into temporarily helping Tiny Tim. But the best laid schemes of mice, men, and even Satan gang aft agley.
The prose was well-paced and told in a whimsical style. A nice nugget to pass a few minutes with a smile.