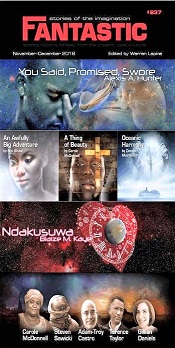 Fantastic Stories #237, November/December 2016
"You Said, Promised, Swore" by Alexis A. Hunter
"
Ndakusuwa" by Blaize M. Kaye
"
An Awfully Big Adventure" by Nisi Shawl
"
Oceanic Harmony" by Dennis Mombauer
Reviewed by Christos Antonaros
The November/December issue of Fantastic Stories of the Imagination delivers four stories, each one of them interesting in their own way. In "You Said, Promised, Swore" by Alexis A. Hunter, a woman describes the labor and birth of her daughter, while she is inside an escape pod, without her absent husband. She points to her loneliness, but also sympathizes with her daughter's more isolated situation, inside her mother's womb. Along the way, she doesn't stop to bemoan how much she misses her husband. Even though it's a very short story, the author excellently describes both the character's physical and emotional state. By the end of the story, the protagonist has won the reader's compassion.
Next, comes the flash science fiction story "Ndakusuwa" by Blaize M. Kaye, where the lifetime of a talented, brilliant girl from the age of four to two hundred and seventeen is seen through the eyes of her father. She grows up to become an astronaut who will be picked up to travel beyond Mars. We see how a parent perceives his charismatic child succeed, and how problematic might be the distance created between them, even if it is a continent away, or the Milky Way galaxy. An enjoyable read that puts you into deeper thoughts if you are a parent.
The next flash fiction drama, "An Awfully Big Adventure" by Nisi Shawl, guides us through a woman's painful fight against cancer. In small sentences and simple words, the reader experiences the suffering of almost every procedure in the battle against cancer, but also the reasons someone struggles to stay alive. By using thoughts full of emotions, inner monolog and conclusions only a sick person could make, the author successfully delivers her message.
The last, and longest, story is "Oceanic Harmony" by Dennis Mombauer. Franshisma wakes up inside an endless cruise ship, decorated like ancient Athens, with limited memories of how she ended up there. As she wanders the long corridors, she finds more people with the same story. Franshisma comes to realize that the rumors of a ghost ship looking a lot like the one they wander are more possibly true than mere inventions. I found this an attention grabbing horror story with impressive details of the cruise ship's interior. The author faithfully uses every element of a good horror story from beginning to end.
---
Christos Antonaros is a dark fiction author with a love of mythology.