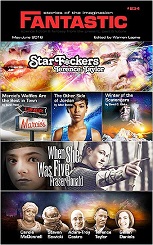 Fantastic Stories of the Imagination #234, May/June 2016
"Starf*ckers" by Terence Taylor
"When She Was Five" by Fraser Ronald
Reviewed by Christos Antonaros
Time travel can be certainly abused by foul humans, according to Terence Taylor and his flash fiction story "Starf*ckers." Martin, the protagonist, is one of those people. He travels back in time to seduce James Dean and Norma Jean in order to subdue them in orgies by using drugs. At some point, he wonders what went wrong, and why they came to the bitter end they had; but then again, he never thought that time travelers of his kind, known as Starf*ckers, could have been the actual cause. By using short and sharp dialogue and detailed body description, the author manages to create his vision of these two Hollywood stars, before they became iconic media gods. Like time traveling, he takes us back in time, when James Dean and the young Norma Jean, before she became the blond Marilyn Monroe, were dreaming of tomorrow.
In his very short story "When She Was Five," Fraser Ronald describes the aging of a girl in a fantasy world in less than a paragraph. She starts by wondering why her parents are fighting monsters and ends up being a hunter herself. The length of the story, though, is disappointing. It could have been better served with more information about the monsters, the location, the character's background, and a thorough description of certain events. Finishing it, it felt like reading the footnotes for a novel.
---
Christos Antonaros is a dark fiction author with a love of European mythology.