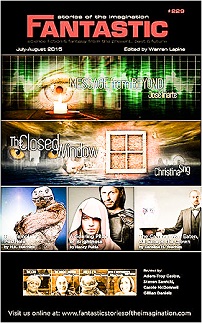 Fantastic Stories of the Imagination #229, July/August, 2015
"Message from Beyond" by

José Pablo Iriarte
"

The Closed Window" by Christina Sng
Reviewed by Michelle Ristuccia
"Message from Beyond" by José Pablo Iriarte follows con man Ray LaSalle as he attempts to cash in on his Aunt Liz's reputation as a spiritual medium, despite the fact that she has had a debilitating stroke. When a reporter comes to see Aunt Liz, Ray fears his setup will be spoiled by his suddenly active aunt. The switch in perspective towards the end leads to a satisfying ending.
"The Closed Window" by Christina Sng is told in first person by a bereaved mother who obsesses over the closed window to nowhere in her apartment. An unremarkable story about guilt and the paranormal.
---
Michelle Ristuccia enjoys slowing down time in the middle of the night to read and review speculative fiction, because sleeping offspring are the best inspiration and motivation. You can find out more about her other writing projects and geeky obsessions by visiting her blog.