Collecting Fantasy Art #7:
Susan and Betsy
By Robert Weinberg
Copyright © 2011 by Robert Weinberg
A note from the editor:
This time Bob Weinberg narrows his scope just a bit to tell two amazing stories— how he was asked to act as broker for two major art collections from a pair of daughters of well known SF personages, one an artist, the other an editor/publisher. The first comes from one of the daughters of revered SF artist Ed Emshwiller (Emsh), and the second from the daughter of (also) revered SF writer, editor, and founder/publisher of DAW Books, Donald A. Wollheim. Featured artists are Ed Emshwiller, Ed Valigursky, Robert Schulz, and quite a number of almost-lost interior frontispieces to the classic Ace Burroughs paperbacks from the 60s by none other than Frank Frazetta and Roy G. Krenkel. As you will read, the prices for many of these pieces of classic SF/F illustration have soared astronomically over the years, some increasing in value a hundredfold. That's one hundred times what collectors were paying for them a scant few decades ago. Something to remember the next time you browse the art room at an SF convention, or bid on a small piece of art at the convention's art auction.
(Cover above left by Ed Valigursky for Robert Moore Williams' Conquest of the Space Sea. Cover above right by Emsh for Venture, November 1957, illustrating Theodore Sturgeon's cover novelette "It Opens the Sky.")
~One~
I make no claims of perfection. Much as I hate to admit it, I am only human, and as such, have my share of faults and imperfections. There are people in science fiction fandom with whom I do not get along, and I'm sure if you run into one of them, they will gladly describe in great detail my bad habits and terrible flaws. That's life and I make no excuses for not being everything to everybody.
To be honest, I do try my best to get along with all people. I am known as a fairly mellow person and have maintained a low profile in most of my dealings. In the various business ventures I've engaged in during the course of forty plus years of earning a living, I've tried to maintain good relations with most people. No, not everyone, because I am not a saint and some people cannot be dealt with in a rational manner. But, I've tried. Oh, how I've tried.
Have I succeeded? That's a judgment call and I'm the last person who should be making that determination about myself. However, I think I've managed to make a good impression on a vast majority of the people I've met. That there are some characters who just don't like me for reasons never stated is one of those great mysteries of life that I've long accepted as part and parcel of being alive and in the public eye.
All of which leads up to a minor or major point that I'd like to make about these adventures in art collecting that I'm transcribing. In the course of writing down these incidents, I'm struck with the same sense of absolute astonishment that I experienced while these incidents took place in my life. Obviously, in condensing forty years of collecting into one 250 page manuscript, events tend to crowd up and run into each other. Some of these encounters take place over a year or more but are condensed to only a few pages. People arrive, collect their money, and disappear from the scene in the course of a chapter. I can't help that. I've tried to maintain some semblance of order in discussing the happenings in the art field. If I've run too many deals one into another, I apologize. Rest assured that you are getting only the highlights of busy days, weeks, months and years of collecting. For every deal discussed in these memoirs, five other smaller but significant trades and purchases are left out. Otherwise, this book would read like an encyclopedia. I touch only the highest points of high lights. Most of which are the result of maintaining a spotless reputation in the art field. I get these deals because people in the SF field trust me. They know that I will always give them a fair shake. If anything, because I am anxious to deal in rare old pieces of artwork, I'll pay more for old pieces than just about anyone. Let's be honest regarding art. I'll pay more than most dealers because I'm a collector as well as a dealer. To me, buying original art is all part of a wonderful game called collecting. The winner of the game is the person who has the most toys – or in this case, original artwork.
~Two~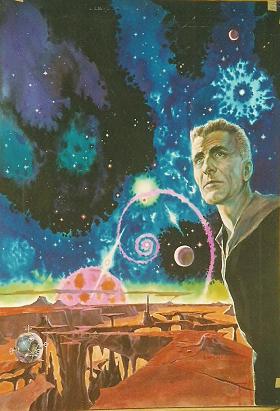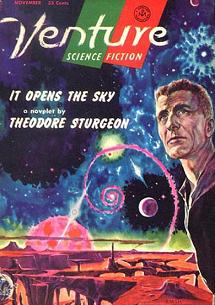 I composed the section preceding this one as an introduction and explanation of the rest of this chapter. Following those brief words of introduction are the tales of two art collections. One belonged to Susan Emshwiller, the other to Betsy Wollheim. I was involved in selling both accumulations. Both of these deals were incredible, and in both situations, the deals came to me and not vice-versa. I didn't go out and hunt these collections/accumulations down. In both cases, the owners of the material found me and asked me if I would help them sell their material. And, in both cases, the items were so good that any art dealer in the world would have jumped at the chance to handle the pieces.
So, for those who wonder about such things, a good reputation is definitely worth having. Making fair deals with everyone does pay off. Do a favor for someone without expectations of anything in return, and that favor will be paid back to you many times over. I'm living proof of those maxims. Me and my art collection.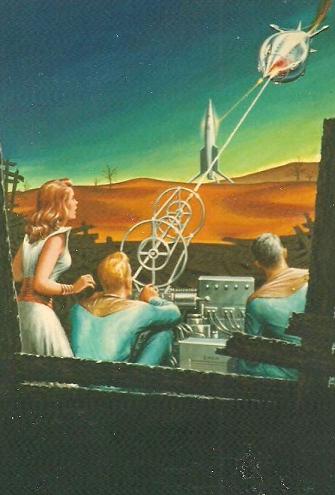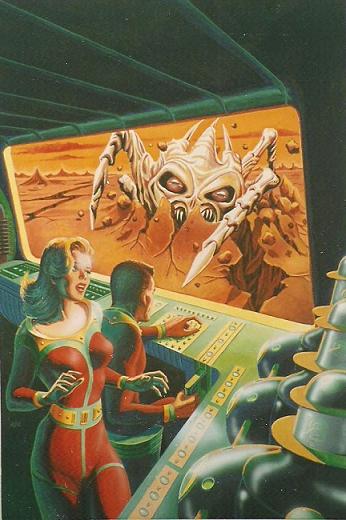 It was in the fall of 1993 that I received a letter from Harlan Ellison. I won't go into how Harlan and I had become friends, but we had been on good terms for around ten years. Most of all, he knew that I was honest and that I treated science fiction art with the respect it deserved. Thus, the contents of his letter. He wrote to me that he was friends with Susan Emshwiller, one of the daughters of the late SF artist and film-maker, Ed Emsh. Susan was involved in the film world and was trying to raise money for a project she was working on. With the permission and cooperation of her mother and sister, she wanted to sell a number of her father's science fiction cover paintings to raise money for her assignment. Unfortunately, Susan did not have any contacts in the science fiction field. Nor did she really know how to advertise and sell her father's paintings. Harlan wondered: could I lend Susan a hand?
Needless to say, I could and I would. I immediately contacted Susan, discussed how to sell the art, and sent her a consignment contact the next day. Within a week, we were in business.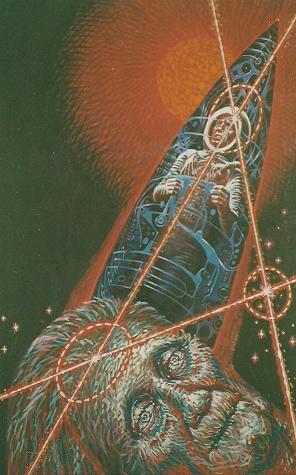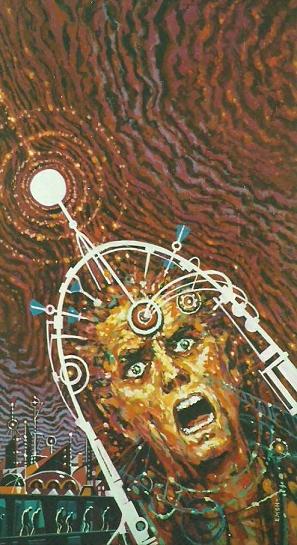 The one very smart thing she had done was photograph all of the paintings she, her mother, and her sister owned. The photos were nice and clear and in vibrant color. She sent me a set to look at almost immediately. I was able to identify nearly all of the pieces. Nearly all, because a few were not the least bit familiar. One or two looked primitive, perhaps from Emsh's portfolio that he took around to show to various art directors for magazines. One or two pieces were quite finished but I just didn't recognize. Plus, there were approximately a dozen mystery and detective paintings that were entirely new to me. I did some investigating on my own and discovered that Emsh had painted covers for various mystery digest magazines from the same years he had been working for the science fiction mags. It was a side of his career I was unaware of. No matter. There were a few very nice mystery covers that I felt certain I could sell. And I was right.
All in all, Susan had around a hundred full color paintings on hand. Along with those, she had another forty or so single color paintings with SF elements in them. These were pictures done for Avalon Books dust jackets. Avalon was a library-oriented publisher. It was responsible for a line of inexpensive hardcover volumes that came out every month in the late 1950s and 1960s. The line was edited for many years by Robert A.W. Lowndes. It was a curious mix of new titles and old classic SF novels. Many of the older novels were abridged or cut for modern audiences. The new titles were novels written by authors including Joan Holly, Adam Lukens, and several other writers who turned out book after book for a lot less money than paid by mainstream publishers. The jackets to the Avalon Books were one, sometimes two colors, with illustrations usually done by Emsh. I considered art for Avalon Books to be one step above a black and white illustration for an SF magazine and charged accordingly. Even though the Avalon art was offered for sale cheap, no one was very interested in any of it. Most collectors preferred buying full color paintings.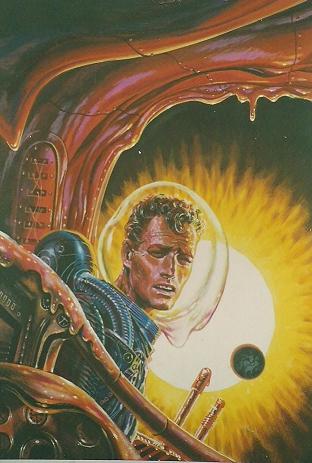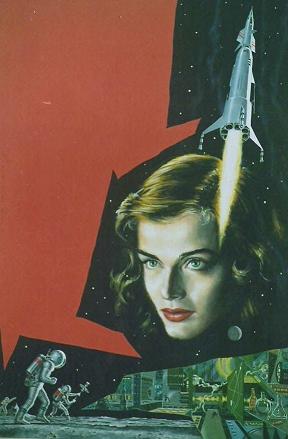 I had photos of the hundred or so paintings Susan had on hand, but I knew that collectors would want a more detailed report on condition, size, etc. etc. so I had Susan send me all of the color pieces. It was an incredible thrill to have five score science fiction paintings delivered to my house. Ed Emsh was one of the finest science fiction cover artists of all time and this group was primarily cover paintings from the 1950's and early 1960's digest magazines. The art was incredible. As usual, I remarked to my wife, Phyllis, that "I'd never see another deal like this again." It was the fourth or fifth time I had made that statement, so by then, I suspected Phyllis was barely paying attention. "Never" she realized, meant "Not for a few months."
I priced the Emsh paintings at $1,000.00 to $3,000.00 each. It was approximately sixteen years since I had been involved in selling another large group of Emsh paintings, the Ace paperback covers, which I had priced between $125 – $225 each. Times changed and so did the price of art.
It's been approximately 17-18 years since I last had that huge group of Emsh magazine covers for sale. At a recent pulp collectors' show in Chicago, Emsh paintings from the 1950's and 1960's were selling at prices ranging from $10,000 – $15,000 each, approximately ten times what I sold the pieces I got from Susan Emshwiller for back in 1993-1994. Approximately one hundred times the price I had sold Ace paperback covers working with Doug Ruble back in the 1960's. Good art retains its value and usually goes up in price over the years. Though, it's hard to imagine that Emsh paintings will cost more than $10,000 each in years to come. Still, there were some bargains at that Chicago show, Emsh originals selling for $4,000 – $5,000 each if you looked hard enough.
According to my records, I sold forty-one paintings for Susan Emshwiller the first few weeks I had the artwork on hand back in 1993. It was an exciting time. I could not imagine getting a better deal.
Emsh Showcase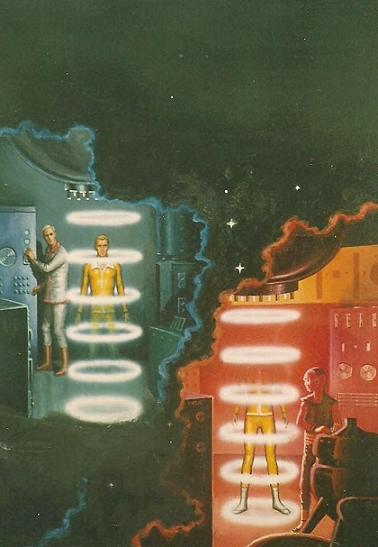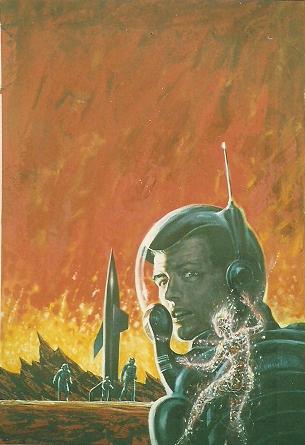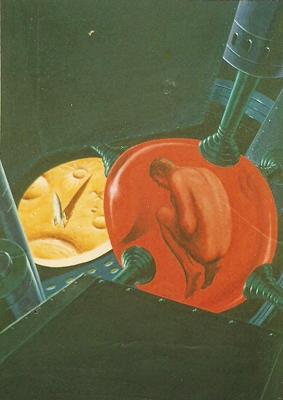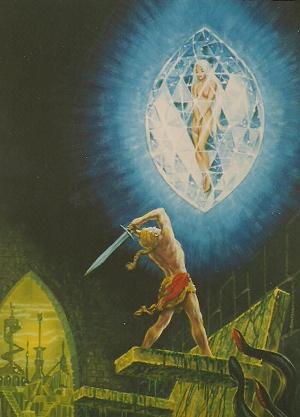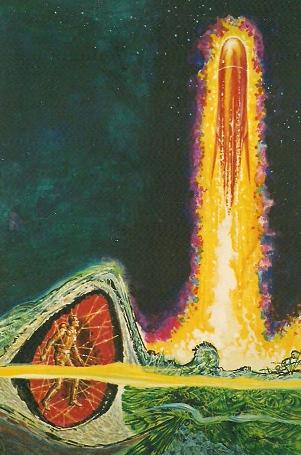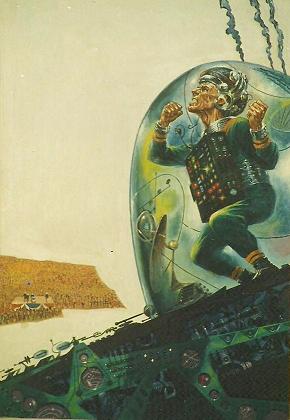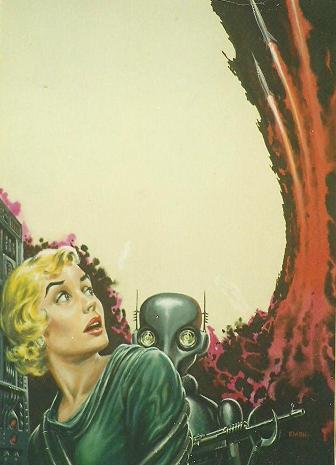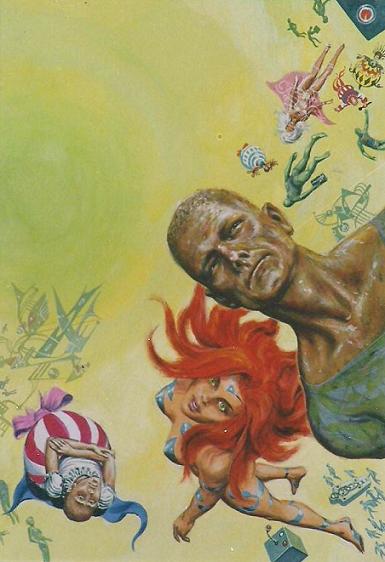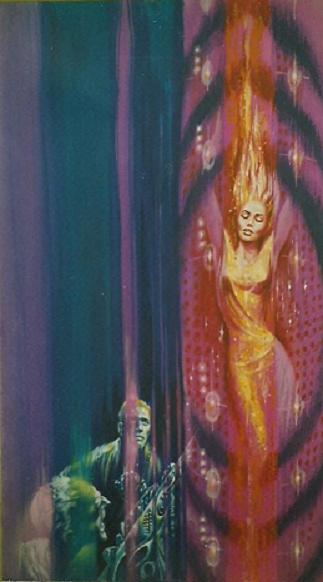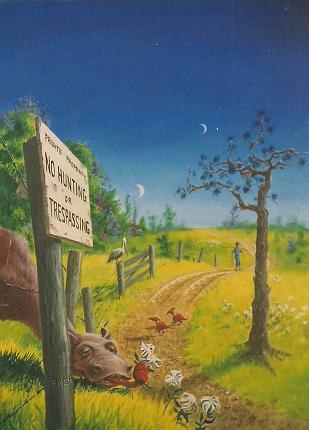 ~Three~
(Editor's note: In the following section the line drawings running down the left side of the page are by Frank Frazetta, those running down the right side of the page are by Roy G. Krenkel.)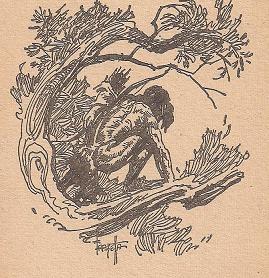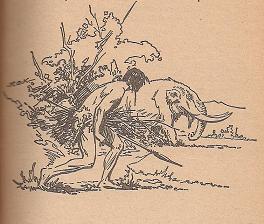 The better deal came along in 1995. By then, sales of the Emsh paintings had slowed down enough that I was considering sending back those paintings that had not sold and closing the books on my consignment deal with Susan Emshwiller. I did exactly that early in 1996, returning what was left of the science fiction pieces – mostly Avalon Book covers – and a few mystery magazine cover paintings. It had been a very profitable deal for Susan and me. Not that I had much time to sit back and count my chickens. By then, I was deeply involved in my next consignment sale, working for my friend, Betsy Wollheim. I was selling on consignment her father, Donald Wollheim's, art collection. It was an amazing cache of material. Another deal that came along "once in a lifetime." As my wife enjoyed repeating to me.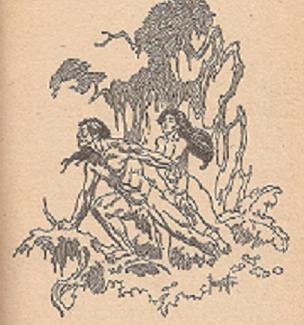 I had known Betsy Wollheim since 1983. The daughter of noted editor and science fiction authority, Donald A. Wollheim, Betsy had carved out her own place in the science fiction universe. Don had left Ace Books years earlier and had started his own imprint, DAW Books as part of New American Library. Gradually, Don and Elsie Wollheim had given up the trappings of power and transferred the business over to Betsy. In 1983, she served as one of the judges for the World Fantasy Awards. I was chairman of the World Fantasy convention, which was held in Chicago that year, and Betsy and I had a number of phone conversations about the convention and her responsibilities as a judge for the awards. We became good friends and remained in casual contact over the years. As a collector and fan of the pulp magazines and 1930's science fiction, I also knew her father, Donald Wollheim, and his wife, Elsie.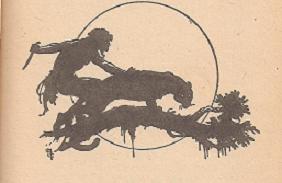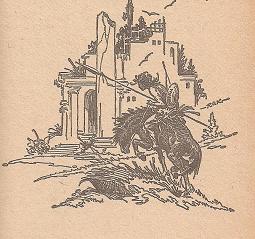 Donald Wollheim died in 1990. He owned a fabulous book collection which was bought by my friend and fellow book dealer, Lloyd (L.W.) Currey. In casual conversation with Lloyd, I learned that Don's art collection, never cataloged or put into any sort of order, still remained in Betsy's possession. Not being a fool, the next time I was on the phone with Betsy, I mentioned that if she ever wanted to sell her father's collection of original art, that I would be glad to sell the material for her. Since I also knew she had not been happy selling Don's book collection for a single price, I told her that I would be willing to sell the art on consignment. That way, she got a percentage of the sale price for every item sold. In a consignment sale, the owner didn't get paid as much money as fast as in a direct sale, but usually received a higher price on the sale of the entire collection over time. Consignment sales worked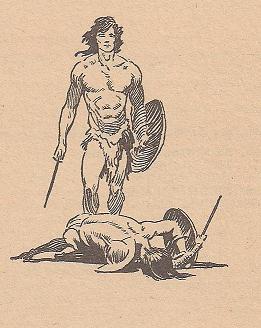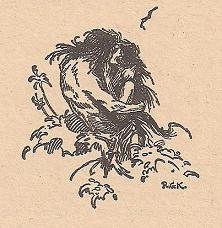 out best for collections that contained a large number of exceptional pieces. I didn't know what was in Don's collection, but knowing that he had been involved in the Science Fiction field as a fan and a pro for approximately sixty years, I felt certain that there had to be a lot of good material.
Still, though Don passed on in 1990, I didn't hear from Betsy about the art for years. It wasn't till 1995 that she contacted me. She had finally decided it was time to sell her father's art. When would I be in New York to pick up the material? It was much too varied in size to ship easily in boxes to Chicago. She preferred that I come to her apartment and take the artwork home with me on the plane.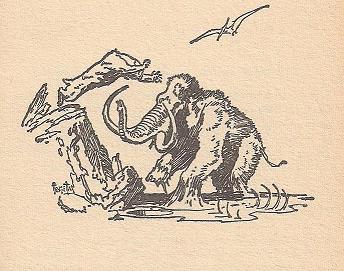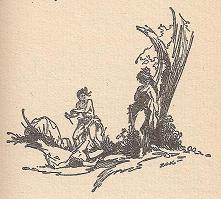 Fortunately, at the time, I was serving as Vice-President of the Horror Writers Association and one of my duties was running the Annual Banquet and Awards Dinner for the organization. While the dinner had been held the year before in Las Vegas, I had campaigned on a platform of holding it once again in New York City. Thus, I was scheduled to be in Manhattan in July. That was the good news. The bad news was the only time Betsy could see me was Friday afternoon. And I was scheduled to run a cocktail party that evening for the Horror Writers. My schedule was going to call for some fancy footwork.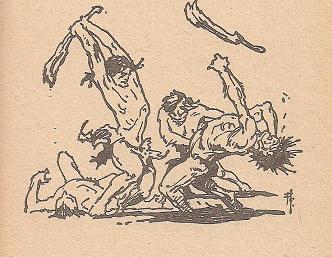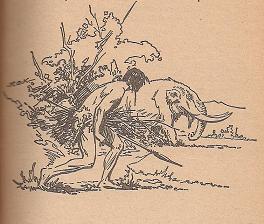 I didn't realize exactly how fancy and how much footwork would be involved until I spoke with Betsy a week before flying to New York. I asked her how much art she had to give me. She told me to bring a suitcase. "Bring a big suitcase," were her exact words. "The biggest suitcase you have." That's when I started worrying.
I didn't have a steamer chest, but I did have a heavy-duty steel reinforced suitcase that was nearly a foot thick and big enough to squeeze a human body into its cloth lined insides. I assumed that monster would be big enough for anything Betsy might give to me to take home. I was in for a surprise. Fortunately for me, flying during the summer, most people did not have much luggage. I was the only person with two suitcases and in those long-ago times, there was no charge for an extra suitcase. Even if it was big enough to smuggle a body inside it.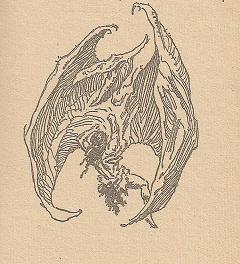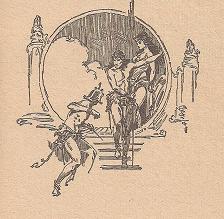 When I arrived in New York, I carefully checked with my team of convention volunteers about the cocktail party scheduled for that evening. Everything was set, down to the free cocktail everyone would get for attending the party. I also managed to call an editor friend from Random House and invited him to the party. I was collaborating on a techno-thriller novel with a horror writer and thought the Random House editor might be interested in hearing about the novel. I didn't think he would be tempted to make an offer on the book, but I figured it wouldn't hurt to at least give him the details. Especially since my co-author would be at the cocktail party, along with our agent.
Calling my friend, the editor at Random House, I realized that I was passing up a golden opportunity to pitch the thriller novel to another important New York editor – Betsy Wollheim. So, I asked my co-author, Lois G. if she would mind giving me a hand with my empty suitcase when I visited Betsy later that afternoon. And at the same time, could she assist me in pitching our collaborative novel to Betsy? She agreed, and I found myself with an extra pair of hands.
We took a cab down to the loft where Betsy lived on the far south end of Manhattan. It was a huge space with lots of room and when we walked in, there was art everywhere. Art leaning against the walls, spread out across the floor, resting in chairs, stacked up on tables. Betsy had a lot of art. Much more art than I had expected. She had art from the science fiction pulp magazines, from digest magazines; she had Ace cover paintings; she even had DAW paperback covers. Obviously, Don had kept artwork from wherever he had worked in the past sixty years. And Betsy had it all.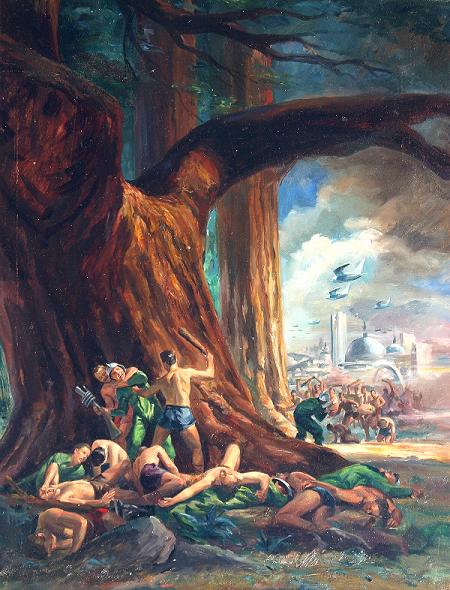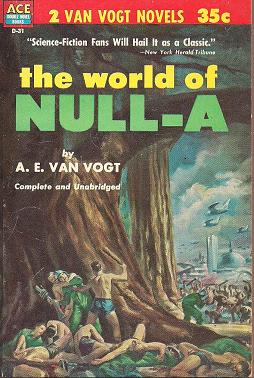 Back in the 1970's, when Doug Ruble had gotten artwork from Ace Books, he had asked Ray Walsh and me to send him lists of artwork we wanted from the Ace Book warehouse. Unfortunately, at the time, most of the cover paintings I wanted weren't in the warehouse. They had been given away to visitors to the publishing house, I was told. That afternoon, in Betsy Wollheim's loft, I found out the truth. The art had not exactly been given to visitors. Instead, some of the very best Ace paperback cover paintings had gone to Don Wollheim. All of my life I had felt cheated that the cover painting for The World of Null-A by van Vogt had been missing from the warehouse. Now, that disappointment disappeared when I spotted that painting by Robert Schulz leaning against a wall in the loft.
There were paintings by Frank R. Paul in the loft – six of them! (Two of the Paul's were from Science Fiction and Dynamic Science Stories.) And a painting by Hannes Bok from Science Fiction Quarterly; A stunning Ace cover by Ed Valigursky for The Conquest of the Space Sea; a Don Maitz painting;–and more, lots, lots more.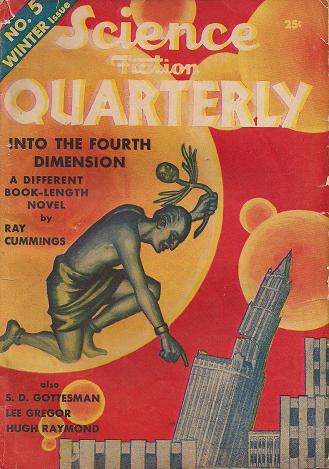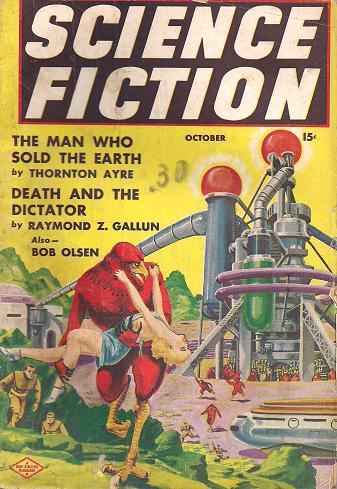 There were Leo Morey black and whites. There was an original by Elliot Dold. An original by Leydenfrost. Several oddball Hannes Bok black-and-whites that looked like they came from a mystery magazine. Lesser known pieces from early 1940's science fiction pulps by artists whose names were long forgotten. There even was a Frank Frazetta painting. It was for an Ace paperback anthology edited by Don Wollheim, Swordsmen in the Sky. Once there had been two Frazetta paintings in the Wollheim collection, but one of them had been artfully conned out of Don's possession. The perils of collecting expensive artwork I suppose.
Seeing my interest in the Frazetta painting, Betsy directed me to sit at her kitchen table. There, she produced a heavy brown manila envelope. Opening the flap, she shook the contents of the envelope onto the table top. A big batch of slips of paper emptied onto the dark table. They were pieces of paper approximately four inches by four inches square. Each slip of paper contained one picture, done in ink, along with either a signature or several initials. Curious what these small illustrations might be, I looked at them carefully. Then I looked at them again. This time, I sorted them out by the name of the artist or the initials. There were eighteen pieces of paper signed Frank Frazetta. There were eighteen pieces of paper initialed RGK, standing for Roy G. Krenkel. Just about every illustration featured Tarzan or a dinosaur or John Carter or some other inhabitant of Mars or Venus. I looked at Betsy. "Are these the frontispieces for the Edgar Rice Burroughs paperbacks?" I asked.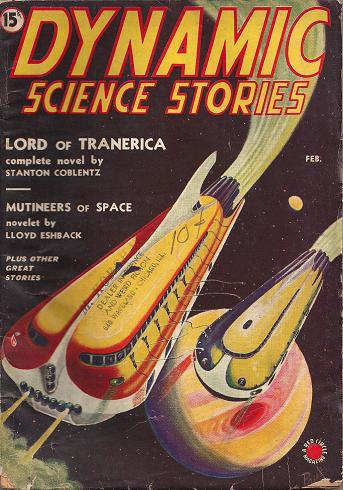 "You guessed it," replied Betsy.
In the early 1960's, an enterprising employee at Dover Books noticed that the person in charge of renewing copyrights at Edgar Rice Burroughs Inc. had not renewed the copyrights for a number of Burroughs' novels. Dover, a reprint house specializing in republishing public domain material, issued omnibus volumes of the Burroughs' novels. Ace Books, with Wollheim as their editor in chief, published new paperback editions of these public domain novels with new covers by comic book artists, Roy Krenkel and Frank Frazetta. Along with the covers for the new paperbacks, the artists also contributed black and white illustrations that were published on the title page of the novels, giving the paperbacks a classier look. The new covers, with spectacular art, sold like wildfire. They did so well for Ace that the company licensed a number of the books that were not in public domain to satisfy the huge demand for Burroughs novels. Without question, the Frazetta and Krenkel covers were a major factor in the books' incredible sales.
What Betsy had were the original illustrations that appeared on the title pages of the Burroughs' novels. After the books had been photographed for the printer, an assistant in the Ace office had gone through the manuscript sheets and cut out the art to return the pieces to the artists.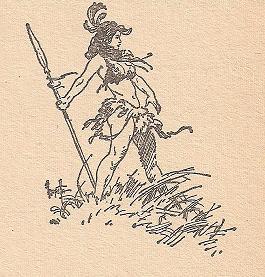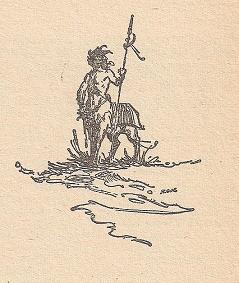 However, when offered the originals, neither artist had bothered to take them back. Frazetta had actually thrown the pieces he had drawn into a waste-basket. Neither artist expressed any interest in keeping the sketches. After the men had left the Ace offices, the office boy had rescued the abandoned pen-and-ink pictures and put them in an envelope for safekeeping. Many years later, Betsy had stumbled across the illustrations in a file drawer. With Krenkel dead and Frazetta originals selling for thousands of dollars, she had vague hopes of making a small profit on the cost of illustrating the paperbacks. I felt fairly certain that we would make a handsome profit on the small pen-and-ink sketches.
Packing up the art to take it back to my hotel just off of Central Park proved to be an unexpected challenge. The Ace and DAW artwork, along with the Frazetta painting and the numerous black and whites filled the suitcase to the brim. It easily weighed thirty or forty pounds. The six Frank R. Paul paintings, all two feet by three feet or larger, along with a huge cover painting for the third issue of Astonishing Stories, we put in a huge black pleated garbage bag. It was the only way we could manage to take the seven loose paintings in a taxi-cab.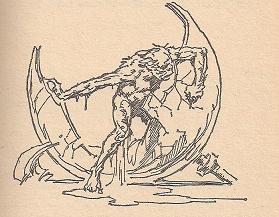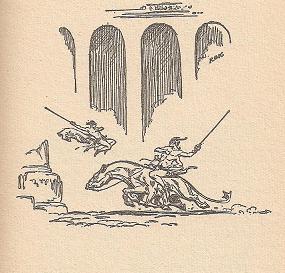 Lois G. and I left Betsy's loft around 5 pm on a Friday. Not the best time to travel uptown during the summer. Somehow, by the grace of God, we made it back to the convention hotel with just enough time to change for the cocktail party. The art I left spread across my bed while I played at being an author.
Strangely enough, both the editor at Random House and Betsy were impressed enough by the techno-thriller idea to make an offer for the novel. Lois and I accepted the Random House offer, but that's a story for another book entirely.
The next day, I had a full schedule of events to coordinate and a fancy dinner party to host. At the same time, I came to a realization that morning that there was no way I was going to be able to take the huge suitcase and the seven loose pulp cover paintings back on the plane to Chicago. The thought of somehow boxing up the paintings and flying them back struck me as insane. I thus decided that the only way to manage the Wollheim art collection was to somehow either sell the oversized paintings in New York City, or find someone who was willing to ship them back to me in Chicago. I decided to make a few phone calls.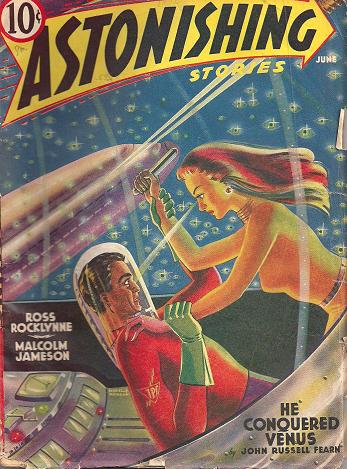 The first person I called was Robert Lesser. By now, Bob Lesser had been collecting pulp cover paintings for years and had been promoting himself as the most important collector in the genre. I knew that he had a strong weakness for Frank R. Paul paintings. I had six Paul paintings, as well as a huge pulp cover for Astonishing Stories. Plus, faced with the daunting task of getting the art home to Chicago, I was strongly motivated to sell. I was willing to give Lesser a bargain price.
What made the deal even sweeter was that Wollheim had the Paul cover painting done for the fourth issue of Science Wonder Stories, September 1929. This cover was one that no one suspected still existed, and was the second oldest Paul cover painting ever found. It was a rare treasure and I was willing to let it go for a reasonable price that weekend. I called Lesser and arranged to meet him at my hotel room at 10 pm that evening, long after the dinner party was over, but during the celebration of the winners on the hotel balcony that night.
To my absolute surprise and dismay, Bob Lesser turned down all of the Paul paintings I offered him. All of his spare cash was tied up in Certificates of Deposit and he didn't want to lose the interest on his money by taking it out early. I was willing to wait for payment, but he didn't feel comfortable doing that. Lesser turned down a golden opportunity to buy seven science fiction pulp covers at a bargain price. It was the last time I ever offered Bob Lesser artwork for sale.
As a dealer in rare and very collectible material, I believed in giving collectors one chance. No more and no less. If they took advantage of that chance, they remained in place or moved up a notch depending on what the collector above them did. In Lesser's case, he had been first person on my list of pulp painting collectors. In turning down my offer, he went down to the bottom of the short list of pulp art collectors. All of the people beneath him moved up a notch. It was quite possible that Lesser would soon rise to the top again. But, if other people took advantage of my offers, he might not be offered a painting for many months.
The person below Bob Lesser was my friend, Jerry W. who at this time, lived in Brooklyn. I called him that night and told him what I had and what I needed to do. He agreed to meet me the next day in the morning, and I went upstairs to the party. Things seemed to be slowly tilting in my direction.
The next morning I met Jerry W. after partaking of a leisurely breakfast at the hotel dining room. He expressed mild astonishment that Bob Lesser had passed on the Paul artwork. But he correctly guessed that Lesser had probably not wanted to take his money out of a CD. It was an excuse that the art collector had been using more and more. Jerry didn't doubt it was true, but like me, he felt that buying rare art didn't happen every day of the week, and a collector had to be prepared to act when art was available, no matter whether money was easily available or not.
Jerry had no such problem spending money with me. He bought four of the six Paul paintings, including the cover from Science Wonder Stories. He agreed to ship the other two Paul pieces to me along with the Astonishing cover. He then asked if he could look at the pieces I had in the suitcase. I couldn't see any reason why not. I was committed to selling the art on consignment and Jerry was clearly interested in buying stuff. So I showed him what Betsy had given me.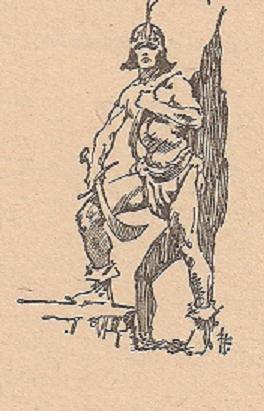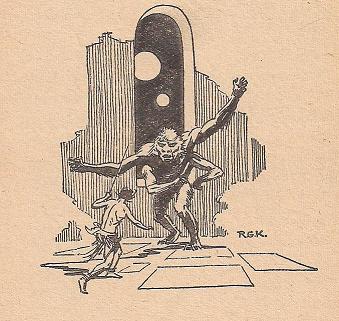 He liked any number of pieces, but when he encountered the Frazetta illustrations, he admitted that all of his money not spent on Paul paintings was going to pay for several of the frontispieces. I wanted to give him a fair price, as I felt obligated to him for helping me out of a jam with the Paul artwork. So, I quoted him $3,000 each on the drawings. He seemed to think that was a more than fair price and took several of the illustrations. I had visited with Betsy on Friday. By Sunday, I had already sold approximately $50,000 worth of art. I had a good feeling about this deal.
A few months later, I learned that Jerry had taken the four Paul paintings he had bought from me that Sunday and resold them to several well known art collectors for twenty percent more than he had paid me. I wasn't disturbed. We all get the best prices we can get for collectible material and prices tend to vary from one seller to another.
At the Chicago Comic Book Convention later than summer, I sold a half-dozen more of the Frazetta originals for prices that ranged from $3,000 to $4,000 each. The Krenkel originals sold for a good deal less, but they were equally popular. Once I cataloged most of the art I got from Betsy and got that list into the mail, I could have sold most of the pieces on hand two or three times per item.
I earned Betsy over $100,000 in consignment cash. I took my fees in art from the collection, thus insuring that Betsy got all of the cash raised by the sales. It made the most money for her and enabled me to add a number of stunning originals to my collection.
It was as I told my wife, "A deal that comes along once in a lifetime." Again.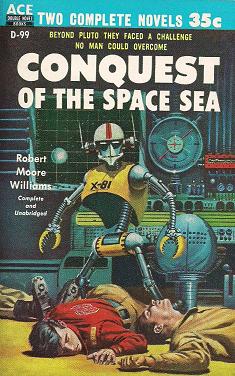 ~Next Time~
Column #8
The Scientologists and SaM.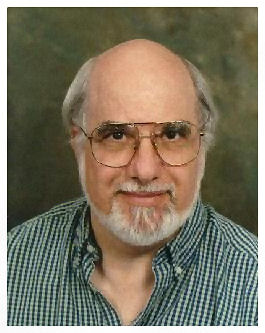 Robert Weinberg is the author of 17 novels, 16 non-fiction books and around a hundred short stories. He's also edited over 150 anthologies. He owns one of the finest SF/Fantasy original art collections in the world. These days, Bob is busy promoting his new book, Hellfire: Plague of Dragons, done with artist Tom Wood, and serving as editor for Arkham House publishers.
Article and art copyright © 2011 by Robert Weinberg. All rights reserved.
Introductory text © 2011 Dave Truesdale and Tangent Online.