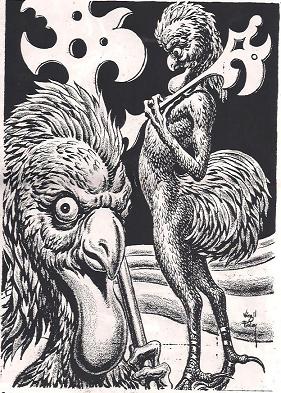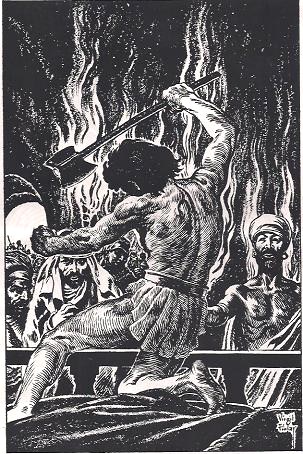 Collecting Fantasy Art #10
A Party and Some Sales
By Robert Weinberg
Copyright © 2011 by Robert Weinberg
I'd like to start this column off by apologizing to all my readers as well as to the staff of Tangent Online and especially to Dave Truesdale. I told everyone involved with publishing these columns that I would produce one every month and that I would keep to that schedule no matter what. Of course, I did not realize that the world had other plans for me. My deepest apologies for missing my deadline last month. I know I am a month behind on columns. To be honest, this column is just a fill-in effort for this month. I hope by December to finally be back on schedule.
I surely did not realize, when I first started writing these columns, that composing them would take more than just a few hours once a month. I had no idea that after a while, I would start spending several days working on these pieces, searching for letters and catalogs to fill the articles with long-forgotten data and real examples of prices at the time. Neither did I understand that what I had begun on a whim would become a full-fledged book, detailing the incredible growth of the SF art field over the past quarter century.
No matter. When last we saw this column, it was at the end of September 1999 and I was promising that the next selection of my autobiography would cover a party held sometime after the events in that column. In the real world, I was taking it easy, feeling pretty good, and casually collecting some books and pulp magazines that I needed for my collection. I had just turned 65 at the end of August which qualified me for Medicare and I felt healthy and happy. I was all prepared and about to write that column when I got an unexpected call from the wife of an old friend who had died a few months earlier.
That wife was Rosalind Greenberg, wife of my good buddy, Martin Harry Greenberg. Rosalind was thinking of moving from her home in Wisconsin to live with her daughter on the West Coast. As part of the move, she was disposing of Marty's huge library of books, both hardcover and softcover, in the mystery and SF fields. Having helped Marty assemble his collection, she wondered if perhaps I knew some people who might be interested in buying the books? The collection didn't consist of books that Marty edited – instead, it was books that he had read or used as reference when putting his books together. There was nothing really old in the accumulation. It dated from the 1970's forward. But there were thousands of books, many of them review copies, and many of them fine to near mint. In all, there were somewhere in the neighborhood of 10,000 books in the collection. I promised Rosalind I would help her find a buyer.
I spoke to a number of collectors, all who were somewhat interested in the books. My friend, Doug E. who ran a local pulp and paperback convention in Chicago each spring, the Windycon Pulp and Paperback Show, was the most interested, and I promised him that I would help him sell the books if he bought them. After some minor negotiating, Doug bought the entire book collection.
In hopes of raising some of the money he paid for the books, Doug issued two electronic lists of rare and unusual books from the collection for sale.
These catalogs are free, and are still available. All they require is that you contact me (write to Bob Weinberg at R-PWeinberg@msn.com and send your email address to get them.). This part of the collection consists of many signed books, including a bunch inscribed by Isaac Asimov to Greenberg, Dean Koontz to Marty, and lots of others. Prices are fair, but not cheap.
The Greenberg Book Collection turned a relaxed period of my life into a much busier time. But it was a mere inconvenience when compared to my next problem. Around the same time as the book collection turned up, my doctor discovered that my kidneys were failing. The situation had been growing worse and worse over the past few years and he felt that now was the time to act, before they became a more serious problem. I needed a fistula put in my right arm, preparing me for dialysis sooner or later. The surgery had to be done in October since that was the earliest the doctor could make it. The operation was not dangerous, but I needed to undergo a series of preliminary tests beforehand, including an EKG, a heart scan, and a stress test. I was assured by everyone involved that I would survive and be in great shape after the tests were completed. Still, after a few days of warnings, I had my doubts.
The tests were not dangerous I was assured — but they might take days and days for me to recover. And, during that time I was warned that I would probably be spaced-out and unable to work. Needless to say, the more I was told not to worry, the more upset I became.
The various tests took place on Friday, October 21. Despite all the assurances I received, the next week passed in what best could be described as "In A Haze." I slept a lot, stared at my computer screen a lot, and floated through life unaware of most everything that happened around me. Fortunately, all of the tests proved negative and the fistula was placed in my arm without any complications. After a week, I seemed to recover fine. I did swear never to get another fistula put in my arm.
I am now all ready for dialysis. Or at least ready for it to begin in 2012. Which meant I could refocus my thoughts on the events of eleven years earlier. Specifically, the party for art collectors held at my house during the 2000 World SF Convention held in Chicago, The 58th World Science Fiction Convention. Chicon 2000, which was held on August 31– September 4, 2000. It was one of several parties that took place at various World SF Conventions over the years. Major art collectors had a party for the small group of collectors who made up the inner circle of SF Art Collectors. About twenty collectors normally attended and it was an opportunity for one collector to show off their collection to everyone else.
As stated, the party in question took place during the World Science Fiction Convention in Chicago in the year 2000. The actual place of the party was my house. All of the big art collectors were there – lots and lots of people mentioned in these memoirs and many who were not. Steve K. and his father, EK, attended. As did RGC, but not Jerry W who was in Europe. Howard and Jane were there, as was Ken M, Doug E., Deb F., and lots and lots of others. Alex E. and his wife, Phyllis, were invited but could not come because they were hosting a retrospective art show downtown.
We looked at paintings, discussed favorite artists, ate snacks, and had a wonderful time. I don't think any major art deals were made at that party. It was a social gathering where collectors just socialized for a change instead of trading. But it was fun, and it helped make the art collector's community a bit more friendly and relaxed.
Unfortunately, not all collectors were in attendance, nor could all collectors become honest as the result of one party. Some could not become honest no matter how many such parties they attended. More about one of them, next time.
Meanwhile, let me wander over to something different to make this abbreviated column a little more interesting. Over the years, I've published numerous catalogs devoted to rare books, pulp magazines, and original art. While I maintained detailed files on who bought what and when, once I got out of the business, I slowly but surely destroyed those records. However, after much searching, I found several of the catalogs I sent out advertising the original artwork I had for sale at the time. Most of them include pictures of the pieces I offered for sale, and more important, to the collector, include the price that I sold the originals for. Every original listed in these catalogs sold, though a few of them required a second listing to get them placed with a customer.
I've reproduced those catalogs below. The information is exactly as it first appeared approximately fifteen to twenty years ago. Please DO NOT ORDER any art from these listings, as everything was sold when the catalogs were first printed.
---
ORIGINAL SF, FANTASY ART FOR SALE – FEB. 1990
This listing is by no means complete, but it does give some idea of the pieces on hand. Photos are available for any of the originals listed for $1 each (the approximate cost of the Polaroid film).
The following pieces of original art are offered on a first-come, first-served basis. All pieces are in good condition. Prices include shipping. Sorry, but foreign customers are billed at cost for shipping.
A phone call will reserve any piece for one week. We are always interested in good sf/fantasy art. Main interest is in paintings, though good B&W illos by Freas, Bok, Finlay, Cartier, and Paul are always wanted.
---
SF, FANTASY ART

1. ALEXANDER, PAUL – Solo Kill, 18×33, full color painting for 1970's Berkeley pb …$750
2. BARR, GEORGE – The Spellsword – 9×14, color, DAW pb cover. Framed (art can be seen on page 125 in UPON THE WINDS OF YESTERDAY) …$900
3. BOAS, MARCUS – Rogues in the House – 24×30 full color painting, frame. From the Don Grant HC of this Robert E. Howard Conan story …$700
4. BOK, HANNES – Little Black Sambo – 9×12, full color, unpublished painting from 1938 (a year before Bok's first professional sail) signed "Hans Bok," and bought from Bok's estate several years ago. Unusual stylized native and palm tree. Professionally framed and matted under glass ..$2,000
5. CONRAD, R. – Well of the World's End – 8×10 full color painting, done in Conrad's montage style, used for the Galaxy Novel of the same name. Cheap frame, under glass ..$500
6. COYE, LEE BROWN – One Head Well Done, 6×9, B&W illo for this horror story, published in THE NIGHT SIDE. Coye art from the 1940's is quite rare, and this is the first piece we have had for sale from this era in years …$500
7. EMSH, ED – The Best from F&SF 7th Series – 12×18, professionally framed under glass. Typical Emsh montage art …………$1000
8. EMSH – The Touch of Your Hand, 8×9, gouache interior illo, from GALAXY, Sept 1953 …$75
9. EMSH, ED – Red Singing Sands, 6×9, B&W interior illo, from SUPER SCIENCE, Feb 1958 ..$75
10. FABIAN, STEVE – Cultural Contact – 5×6, B&W interior, from Destinies #2 paperback ..$75
11. FABIAN, STEVE – The Schumann Computer, 4×6 B&W illo from Destinies #2. Signed on back ..$35
12. FABIAN – Starfawm, 5×7 B&W illo from comic strip pb of same name. Signed on back ..$35
13. SPACE DREAM – 7×9, B&W cover to NESFA 1966 SF magazine index. Signed on back, initialed on front ..$125
14. FREAS – Call Him Dead – 6×10, B&W illo from Astounding SF serial ..$150
15. FREAS – The Opportunist – 11×13 B&W from Analog, April 1959. Several small tape marks ..$100
16. HUNTER, MEL – Survey Ship – 7×10 unpublished color piece by Hunter. Spaceship in solar system of a green sun. Inexpensively framed ….$150
17. JONES, ROBERT GIBSON – Angkor Wat – full color cover for FATE magazine, October 1952. Unsigned and uncredited, but according to magazine editor, it was done by Jones. Half naked temple dancers. Framed with magazine cover as sidebar. RGJ art is scarce ..$650
18. KIRK, TIM – Akhmin – 9×15 B&W ill from DAW PB, WHEN THE GREEN STAR WANED ..$200
19. KRENKEL, ROY – untitled nude, 6×7 pencil and ink sketch of nude woman, done in typical Krenkel style. Initialled by RGK.$400
20. LADD, ERIC – Woman on Dragon, 21×30, full color oil painting, unpublished. Was intended to be used for the cover of a Del Rey pb but then was never used ..$ 400
21. MATTINGLY, DAVID – Undersea Quest – 13×21 full color acrylic painting for Del Rey pb ..$650
22. MORROW, GRAY – Wizard of Lemuria – 9×12 color painting, for the 1st Ace paperback edition of Lin Carter's first novel …$500
23. OALADINA, DAVID – A Yank at Valhalla – 9×12 full color painting for this Ed Hamilton novel..#350
24. PODWIL, JEROME – Sword of Lankor – 9×15, color painting for Ace pb, F373 …$175
25. POYSER, VICTORIA – Four for the Witch World – 15×24 full color painting for this TOR hc …$700
26. SCHWINGER, LARRY – Ring of Allaire – 18×30, full color painting for this Del Rey pb ..$600
27. SMITH, CLARK ASHTON – Red Monster, 6×9, untitlted, unpublished illo, done in red crayon on drawing paper. Initiallized C.A.S. in corner. Probably from the 1920's..$150
28. SWEET, DARRELL – Castle Roogna – 16×26 framed color painting for Del Rey pb of 3rd Xanth novel ..$1200
29. VALIGURSKY, ED – The Humanoid Touch – 13×18 full color painting for the Phantasia Press HCC of this novel. With the book cover framed beside the painting in a sidebar ..$1500
---
SOME NON-SF ART
Paperback covers for sale or trade. In most cases, artists not known.
1. Long Pig – Ace paperback cover, G390 (1959). 12×15, South Seas ..$450
2. Playgirls USA – Pyramid pb cover # 306, 12×17 ..$300
3. Banking on Death – Banner pb cover, 15×24, striking skull cover painting ..$300

---
Virgil Finlay Original Art List – Winter 1993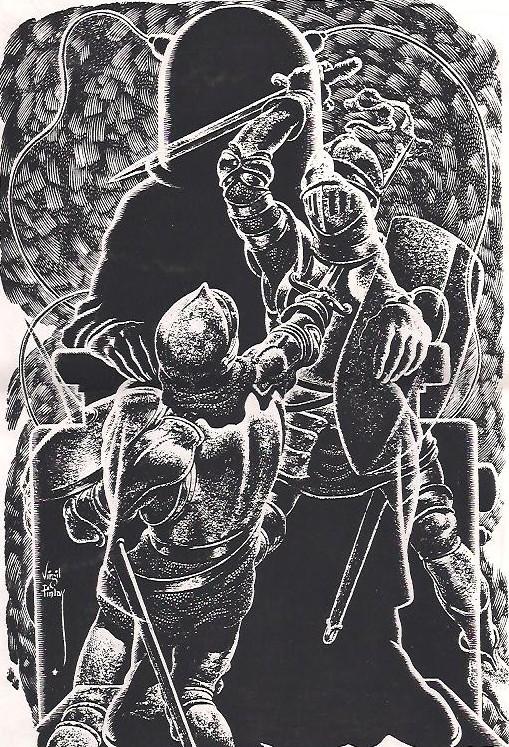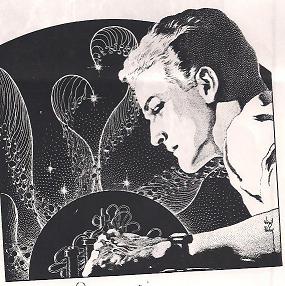 1. The Spiral of the Ages – Startling Stories, 1954, 5×8 .$1750 2. The Square Cube Law – Startling, 1952, 5×5 $1600 3. Farewell to Venus – Argosy, early 1940's, 3×8 on heavy board. Unpublished ..$1800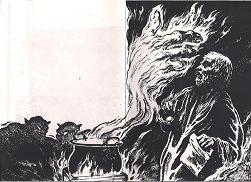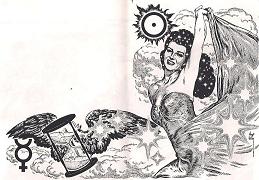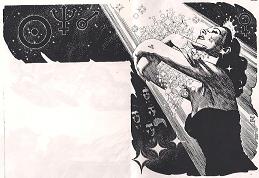 4. An Elixir for the Emperor – Fantastic 1963, 9×13, folded in half in the middle …$2000 5. Your Lifetime Prophecy – Astrology illo, 8×11 ..$2100 6. What 1960 Holds for You 7×10 ..$2100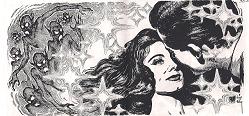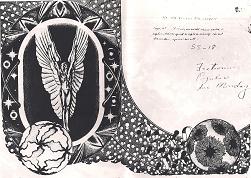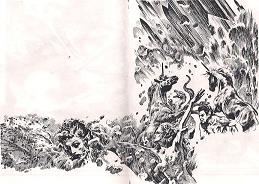 7. Cosmic Key to Sex Problems – astrology illo, 5×11 ..$2100 8. By the Worlds Forgotten – originally done for Super Science magazine in 1942, this story was not published when the pulp folded. When the magazine was revived in 1949, the story was published but with a new illo. Thus an unpublished illo ..$2100 9. The Beasts of the Field – Science Fiction, May 1956, 7×11..$2200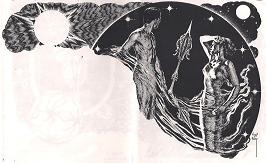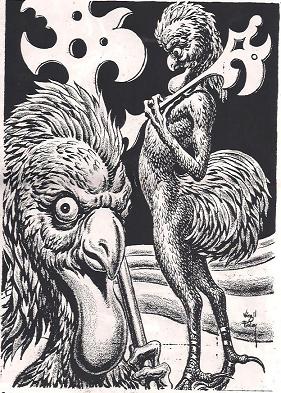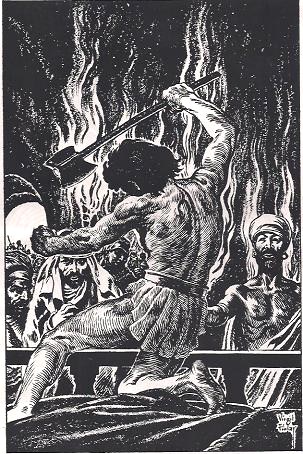 10. Everday Success Guide – Astrology art, 1956, 8×11 ….$2100 11. The Day After Doomsday – Galaxy, Feb 1952, 8×11 ….$1400 12. The Road to Sinharat –Amazing, May 1963, 6×9 ….$1400

---
EDD CARTIER CATALOG #2 – JUNE 1993
Winner of the World Fantasy Life Achievement Award in 1992, Edd Cartier is probably the greatest living fantasy artist from the Golden Age of SF. His work usually sells for $1,000 and up; in my 25 years of art collecting, I have found it is much more difficult to locate his work than that of his contemporaries, Virgil Finlay and Hannes Bok.
In 1946-1949, when Cartier was working at what most critics and fans consider his peak as an illustrator, he did a series of illos for King Features. Each week King published in newspaper format a complete mystery novel. Cartier did 5 or 6 illos for each novel. Until recently, these illos were thought to be lost. We are pleased that we are able to offer them to Cartier fans at prices much lower than what his art normally sells for.
All pieces are original. None are signed. All are 7×7 on slightly larger board. Most have the story title listed on the board. All pieces in this catalog are priced at $300 each. Buy any four for $1,000. All illos from our first catalog are sold.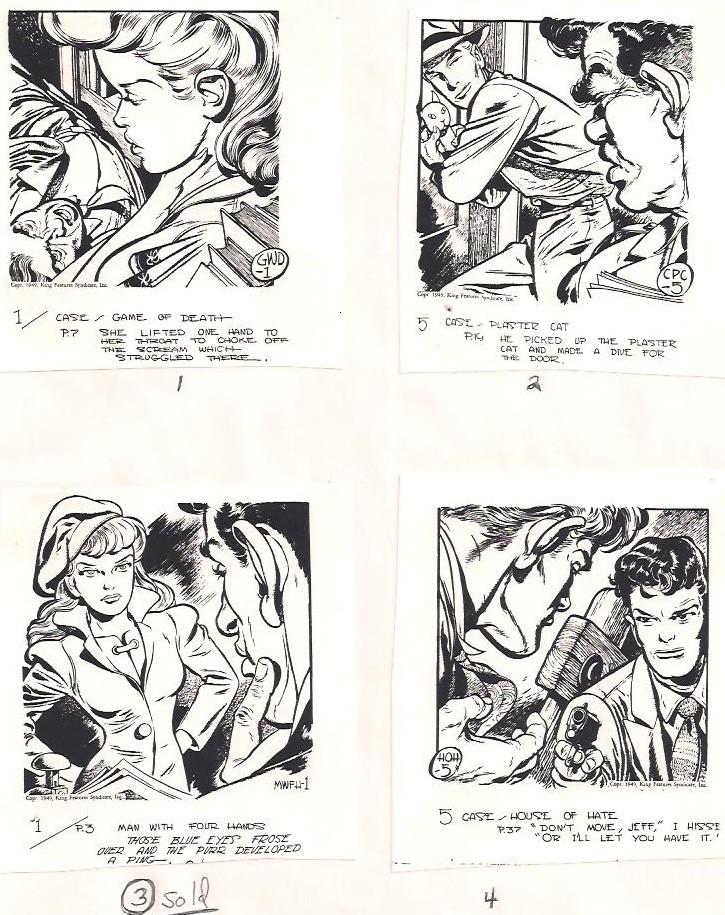 1. Case of the Game of Death 2. Case of the Plaster Cat #5
3. Man With Four Hands 4. Case of the House of Hate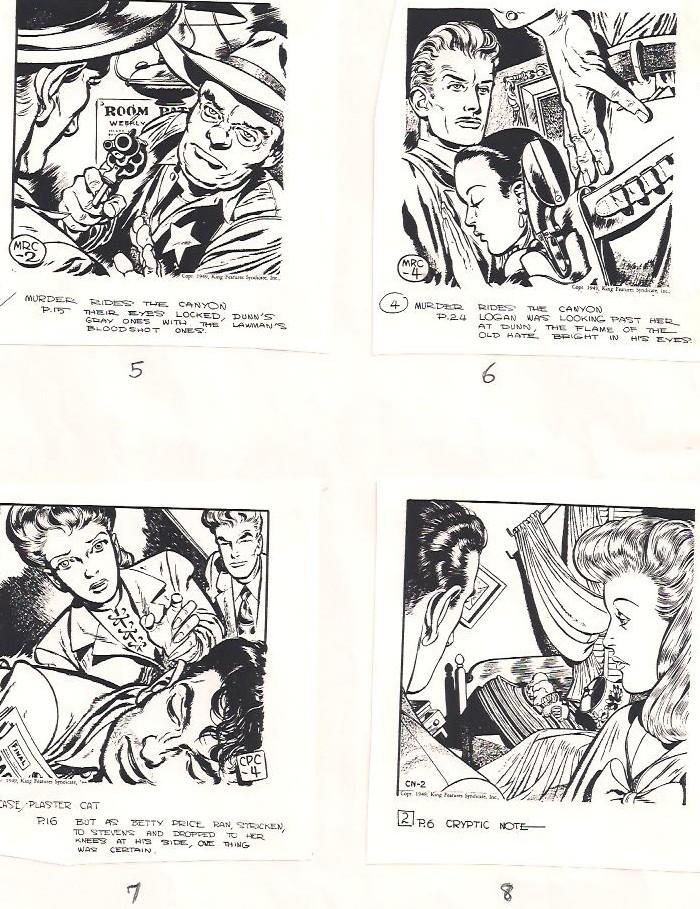 5. Murder Rides the Canyon #2 6. Murder Rides the Canyon #4
7. Case of the Plaster Cat #4 8. Cryptic Note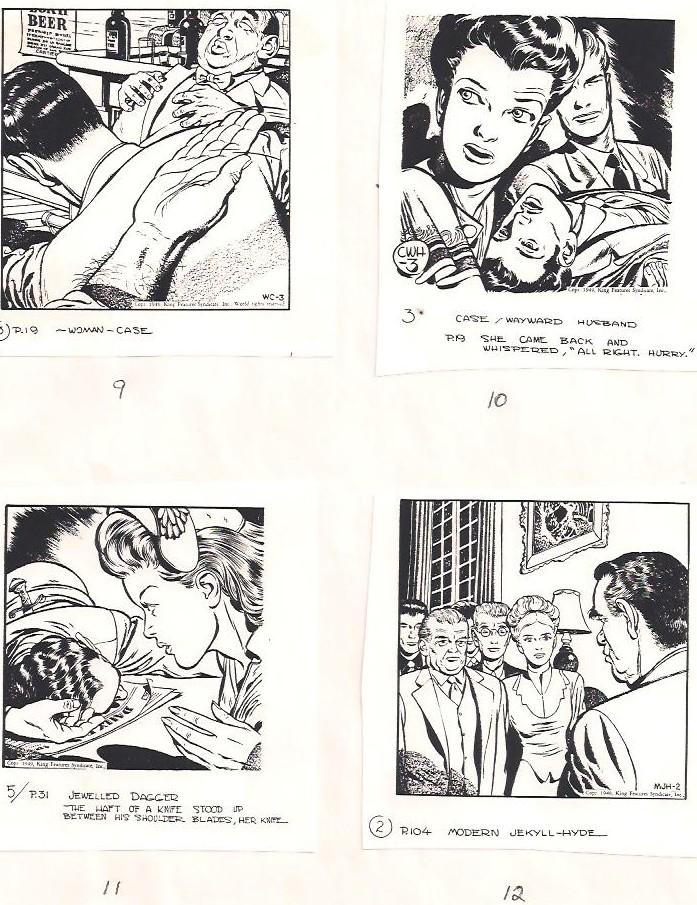 9. Woman on the Case 10. Case of the Wayward Husband
11. Jewelled Dagger 12. Modern Jekyll-Hyde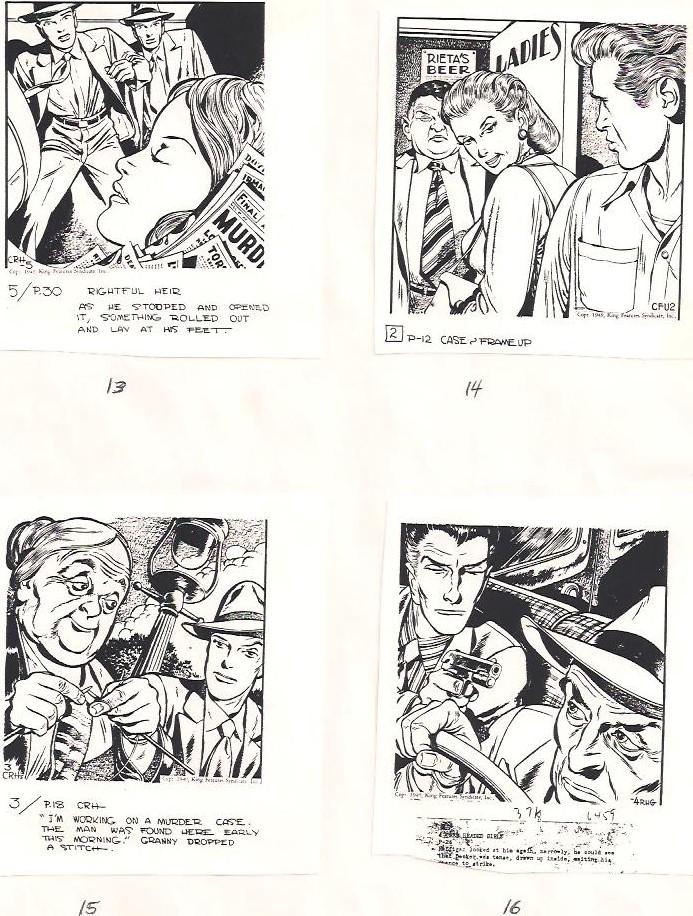 13. Case of the Rightful Heir #5 14. Case of the Frame Up
15. Case of the Rightful Heir #3 16. Four Red Headed Girls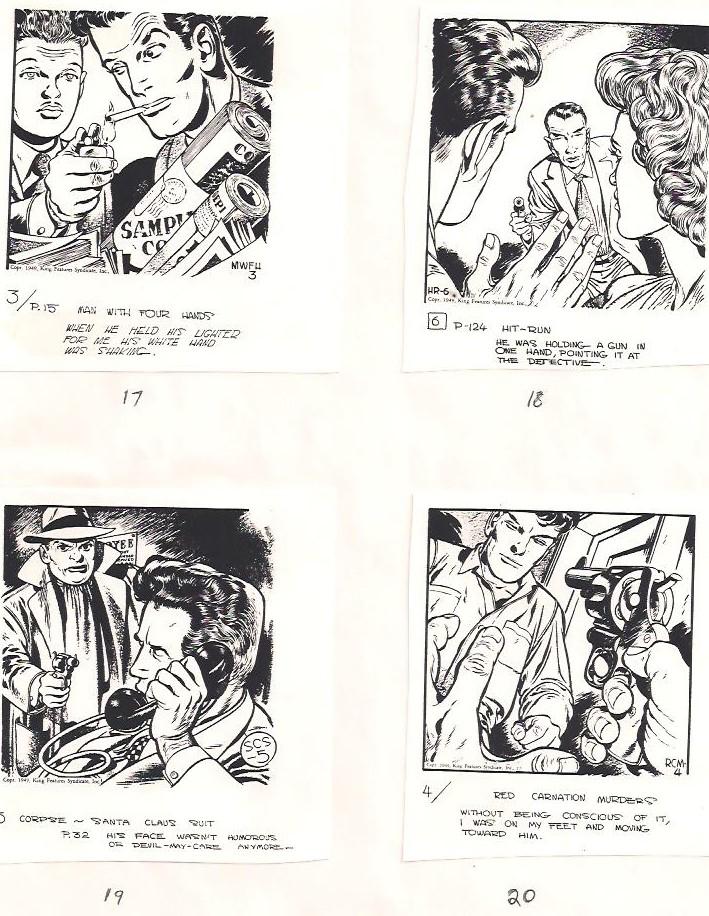 17. Man with Four Hands 18. Hit and Run
19. Corpse in the Santa Claus Suit 20. Red Carnation Murders
---
ORIGINAL SF & FANTASY ART FOR SALE – FALL 1994
This catalog is just a small sample on hand by these artists and others. For example, we have an entire catalog of over 50 pieces by Stephen Fabian available for $5. If you are looking for something special give us a call.
VIRGIL FINLAY – Finlay is considered the master of pen and ink illustration in the SF/Fantasy field. Since his death in 1970, he has become the most collected black and white artist in SF.
1. Elixir for the Emperor – double page spread from Fantastic, Nov 1964. The piece is 9×12 in size, on art paper with a fold down the center of the illo ..$2000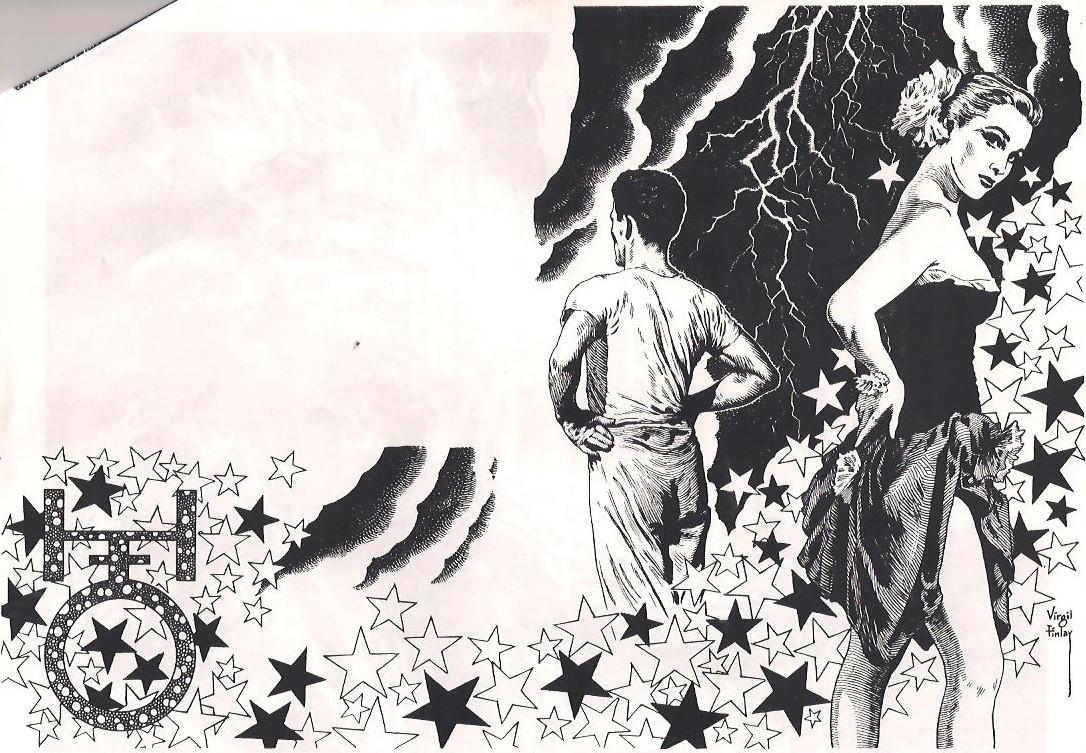 2. Is Divorce the Answer – stunning art from a 1959 issue of Astrology magazine ..$2,000

3. What 1970 Holds for You – another stunning Astrology illustration …$2,000
4. By the Worlds Forgotten – pulp art for Super Science magazine in 1943 but never used. A stunning, never published Finlay..$2,100
ED EMSH – one of the finest cover and interior artists to work in the 1950's and 1960's SF field. Emsh did hundreds of magazine, paperback and hardcover book illos. This selection is just a small sample of what we have in stock.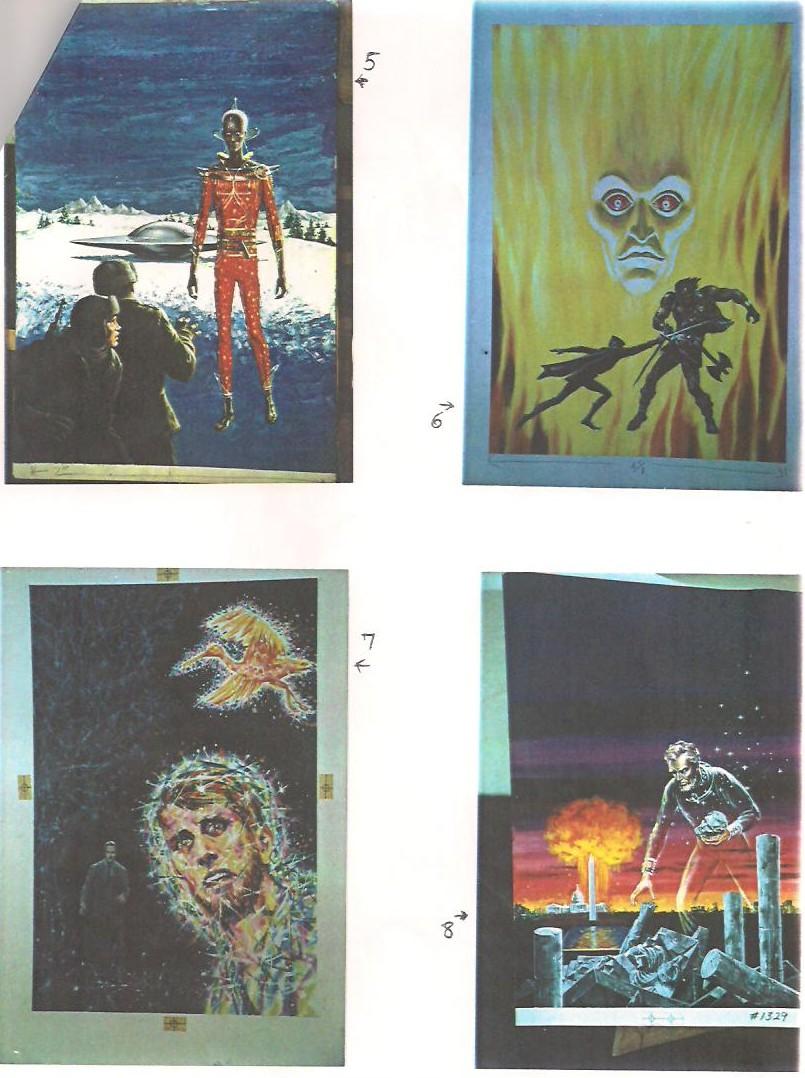 5. Fantastic Universe – June 1960 – large 15×23 illo illustrating "The Mind Thing" by Fred Brown, the last issue of Fantastic Universe. Corners somewhat shaky, minor tear on board, all which could easily be repaired ..$1,250
6. Fantastic, February 1964 – 12×16 – Lords of Quarmall, Fafhrd and Gray Mouser serial by Fritz Leiber …$1,000
7. F&SF Magazine, May 1964 – 12×16, "The Illuminated Man" by J.G. Ballard …$1,250
8. Amazing, July 1963 – 12 x16, "Redemption" by Robert F. Young …$1,000
EDD CARTIER – One of the premier artists ever to work in the SF/Fantasy field, his originals are extremely scarce. These pieces, recently uncovered, were done to illustrate newpaper mystery novels published in the 1940's.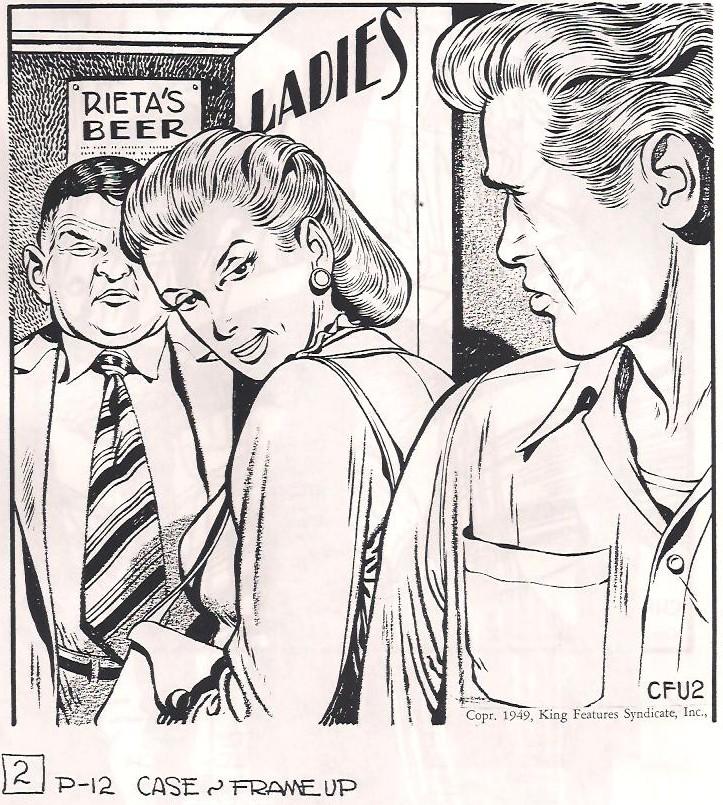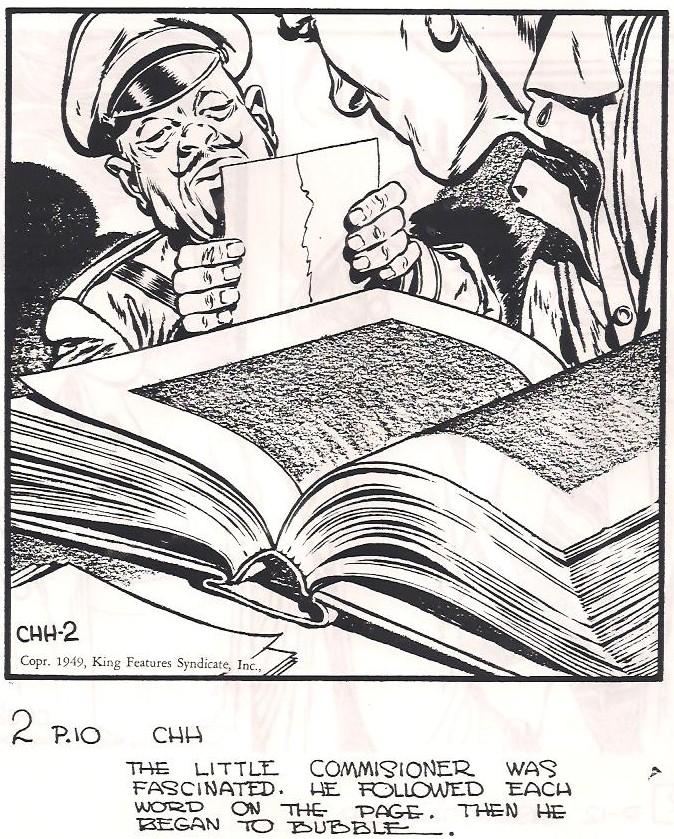 9. Case of the Frame up …$250 10. Case of the Haitian Horde ..$250
LEE BROWN COYE – The Master of macabre illustration, his art is extremely scarce and hard to find. These originals come from the unpublished (at the time) hardcover, DEATH STALKS THE NIGHT.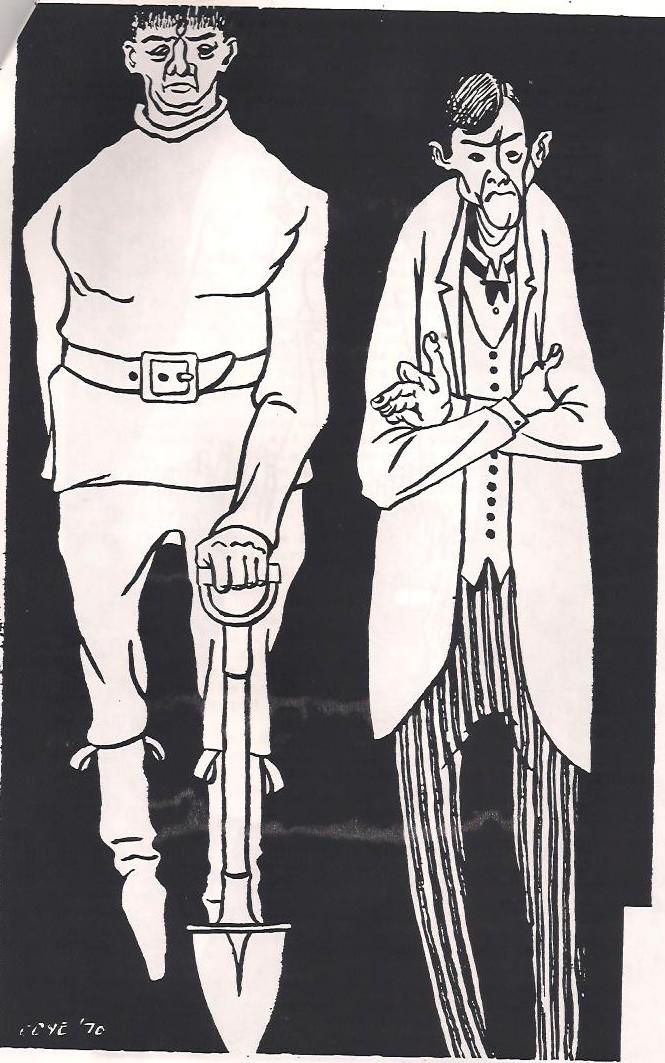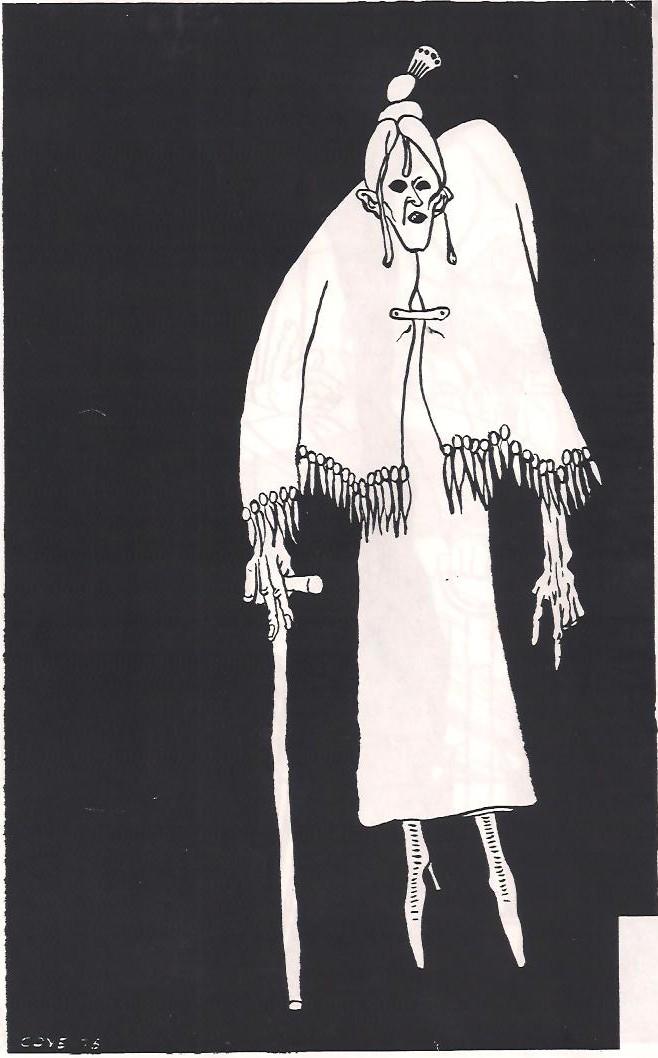 11. The Gardner & the Butler – 6×19, from the story, Unholy Night ..$350 12. Nora Converse – 6×10, from the story, Unholy Night ..$350

---
ORIGINAL ART – AUGUST 1996 CATALOG
Having just purchased a very large collection of original art, this listing is just a small part of our inventory of art on hand. We have a number of nice paintings by such artists as Chris Foss, Hannes Bok (several paintings and black and whites on hand!), John Schoenherr, and others on hand, as well as black and whites from the sf pulps. Our only remaining Frazetta originals are listed, but we do have other Krenkel art available.
---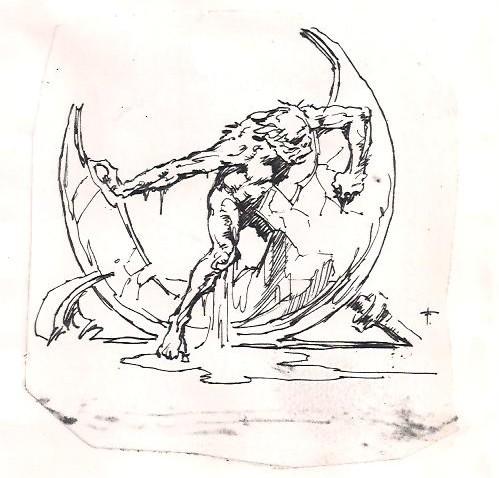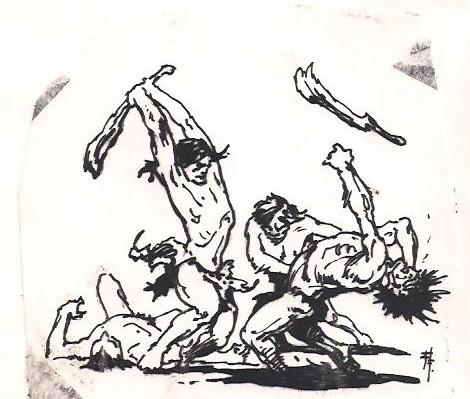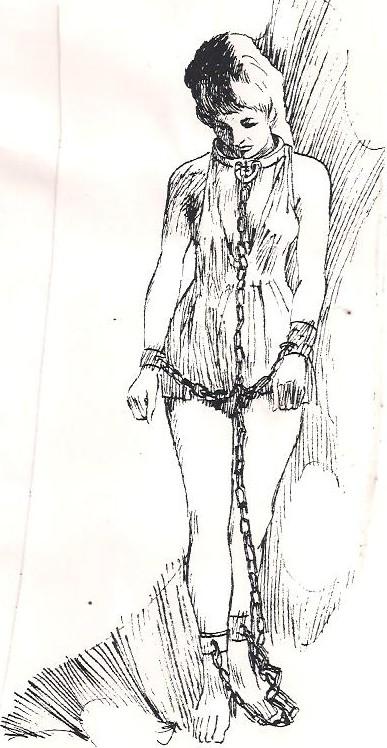 1. Frazetta – pen and ink, frontispiece from the Ace paperback, The Monster Men by Edgar Rice Burroughs. 5×5, some minor scotch tape on edge but art is unaffected. Signed FF ..$2,000 2. Frazetta — pen and ink frontispiece for the Ace pb, "Tarzan and the Jewels of Opar" by ERB. 5×4 on vellum, some scotch tape marks on edge of paper but art unaffected. Initialed ..$2,000 Frazetta art from Ace paperbacks had never been available for sale. These are unique items for the collector. 3. Gaughan, Jack – pen and ink, 12 x 16, Hunters of Gor ..$100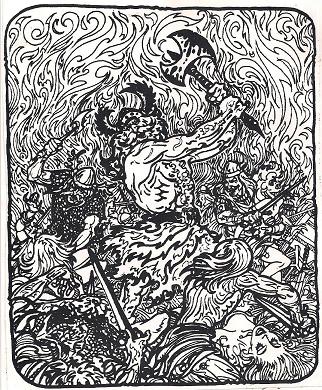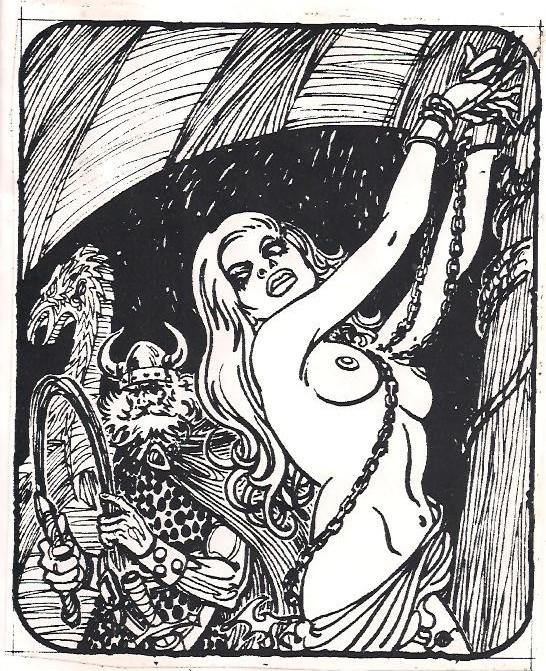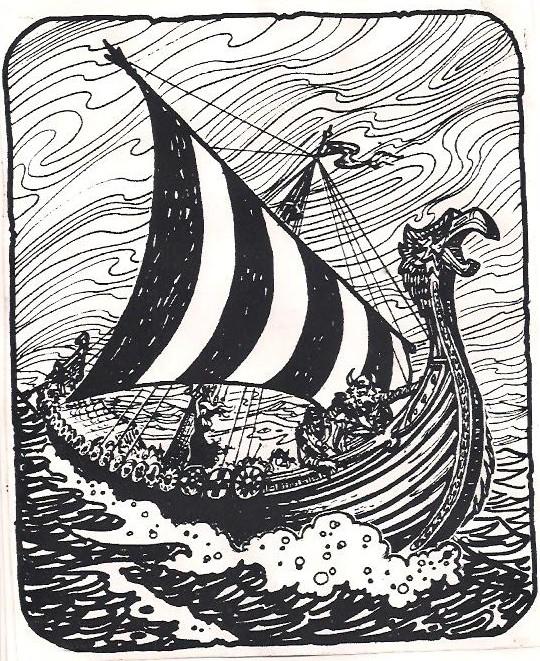 4. Freas – 6×7, pen and black and purple ink, from DAW paperback, Marauders of Gor ..$150 5. Freas – 6×7, pen and colored ink, for same novel as #4. Beautiful nude in chains ..$200 6. Freas – 6×7 pen and ink. Viking ship, same GOR novel ..$125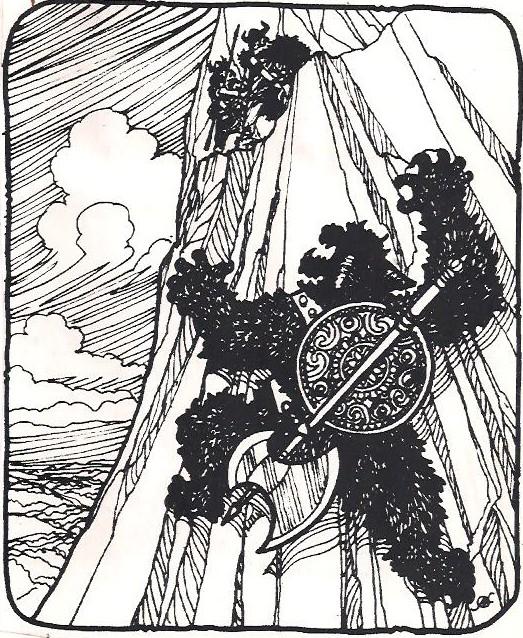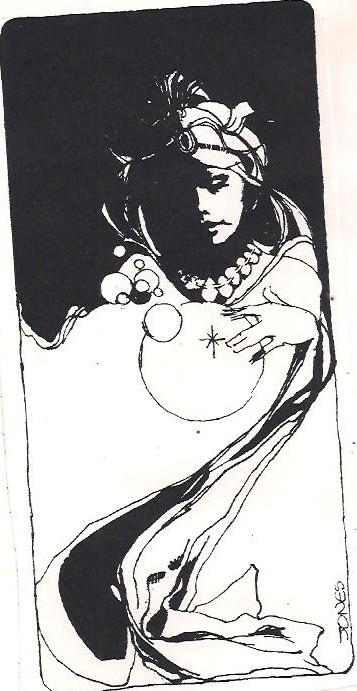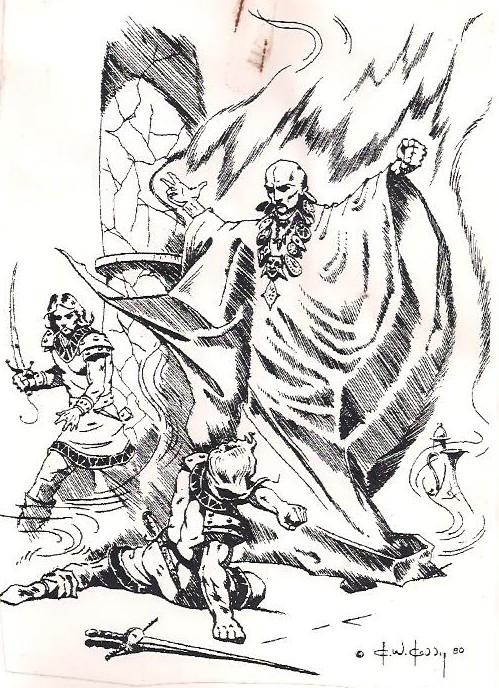 7. Freas – 6×7, pen and colored ink, monster attacking Vikings ..$150 8. Jones, Jeff – 4×5, pen and ink, Sorceress of the Witch World. Typical of Jones work ..$300 9. Kelly, Ken – 8×10, pen and ink, full page illo for DAW pb, "Banners of San Yor: 1980 ..$200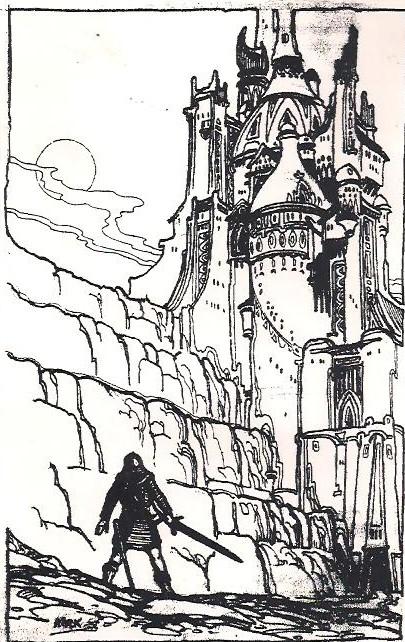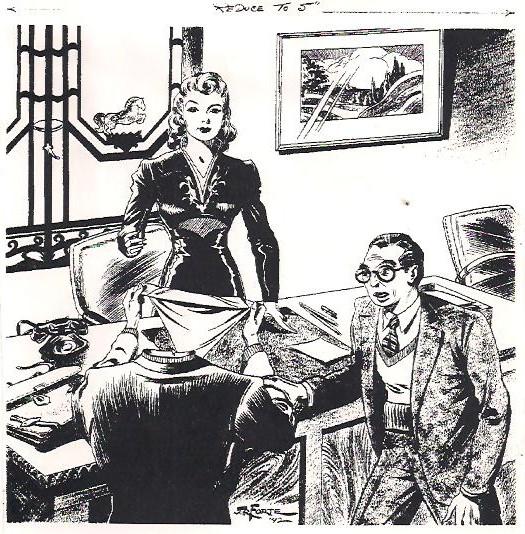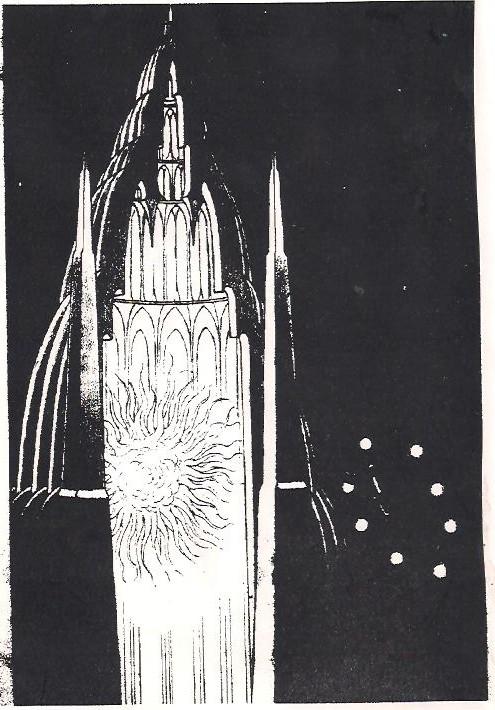 10. Kirk, Tim – 6×8, pen and ink, for Suns of Scorpio, DAW pb .$300 11. Forte, John – pen and ink for "Miss Screwball Vanishes," by Wilfred Morley, scheduled for Future SF in 1942. Possibly never published. 10 x 10 …$75 12. Dold, Elliot = pen and ink illo, full 9×10. For the story "The Millionth Year" in Science Fiction, April 1943. Never used, as a Bok illo was used instead. Evidently unpublished ..$100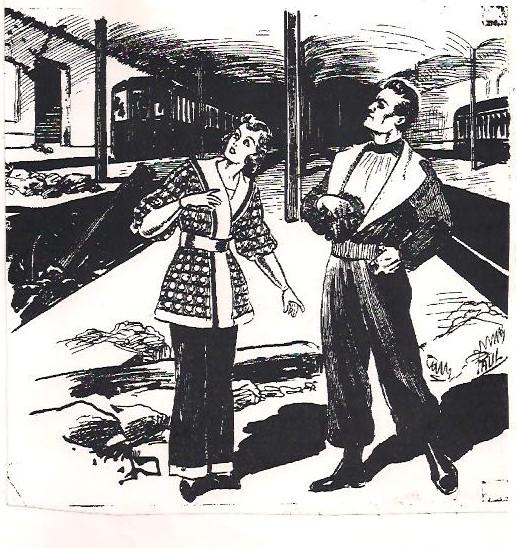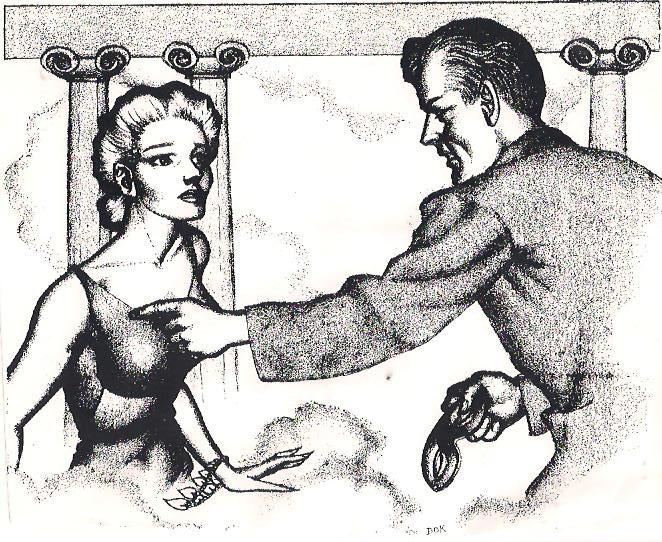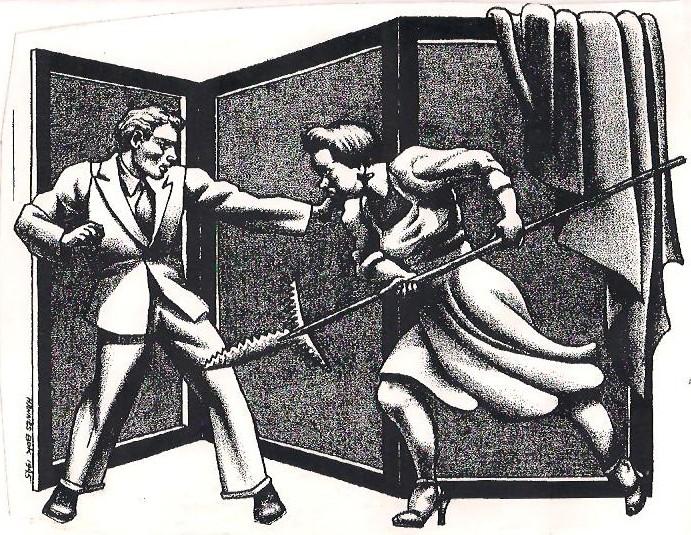 13. Paul, Frank R. – 10×10, double page spread, 30th Century Duel, published in Future SF for April 1941 ..$400 14. Bok, Hannes – Black and white illo, 7×8 original illo for unidentified publication. Slightly dusty ..$800 15. Bok, Hannes – black and white, 7×10, signed by Bok, another unidentified magazine ..$ 900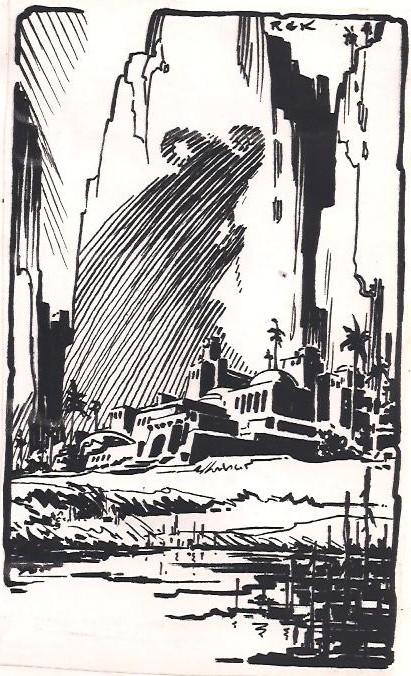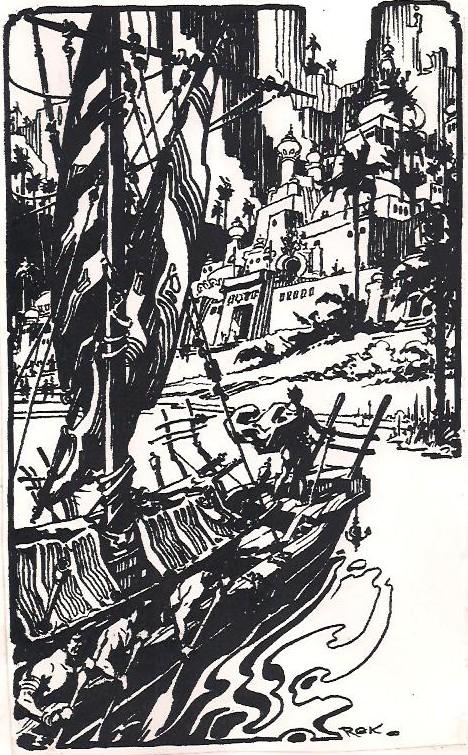 16. Mooney, Jim – pen & ink full page illo for The Key to Kornwall by David H. Keller, Feb 1941, Stirring Stories, …$350 17. Krenkel – 4×7, pen and ink, illustration, for Years Best Fantasy# 5, DAW pb. Used as frontispiece ..$350 18. Krenkel – pen and ink, 6×10, DAW pb illo for "Flight to Opar" ,,,,$450
---
---
---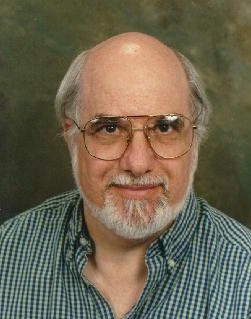 Robert Weinberg is the author of 17 novels, 16 non-fiction books and around a hundred short stories. He's also edited over 150 anthologies. He owns one of the finest SF/Fantasy original art collections in the world. These days, Bob is busy promoting his new book, Hellfire: Plague of Dragons, done with artist Tom Wood, and serving as editor for Arkham House publishers.
Copyright © 2011 by Robert Weinberg and Tangent Online. All Rights Reserved.