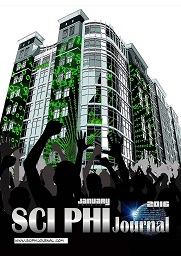 Sci Phi Journal #9, January 2016
"The Meeting of Infinite Stairs" by Christopher Alan
"A Struggle for Primacy" by Brian Cato
"Red Dwarf's Inquisitor and Judgement Day" by Ben Zwycky
"Upgrade" by Axel Schwarz
"That Day at Grandma's" by Gregory L. Norris
"Magnets of the Soul" by J. Robert Dewitt
"The Philosopher Limitation" by Y.X. Acs
Reviewed by Christos Antonaros
The title of "The Meeting of Infinite Stairs" by Christopher Alan could not be more precise. In a setting of endless stairs, protagonist Y is ascending until he meets the older version of himself, Character A, who is descending. During a short dialogue, Y will try to find out, by questioning A, the things he has not seen yet, but A's response will surprise him. The setting's description is so randomly given that it creates difficulty in focusing on the storyline and the messages the author wants to impart. The characters are only defined by dialogue, which comes to a conclusion that is not explained clearly to the reader.
In Brian Cato's short story "A Struggle for Primacy," the world is dominated socially and economically by highly intelligent cyborgs. The protagonist is a human rebel who tries to assassinate one of his suppressors, and to achieve his goal he is willing to sacrifice everything. The foe before him, though, is not as unprepared as he expects him to be. By using first-person narration, the author exhibits the protagonist's willpower and strong beliefs against the machine. Even though the dialogue between the main character and the cyborg is short, due to the length of the story, the meaning of their argument is successfully given: a great life's cause, such as freedom, is what determines humanity.
"Red Dwarf's Inquisitor and Judgement Day" by Ben Zwycky is not a short story but a preferred writing process of two episodes of the well-known television show. The Red Dwarf's crew is captured by a powerful entity, The Inquisitor, who interrogates them one-by-one, starting each time by asking what have they done to deserve the gift of life. Behind the face of their interrogator, though, a terrifying secret is hidden, which will be explained by one of the show's characters, Kryten. The transition from an atheist and heartless evaluator of life to the religious message of Jesus Christ's sacrifice is so sarcastic that it gives to the story an extra comedic feature, but, alas, is also confusing.
In the futuristic drama "Upgrade" by Axel Schwarz, we find ourselves in a world where new models of droids, which serve people's needs, are manufactured every year. Sam is a man who tries to overcome his wife's sudden death a year ago. Even though he blames the doctors for her death, he will have to do a mandatory annual checkup, dictated by his employer. The significance of each character in this story is magnificent, for it serves its role to the final twist brilliantly. A very satisfying story and one I recommend highly.
In "That Day at Grandma's" by Gregory L. Norris, Shane is a young boy who decides to become a writer. He loves his grandmother so much that the only thing he wants for his birthday is to spend the day at her house. While he does, he will think of a creative and loving way to keep her immortal. Shane's story is a pleasant representation of family values and the dreams we have as children. It also highlights the importance of imagination and creativity, and how we, as adults, have to support any talent our children reveal in their early years.
Max, the protagonist of "Magnets of the Soul" by J. Robert Dewitt, wants to support his family financially by becoming a spacecraft pilot. He enjoys flying fast, and will not deny any technological improvements to achieve higher velocities, no matter the cost. However, the electromagnetic pulses used for rapid hovering will endanger his health, and thus, he will come back home in critical condition. The description of the spacecraft technology is what we expect in a science fiction story. Also, Max's motives are explained methodically, which allows us to sympathize with him. The story is based on a single fragment of the ancient Greek philosopher and mathematician Thales, who said: "The magnetic stone has a soul because it sets the iron in motion." J. Robert Dewitt uses Max's medical condition, as well as a philosophy professor's lecture effectively, to describe his opinion on Thales theory.
In the short story "The Philosopher Limitation" by Y.X. Acs, Doctor Mandalay is a bright scientist determined to sacrifice his life so he can achieve time-travel. After building a time travel machine, he will conduct an experiment before a majority of current scientists. His theory is that the significance of philosophers in human history is less than other disciplines, and their absence will not create a paradox. Consequently, when his mission is complete, he will discover that he was wrong and that time is not something he can change, not even the slightest detail. The use of S. Hawking's presence during his first attempt gives a great sense of reality in the story and is a nice touch. With an intriguing twist, the author makes a strong case that every single soul serves world history.
---
Christos Antonaros is a dark fiction author with a love of European mythology.