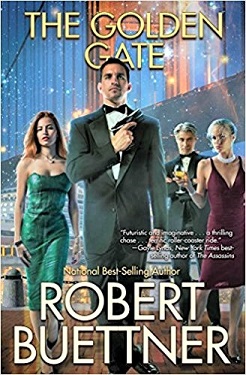 by
Robert Buettner
(Baen, January 2017, 362 pp., hc)
Reviewed by Dave Truesdale
The search for a means of achieving physical immortality has long been a subject of interest to science fiction and fantasy writers; indeed, throughout most of human history the quest has expressed itself in thought and deed throughout the arts, whether in painting, sculpture, music, or the written word.
Robert Buettner's The Golden Gate explores the theme via life-extension biology and genetic engineering, setting his story a scant couple of years in the future, in a San Francisco where one Manuel Calibri, reclusive CEO of the world's most valuable and least public corporation (its fortune made through high-tech gizmos, including the best-selling C-phone, which is light years ahead of its time compared to any other such device), is murdered on the Golden Gate Bridge when a bomb has been surreptitiously placed under his prototype Galvani automobile while he sits waiting during a traffic jam.
Needless to say, when the richest man on Earth is murdered, investigations are conducted at several governmental levels from local to federal, the impact on Calibri's flagstaff corporation Cardinal Systems is profound due to its enormous and far-reaching worldwide tentacles, and when a private investigation uncovers what the others cannot, one surprising revelation after another leads to unforeseen answers far beyond the here and now and the seemingly quotidian murder of a corporate CEO, and immerses the reader in an engrossing tale of the past and near future.
At the center of the ever-widening mystery are two unlikely characters, Kate Boyle, a smart, young, beautiful investigative reporter looking for her first big story, and Ben Shepard, Iraq war veteran with ties to Washington, DC, now aide to a local San Francisco politician. Their individual searches bring them together through connections to the same people (where Kate's father is one of the most important, for he knows many influential people from his former active years as an investigator for a powerful friend, and is reluctantly brought into the investigation). Kate and Ben, though coming from entirely disparate backgrounds and belief systems, find themselves attracted to each other nonetheless, and serve as the love interest (and it works quite well, for Kate is no shy wallflower). Together, they surmount difficult and sometimes deadly situations as they pursue what seems to them to be a series of dead ends: the tracking down and securing from museums or art exhibits relatively worthless artifacts from various points in history, some dating back many hundreds of years—all from the collection of a single, very rich, person. But why are these innocuous relics important, and if so important then why would their owner loan them out—and outside his own highly secured premises?
A primary question informing the direction the various investigations take (aside from the obvious one of who murdered Manuel Calibri) is that of who might gain if the powerful Cardinal Systems corporation were to be legally bequeathed to certain people who might have reason to suppress one of its most secret areas of research? The Catholic Church? Some high-ranking officer in the company? Someone else entirely? And just what is in Calibri's will?
There are many strands simultaneously at work here, and the author plays them perfectly—pulling the reader in one direction for awhile, then another—all honestly—and then at the proper moment drawing them together as the plot advances without a hitch. The whole comes together in fine fashion due to the careful pacing and well integrated plotline, the attention to detail in the flashback combat scene from Ben's tour in Iraq (the author is an ex-military intelligence officer), his knowledge of how a large corporation works and the day to day problems and challenges it inevitably must face (he has been general counsel of a unit of one of the United States' largest private multinational companies), and his ability to tell a crackling good story with plenty of surprises.
And at the heart of it all The Golden Gate poses an ages-old but still important question, a philosophical and moral question (in the tradition of some of the genre's classic works), this time whether or not our species—given its selfish, greedy nature—should be granted the gift of physical immortality, or would it in the end prove a species-crippling bane rather than the boon as dreamed of for countless centuries. The Golden Gate is an entertaining, thought-provoking read smartly told with an eye toward story first, by an author who has blended the corporate detective thriller with just the right touches of SF, history, and science to reveal a secret that grounds the story squarely in the genre heartland where resides that illusive and oft-sought Sense of Wonder.
♣ ♣ ♣
Dave Truesdale has edited Tangent and now Tangent Online since 1993. It has been nominated for the Hugo Award six times, and the World Fantasy Award once. A former editor of the Bulletin of the Science Fiction & Fantasy Writers of America, he also served as a World Fantasy Award judge in 1998, and for several years wrote an original online column for The Magazine of Fantasy & Science Fiction. Now retired, he keeps close company with his SF/F library, the coffeepot, and old movie channels on TV. He lives in Kansas City, MO.