L. Ron Hubbard's Writers & Illustrators of the Future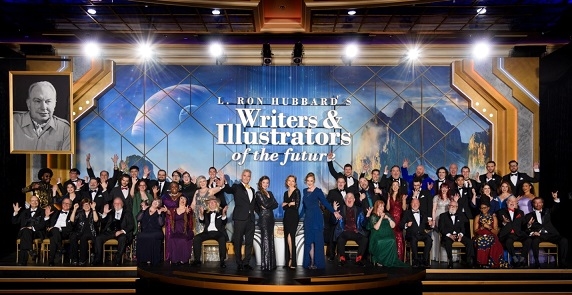 What is

 Writers of the Future?


by Joni Labaqui
If you are an aspiring writer, you likely already know what Writers of the Future is.
However, for those of you who do not, here is an overview and why we work with Tangent to review the new anthology each year.
Writers of the Future is a writing and illustration contest that jumpstarts the winners into their professional careers. A new anthology is published with the winning stories illustrated by the winning artists each year. 
Long before singing-reality shows like American Idol, the Writers of the Future was established by author L. Ron Hubbard as a way to help discover and nurture aspiring writers.  
Three winners are chosen for each quarter. The judges are renowned authors, and all entries are judged blind. There is no fee to enter, and it is open to all new authors of science fiction, fantasy, and horror. (You can find the rules and how to enter here: https://www.writersofthefuture.com/contest-rules-writers/)
The winners keep the rights to their story and receive prizes of $1,000, $750, and $500 for 1st, 2nd, and 3rd place, while the illustrators each receive $500. The grand-prize-winning story and artist receives an additional $5,000 cash prize.
There is an annual celebration for the winners. It is a black-tie affair. The winners are given trophies, and the Golden Pen and Golden Brush awards are announced (here is a glimpse of this year's event: https://www.writersofthefuture.com/writers-illustrators-of-the-future-workshop-week-2022-day-7). A reception follows the ceremony with a huge book signing, where winners autograph their books for fans for the first time.
One of the most sought-after awards for winning is not the trophy or the cash prizes. It is being able to attend the exclusive writers and illustrators workshops. During the prior week, the winners learn the ropes from well-established writers, artists, and respected professionals in the publishing world. They get insights that only professionals know, network with other like-minded writers and artists, and make life-long friends.
There is nothing like this for new authors.
Are You a Writer?
The WritersoftheFuture.com website provides many free resources to help you improve your craft and your shot at winning.
One of the tools is a free online writer's workshop. It includes 13 video presentations featuring Writers of the Future judges: David Farland, Tim Powers, and Orson Scott Card.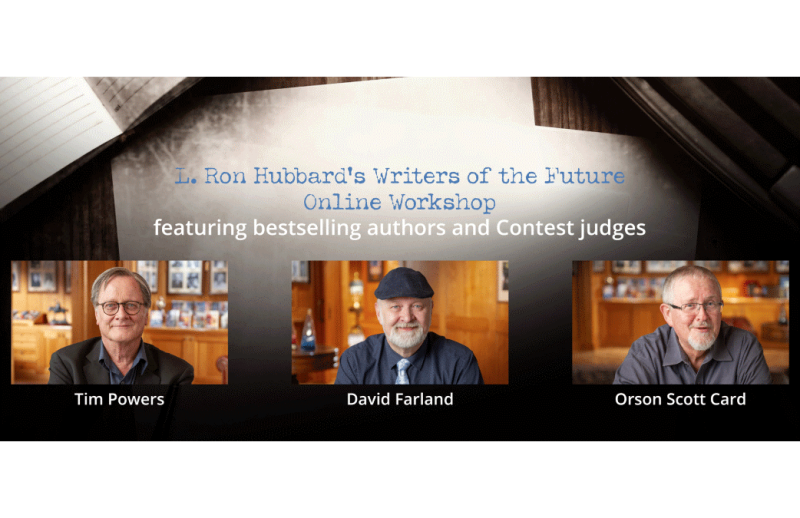 It covers intermediate lessons on the seven parts of a perfect short story, when and how to use narration, tips for opening the story, writing the middle, and how to end it well. Lessons include information on creating suspense, writing dialogue, and how to hook readers into reading your story.
There are 11 lessons with practical exercises and essays from Contest Founder L. Ron Hubbard and Founding Contest Coordinating Judge Algis Budrys.
Here are links to a few of the other free resources:
The Annual Anthology & Writing Advice
The annually published anthology is a must-read for anyone submitting to the Contest. This is the only way to see what the judges consider the best of the best. 
In addition to the 12 winning entries, there is writing advice from the judges and L. Ron Hubbard each year. In Volume 38 , Frank Herbert has an article titled, "The Single Most Important Piece of Advice." Here is a short excerpt:
"The single most important piece of advice I ever got was to concentrate on story. What is ʻstory?' It's the quality that keeps the reader following the narrative. A good story makes interesting things happen to a character with whom the reader can identify. And it keeps them happening so that the character progresses and grows in stature. 
"A writer's job is to do whatever is necessary to make the reader want to read the next line. That's what you're supposed to be thinking about when you're writing a story. Don't think about money, don't think about success; concentrate on the story—don't waste your energy on anything else. That all takes care of itself if you've done your job as a writer. If you haven't done that, nothing helps." —Frank Herbert 
Here is Tangent's review of this year's volume: https://tangentonline.com/print-other/writers-of-the-future-38-april-2022/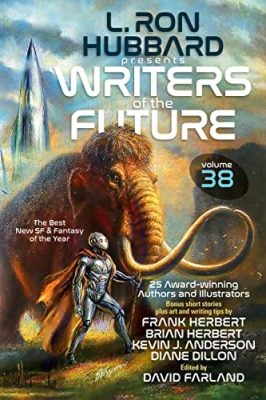 Previous volumes include writing tips from Orson Scott Card, Brandon Sanderson, Nnedi Okorafor, Kevin J. Anderson, and many others (there are over 15 of the books still available: https://www.amazon.com/dp/B07XXCD2DQ?binding=paperback&ref=dbs_dp_rwt_sb_pc_tpbk). 
Editorial Change
A considerable part of the success of a book is due to the editor.
For the last 10 years, the Writers of the Future has been edited by David Farland, well-known for the epic fantasy Runelords and his Star Wars stories. Sadly, Dave passed on earlier this year.
Dave had been a judge for Writers of the Future since 1991 and later accepted the Coordinating Judge and editor position for the annual anthology. He taught writing workshops and was widely known for helping and encouraging thousands of emerging writers. He was dubbed the ''Story-Doctor' by many and considered it his greatest joy to help others. You can read more about him here: https://www.writersofthefuture.com/the-writer-whisperer-david-farland/.
The last volume he edited was Writers of the Future Volume 38. He also wrote a piece of flash fiction for the anthology as he was inspired by the cover art done by Bob Eggleton, called "A Word of Power."
Our new Coordinating Judge is the New York Times bestselling author Jody Lynn Nye, who has been a contest judge since 2016. She has published over 40 books and more than 120 short stories. She confirmed her passion for the Contest and helping new authors when taking up the position, "I consider this to be the best short fiction contest anywhere. Mr. Hubbard's vision of promoting and nurturing young writers has given thousands of talented people a forum in which their work can be seen and appreciated. I will continue in the tradition of the previous Coordinating Judge, David Farland. He was a mentor with a genuine interest in helping budding writers to flourish. I look forward to honoring his memory and the Contest that he loved."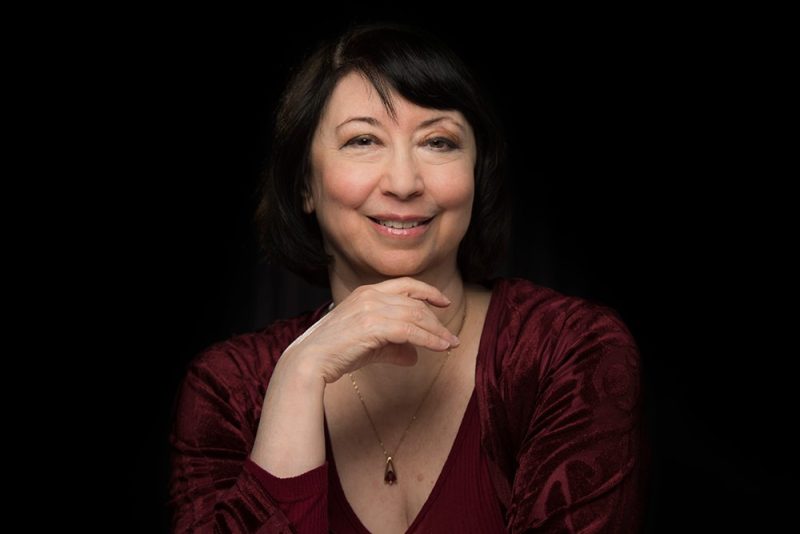 The new editor is Dean Wesley Smith. Dean has been a Contest judge since 2010. In fact, Dean was the first author to win the Writers of the Future in 1984. He has over eight million copies of his books in print and published in nine different countries. He edits Pulphouse Fiction Magazine and edited Star Trek: Strange New Worlds for 10 years.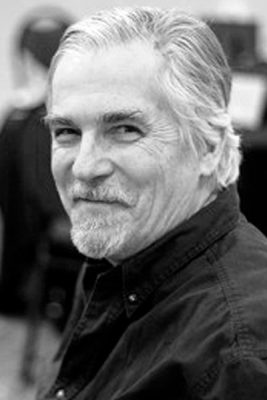 Conclusion
Writers of the Future is all about helping writers and illustrators become the best they can be and helping them spread their words and images to the world. You can learn more about how effective it has been in achieving that purpose in this fun factoid article: https://tangentonline.com/columns/articles/writers-a-illustrators-of-the-future-factoids-by-john-goodwin/
For readers, it is a great way to discover new authors. Contest Judge and bestselling author Brandon Sanderson says, "These are the people who are going to be creating trends."
Tangent has taken this very seriously and has reviewed every volume over the last several years, providing details about each story and helping to promote these new authors.
If you are a writer, we hope to see your story soon!
If you are a reader, enjoy the anthology and discover your next favorite author!
Joni Labaqui




Contest Administrator




Writers of the Future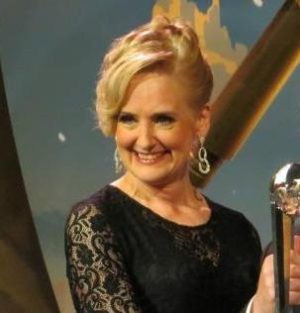 Quick links:
About the Writing Contest https://www.writersofthefuture.com/enter-writer-contest/
Free Writing Workshop https://www.writersofthefuture.com/writing-workshop/
Writing Podcast: https://www.writersofthefuture.com/podcast/
Writers Forum: https://www.writersofthefuture.com/forum/
Writing Contest Rules  https://www.writersofthefuture.com/contest-rules-writers/
Contest Judges: https://www.writersofthefuture.com/writer-judges/
Contest Blog: www.writersofthefuture.com/blog
List of Writers of the Future & L. Ron Hubbard books https://galaxypress.com/l-ron-hubbard-books/
Contest Social Links:
https://www.facebook.com/WotFContest
https://twitter.com/WotFContest
https://www.instagram.com/wotfcontest/
https://www.pinterest.com/RealWotF/
https://www.youtube.com/user/WritersoftheFuture
# # #