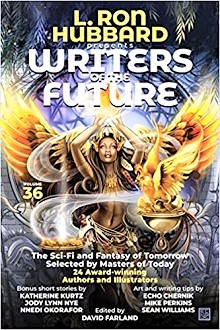 Writers & Illustrators of the Future Factoids
Celebrating the Contest's 36th Year
Compiled
by
John Goodwin
(President, Galaxy Press)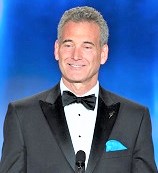 Writers of the Future was a contest initiated by L. Ron Hubbard in 1983 as a means of providing a helping hand to aspiring writers. Due to its immense success, a sister competition, Illustrators of the Future, was created.
The annual Contests draw entrants from around the globe and are free to enter. Winners retain full rights to their work and each are given cash awards. Grand prize winners receive an additional $5,000. The Contest flies all winners out to Los Angeles for an expense-paid, week-long workshop given by Contest judges and culminates in a black-tie gala awards event.
In the 36 years of the Writers of the Future Contest, there have been 440 winners and 80 published finalists. The past winners of the Writing Contest have published 1,150 novels and nearly 4,500 short stories, with nearly 100 new sci-fi books and stories published in just the last year. They have produced 32 New York Times bestsellers and their works have sold over 60 million copies.
In the 30 years of the Illustrators of the Future Contest, there have been 358 winners. The past winners of the Illustrating Contest have produced over 6,000 illustrations, 360 comic books, graced 624 books and albums with their art and visually contributed to 68 TV shows and 40 major movies.
This makes for a total of 866 published winners and finalists in 36 years with nearly $1 Million awarded in prizes.
We have had entries from 177 countries and winners from 44 countries (WOTF—16; IOTF—35)
To help aspiring writers improve their craft, the Writers of the Future created a free online writing workshop: [https://www.writersofthefuture.com/writing-workshop/]. The workshop includes 13 video presentations by David Farland, Tim Powers, and Orson Scott Card and articles by L. Ron Hubbard and Algis Budrys with insights on writing and the business of writing.
WRITERS OF THE FUTURE JUDGES
(past and present)
Kevin J. Anderson
Doug Beason
Gregory Benford
Ben Bova
Ramsey Campbell
Orson Scott Card
Hal Clement
Brian Herbert
Frank Herbert
Nina Kiriki Hoffman
Yoji Kondo
Nancy Kress
Katherine Kurtz
Anne McCaffrey
Todd McCaffrey
Rebecca Moesta
C. L. Moore
Larry Niven
Andre Norton
Nnedi Okorafor
Frederik Pohl
Jerry Pournelle
Tim Powers
Mike Resnick
Kristine Kathryn Rusch
Brandon Sanderson
Robert J. Sawyer
Charles Sheffield
Robert Silverberg
Dean Wesley Smith
Theodore Sturgeon
John Varley
K. D. Wentworth
Sean Williams
Jack Williamson
Gene Wolfe
Dave Wolverton (Farland)
Roger Zelazny
ILLUSTRATORS OF THE FUTURE JUDGES
(past and present)
Laura Freas Beraha
Edd Cartier
Robert Castillo
Ciruelo
Echo Chernik
Vincent Di Fate
Diane Dillon
Leo Dillon
Bob Eggleton
Will Eisner
Craig Elliott
Larry Elmore
Frank Frazetta
Frank Kelly Freas
Judith Holman
Shun Kijima
Jack Kirby
Paul Lehr
Ron Lindahn
Val Lakey Lindahn
Stephan Martiniere
Gary Meyer
Moebius
Cliff Nielsen
Mike Perkins
Sergey V. Poyarkov
Rob Prior
Dan dos Santos
Alex Schomburg
Shaun Tan
H.R. Van Dongen
William R. Warren, Jr.
Stephan Youll
♣  ♣  ♣ 
C. D. Lewis has reviewed Writers of the Future #35 for April 2019 here.
Victoria Silverwolf has reviewed Writers of the Future #36 for April 2020 here:
[https://tangentonline.com/print-other/writers-of-the-future-36-edited-by-david-farland/]
Quick links for the contest:
Contest Rules  https://www.writersofthefuture.com/contest-rules-writers/
Enter the Writers of the Future Contest https://www.writersofthefuture.com/enter-writer-contest/
Free Writing Workshop https://www.writersofthefuture.com/writing-workshop/
L. Ron Hubbard's fiction book list https://galaxypress.com/l-ron-hubbard-books/