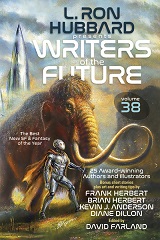 Writers of the Future, Vol. 38
Edited





by





David Farland





(Galaxy Press, Kindle 

4/

22, Paperback 6/22, 500 pp.)
"Agatha's Monster" by Azure Arther
"The Magic Book of Accidental City Destruction: A Book Wizard's Guide" by Z.T. Bright
"The Squid Is My Brother" by Mike Jack Stoumbos
"Gallows" by Desmond Astaire
"The Professor Was a Thief" by L. Ron Hubbard (reprint, not reviewed)
"Lilt of a Lark" by Michael Panter
"The Mystical Farrago" by N.V. Haskell
"Tsuu, Tsuu, Kasva Suuremasse" by Rebecca E. Treasure
"The Daddy Box" by Frank Herbert (reprint, not reviewed)
"The Island on the Lake" by John Coming
"The Phantom Carnival" by M. Elizabeth Ticknor
"The Last Dying Season" by Brittany Rainsdon
"A Word of Power" by David Farland (reprint, not reviewed)
"The Greater Good" by Em Dupre
"For the Federation" by J.A. Becker
"Psychic Poker" by Lazarus Black
Reviewed by Kevin P Hallett
This anthology contains thirteen original stories, including five novelettes. In addition, there are reprints of three stories by L. Ron Hubbard, Frank Herbert, and David Farland.
"Agatha's Monster" by Azure Arther
Agatha lost her twin brother, Anthony, in this fantasy novelette when she was nine years old. The trauma left her unable to recall how he died or invoke the potent magic she had that day. And magic was the lodestone of the community. Her father and older brother were magical hunters, while her mother and younger sister were powerful mages.
But while her family hunted and killed monsters, Agatha kept a small one hidden in her bedroom. She even gave it a name, believing it was related to Anthony's death, like a talisman that represented him after death.
Though her family was patient, her mother longed to know how her son Anthony had died. Soon it would be Agatha's sixteenth birthday, a significant turning point for mages. And then she would have to choose her magical path.
Arther wrote a powerful story that the reader couldn't put down after reading the first paragraph.
"The Magic Book of Accidental City Destruction: A Book Wizard's Guide" by Z.T. Bright
BW, a low-level member of the Book Wizard's Guild, is sub-contracted to sell magical books in this short fantasy. But few people in this city buy books that magical spells control. So, when a boy shows interest in the Book of Truths, BW sees a chance, knowing that this sinister book will prompt others to buy the same book.
However, the Book of Truths reinforces what the readers already believe and is divisive. As more people buy the book in the city, the people soon fall into faction fighting. Though BW is now rich from the sales, the BG Guild is worried about the impact. Should they go against the Guild's rules and stop the Book of Truths?
This was an interesting story. However, it was a thinly veiled allegory of the impact of social media.
"The Squid Is My Brother" by Mike Jack Stoumbos
In this SF short, Mica is on Earth with her symbiotic brother. Though the little girl doesn't understand it, the transfer to Earth is an experiment to get people used to these Neptunian Xeno-orgs that look like squids and have allowed people to live safely on Neptune-Station.
Life at her new school is difficult as the other students are cruel, and many teachers are repulsed by Mica's squid brother that stays in her backpack. If only the Earth-bound could understand the benefits of having a Symbiotic Xeno-org connected to your spine.
This character-centric story kept an engaging balance between showing and telling the story of a little girl adjusting to a strange world.
"Gallows" by Desmond Astaire
Astaire's short SF story is about an investigator's drive to avenge a wrong done to him by time travelers. David overhears two men talking about the flight he was about to board. They seem to think it's a historical fact that it will crash with the death of all the passengers. Of course, David doesn't believe them, but he does alert security. As a result, the FBI interrogates him and the two strangers. So, he misses his flight, which crashes, killing David's lover.
Now he wants revenge for the future's meddling in his affairs. He joins the FBI, which sets up a special temporal unit, and then he searches for time travelers.
The author successfully re-invented time travel stories from a different angle and created an interesting story.
"Lilt of a Lark" by Michael Panter
A vicious despot rules in Cathgol, and the Aviary has sent Malk to set things right in this fantasy novelette. Malk is a lark, a singer whose songs can influence weaker minds into doing whatever he commands by song. It's a powerful ability if used with cunning. However, Malk has only a string of failures from past missions. He will be extra cautious this time.
In Cathgol, he contacts the rebel leader, Rezzell, who warns that the tyrant, Count Kerstoff, is protected by his sister, a wytch. Rezzell seems to have a soft spot for Malk, and he soon finds himself smitten by her, which only increases his sense of pressure to succeed.
After studying Count Kerstoff to determine his weaknesses, Malk has prepared his song and executes his plan to overthrow the despot. But it is just at the point of success that Malk discovers the truth. He has messed up once again.
This story was close to the length of a novella. The author used that room to develop the characters and tell an appealing story with many twists.
"The Mystical Farrago" by N.V. Haskell
Nyla is a six-foot-tall bird-like crysallix in this short fantasy. She is an exhibit in a menagerie where human men abuse her. Of course, she could gut the man, Goddard, who runs the show, but he holds something most precious to Nyla.
Then, one day, a lieutenant visits her tent and warns Goddard about keeping a crysallix captive. Nyla can understand the language, though she keeps this secret. The lieutenant seems well-intentioned. She even smells special. But what about the precious thing Goddard holds? Can Nyla allow herself to be freed?
Haskell's short story pulled the reader in from the mystery's opening and zipped along until the shadowy end.
"Tsuu, Tsuu, Kasva Suuremasse" by Rebecca E. Treasure
In this short fantasy, Emily has lost her entire family to the ravages of the French during Napoleon's invasion of Russia. After burying her last son, all that's left is Karl, her grandson, and his young mother, who no longer wants him. But Emily isn't entirely alone; her son's spirit lives on in a fox.
Following Napoleon's retreating army, she fights to keep herself and four-month-old Karl alive one day at a time with the help of the fox. Finally, she reaches the Russian border and encounters an emaciated French army willing to do anything to survive.
The writing craft was good, and the plot unpredictable. But the speculative element was light.
"The Island on the Lake" by John Coming
Coming's fantasy novelette starts with seven-year-old Pete following his father out to the island on the lake. In the center is a small pool, where Pete can ask to see a vision of any person he wants. It's the summer, so the images show that person in the present. The pool shows the past during the autumn, and the spring season will show an unchangeable future.
Over the years, as Pete grows into manhood, his father warns that the pool is a burden the men in the family must carry alone. His father also warns Pete not to come to the pool during the winter. After Pete's father drowns in the lake, Pete is the sole user.
With a fiancée now, Pete struggles with the urge to use the pool. Should he visit it during the winter? But then he remembers that he's already seen a future vision where he crosses the frozen lake.
The author's story was nicely crafted, though the basis of the plot has been used many times in the fantasy genre.
"The Phantom Carnival" by M. Elizabeth Ticknor
Alice is a drifter during the Great Depression in this alternate history short fantasy. It's not safe riding the rails as a girl, so she pretends to be Al, and her friend Dan helps maintain the ruse. They must keep away from the carnies who steal memories, though Dan already had most of his stolen.
One day, they run into another group of hobos who have had their memories erased. However, these guys are going to Chicago because they heard a doctor there can return the memories. Alice is dubious, but for Dan's sake, she goes along. When they find a hidden alley and a door to the doctor, Alice is skeptical, and for a good reason.
The action and prose were good, and this short fantasy passed quickly.
"The Last Dying Season" by Brittany Rainsdon
Edrei is part of the human colony that conquered the Neet civilization on Kalefe in this SF novelette. The Neet used plant-based technology and stored their memories in the heartsplant. The planet was dying, along with all the colony's crops. So, Edrei searches for a heartsplant to learn how to reverse this Dying Season.
At a temple, Edrei's five-year-old daughter, Nadia, spots the strange blue petals of a heartsplant. But when Edrei cuts off a leaf to access the plant's memories, she begins a string of events that threaten to kill or enslave the last remnants of the human species.
Told in the first person through Edrei, the plot was complex but understandable, and the prose was alright, though it lacked an engaging voice.
"The Greater Good" by Em Dupre
In this science fiction novelette, the spaceship Eudoxus carries three thousand colonists and crew on a century-long trip to a planet that has invited them to come. Counselor Parrish is not well-known on the ship, yet it is he who must smooth over any psychiatric problems before they can threaten the mission. He does this by erasing the specific memories that led to each situation.
Over time, he has wiped out the memories of infidelities, petty jealousies, and rampant ambitions. Always for the greater good of the mission. His implanted biometrics warn him of any potential problems in time to fix them.
Imagine his surprise when the medics call him to a gaming station, where a woman lies strangled to death. None of the usual monitoring gives any clue about the perpetrator, and Parrish finds himself immersed in a race to stop the murderer.
The author created a modern who-dunnit. However, the slow plot didn't engage the reader until the last few pages.
"For the Federation" by J.A. Becker
Beth is a human augmented to be a killing machine in this SF short. What's more, she's a mother, and her illegal son is infected with leech-like parasites from this godforsaken swamp planet. Somehow, she must protect her son as she guards the colony's president, who happens to be her lover and father to her son.
In this complex situation, Beth must also deal with the powerful tree-like indigenous race, threatening to kill them all. Her problems come to a head when the generals decide she has let motherhood erode her effectiveness, and it's time for a newer clone.
Though the story had a good pace, it failed to engage the reader with enough interest in the outcome.
"Psychic Poker" by Lazarus Black
An anonymous benefactor is organizing a Hawaiian poker tournament in this short fantasy. They hope to find which of the six true psychics is the world's best, and Tyson decides he's not going to play along with the plan. After all, no true psychic wants that kind of notoriety. He prefers to remain in the shadows making enough money with his powers to stay alive.
But then his ex-wife calls to say his daughter is running off to Hawaii, and Tyson knows she is a hostage to force his hand. So he'll go while making sure he loses. But it'll be a real conundrum if the other five psychics decide to do the same.
This was a pleasant short fantasy with a few twists in its tail.
This is the last annual issue of Writers of the Future to be edited by David Farland whose life was tragically cut short this year. This anthology includes last year's WotF winners, which is reflected by the overall high quality of the stories.
---
You can follow Kevin P Hallett's writing on www.kevinphallett.com