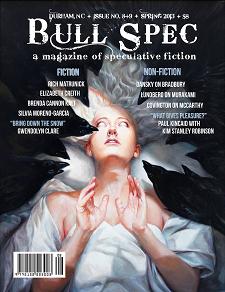 Bull Spec #8/9, Spring 2013
"Nahuales" by Silvia Moreno-Garcia
"Call Down the Snow" by Gwendolyn Clare
"Barren Sky" by Rich Matrunick
"Ancilla" by Brenda Cannon Kalt
"Here Be Dragons" by Elizabeth Creith
"Rogue Zombie" by Peter Wood and Paul Celmer
Reviewed by Cyd Athens
"Nahuales" by Silvia Moreno-Garcia
A woman notices a man in a black leather jacket with a mountain smell about him. From folktales she learned from her great-grandmother, she identifies him as a nahual, one who–according to regional legends–has the power to magically transform into an animal. The encounter rattles her and she hearkens back to protection methods she learned along with the folktales. At first, she only carries nails in her purse that she can throw on the ground to ward her tracks. Then she puts knitting needles and rosemary under her bed. Regardless of what she does, first one, then three nahuales continue to be increasingly interested in her. A fast read about dealing with fear.
"Call Down the Snow" by Gwendolyn Clare
"Gods aren't built for shame." Bemola, the god of this story is, however, is built for making his interest in the woman he has chosen as his successor well known to her. She resists his efforts; he ups the stakes. A cat-and-mouse game with a predictable ending.
"Barren Sky" by Rich Matrunick
In this land, it has not rained for so long that food is being rationed by soldiers with high-tech weapons. Unrest thrives and people are striking out at the rain dancers, in some cases killing them. There are those who believe the rain stopped on the same day that a special child was born–a girl so disfigured that her parents opted to have her made into a human-looking baby cyborg. Desperate people make desperate decisions in the hopes of bringing back the much-needed rain.
"Ancilla" by Brenda Cannon Kalt
At a going away party for two nuns who have served out their terms of service at a Martian colony, it is announced that another member of the team will be returning to Earth instead. While one of the nuns seems unsurprised at the news, the second, who is forced to stay with her Sister, does not take it so well. Neither does the man who is supposed to be returning home. This is a story about faith and what it means to serve where one is sent.
"Here Be Dragons" by Elizabeth Creith
In this post-apocalyptic story, teams of people scavenge department stores for supplies, and live in office buildings they have secured against dragons. These dragons, however, aren't flame-belching, flying creatures. Except for the nictitating membranes in their eyes, they look just like humans. They are the result of a science experiment gone wrong–one that spliced Komodo dragon genes into female ova to enable parthenogenesis, thus enabling infertile women to give birth. Thousands of hopeful women underwent this treatment, resulting in thousands of children who, as their dragon natures became dominant, would murder and cannibalize anyone, even their own parents, without compunction. A pregnant woman, Kim is about to give birth. As survival stories go, this one plays on the emotions.
"Rogue Zombie" by Peter Wood and Paul Celmer
Zombies shambling with outstretched arms, vacant looks in their dead eyes, and capable of communicating little more than their desire to eat brains are all the rage. That this story plays with that stereotype, portraying at least one zombie, Johansen, who skips merrily along and does good deeds makes this short story an enjoyable read.
---
Cyd Athens indulges a speculative fiction addiction from 45ø 29 30.65 N, 122ø 35 30.91 W.