Special Double Review
by
Rick Cartwright & Victoria Silverwolf
---
edited by
Jason Cordova
(Baen, January 2023, 320 pp, Paperback)
"Gadreel's Folly" by Sharon Lee and Steve Miller
"Hold the Line" by Kevin Ikenberry
"A Girl and Her K't'ank" by Jody Lynn Nye
"Airborne All the Way!" by David Drake (reprint, not reviewed)
"Airborne: The Next Mission" by David Drake
"Goddess of War" by A.C. Haskins
"Barbie and Gator Ken versus the Hurricane" by Joelle Presby
"Jeanne d'Architonnerre" by G. Scott Huggins
"Operation Dad Liberation" by Lydia Sherrer and David Sherrer
"Between a Knight and a Hard Place" by Philip Wohlrab
"Next Question" by Marisa Wolf
"Belle's Fantastical Mechanical Beast" by Jason Cordova and Ashley Prior
"Mother" by Robert E. Hampson
"Tread Softly" by Esther Friesner
Reviewed by Rick Cartwright
Chicks in Tank Tops is inspired by the classic Chicks in Chainmail series created and edited by the science fiction icon Esther Friesner, who might have discussed how the original series came about and how the editor of this book, Jason Cordova persuaded her to pass the torch to him in her forward to the book. If that seems vague, it is because any explanation where the phrase "plausible deniability" is liberally sprinkled has to be taken with a grain of salt. Usually the forwards are skipped over in anthologies. Its worth your time to read.
"Gadreel's Folly" by Sharon Lee and Steve Miller explores a different part of the timeline and different people, the Churchly. If you're expecting a classic Liaden story, then stop now because this isn't it. It recounts the adventures of a common soldier/librarian and a nun/healer who can mend cybernetic battle armor as well as broken bones. The story revolves around a growing personal relationship set against the backdrop of a desperate last stand of a sentient fortress against a mechanical enemy that has an uncomfortable resemblance to the heroes of the tale.
"Hold the Line" by Kevin Ikenberry is a familiar tale for anyone who has ever struggled with following the directives of bosses far removed from the front line realities. Ikenberry tells the story of an aggressive tank troop commander struggling with the age-old disconnect between the high command and the line commanders in the context of a battle between human forces and an alien threat with overwhelming numerical supremacy. The military detail is very well done and the characters three-dimensional.
Jodi Lynn Nye's "A Girl and her K't'ank" has envisioned a very special tank that women "in the family way" would line up to get. Detective Sergeant Dena Malone is not only pregnant, but also shares her body with an alien symbiote. Which must be protected at all costs. Our pregnant detective and her partner are tasked to rescue alien hostages. However, things are not as they seem. The story is a mix of action, humor and a touch of absurdity that the author is a past master of creating.
"Airborne: The Next Mission" by David Drake is a follow-on to "Airborne All The Way" which was previously published and not reviewed here. We revisit the motley crew of balloon soldiers consisting of goblins, dragons and mages. One particular mage, who shared many qualities with the classical trope of Second Lieutenant, does not fare well as the balloon crew screws up their way to another success.
"Goddess of War" by AC Haskins is a slice of life type story about a near future tank crew that happens to be all-female. The main character, Sgt. Lily "Athena" Hanover is a tank commander whose tank gets separated from the rest of her troop. The author does an excellent job highlighting that even in the future, the human touch is needed for things as mundane as mechanical repairs and as critical as tactical decisions that could very well end her and her crew's life.
Joelle Presley treats us to a different enemy than most of the stories in "Barbie and Gator Ken versus the Hurricane." In this story, our heroes, both mechanical and human, fight against the elements rescuing people, pets, boats, and Teslas in a flooded Norfolk, Virginia. Ms. Presley came up with a very imaginative nonmilitary use for tanks that kept to the theme of the anthology.
"Jeanne d'Architonnerre" by G. Scott Huggins is a delightful alternative history that weaves the historical characters Machiavelli and da Vinci along with the Italian city state wars of the period in which they lived. In this tale, a blinded da Vinci never pursued his artistic endeavors but instead continued his efforts to create war machines motivated by revenge against the man who blinded him. The inventor is aided by Gia, a young girl with useless legs but a sharp mind, who was a crater in her own right and the pilot of da Vinci's tartaruga, one of the first ideas for the modern tank. The depiction of the Renaissance era tank battle was well done along with the editorial decision to place the story midway in the book as a change of pace.
Lydia Sherrer and her husband David Sherrer combined to pen "Operation Dad Liberation,"a post-apocalyptic story of a teenage girl and her father's sentient tank joining forces to traverse a wasteland to rescue her dad from an unjust imprisonment. The story has just the right balance of drama, action, teenage snark and youthful vulnerability that the author excels at. Recommended.
Philip Wohlrab explores a religious order founded around tanks in "Between a Knight and a Hard Place." Like the Sherrer story, the setting is a post-apocalyptic world where the Church defends the people of the community from a nomadic pagan raider horde whose religion is inordinately fond of human sacrifice. The story has a definite Mad Max vibe to it with a touch of a desperate last stand.
"Next Question" by Marissa Wolf explores the intriguing premise of cloned hybrid human AI partners operating a battle tank. Most of the story takes place inside the head of the main human character and her dialogue with her AI partner. They're placed in a situation where they're forced to question just what their role in a long-running war is and what to do about it.
"Belle's Fantastical Mechanical Beast" by Jason Cordova and Ashley Prior could have only come from the minds of people who have heard the Disney animated story of "Beauty and the Beast" one too many times. The authors skillfully mix just enough of the story to avoid a cease and desist letter from Darth Mouse along with a Belle who is an engineer and inventor and a "beast" is a tank that our heroine has far more affection for than her hunter/tax collector suitor whose belief that the best use for books was to be kindling did nothing to endear himself to Belle.
"Mother" by Robert E. Hampson is probably the darkest of the stories in the anthology. The tale begins with an Al/female human hybrid installed as the controller of a battle tank whose human is fatally injured and her "body" is incapacitated in a lost battle. Over the intervening years the tank cabin and resources are used by refugees to take care of children. Eventually, the cybernetic mother wakes up and aids the biological mother figure of the refugee children to care for and protect her charges. While the story ends on a hopeful note, it gets very dark in places.
Reading "Tread Softly" one could strongly suspect that Esther Friesner saw a draft of "Belle's Fantastical Mechanical Beast" and exclaimed, "I see your Disney princess and I raise you Jane Austen." "Tread Softly" bends, folds, and augments Pride and Prejudice in ways not seen since Pride and Prejudice and Zombies. The story is funny standing on its own with a post apocalyptic take on the familiar story of courtship and manners. Anyone with the slightest knowledge of Jane Austen and Pride and Prejudice is warned not to drink anything while reading the story if you want to avoid spewing liquids.
The anthology is a worthy successor to the Chicks in Chainmail series. It has a different flavor than its predecessors, but tasty all the same. It's a nice blend of voices that is well worth your time and coin.
♦       ♦       ♦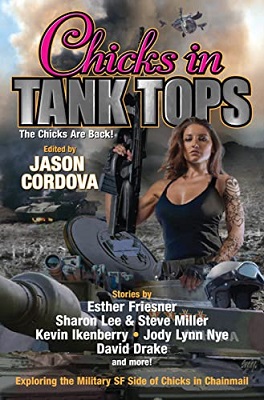 Chicks in Tank Tops
edited by
Jason Cordova
(Baen, January 2023, 320 pp, Paperback)
"Gadreel's Folly" by Sharon Lee and Steve Miller
"Hold the Line" by Kevin Ikenberry
"A Girl and Her K't'ank" by Jody Lynn Nye
"Airborne All the Way!" by David Drake (reprint, not reviewed)
"Airborne: The Next Mission" by David Drake
"Goddess of War" by A.C. Haskins
"Barbie and Gator Ken versus the Hurricane" by Joelle Presby
"Jeanne d'Architonnerre" by G. Scott Huggins
"Operation Dad Liberation" by Lydia Sherrer and David Sherrer
"Between a Knight and a Hard Place" by Philip Wohlrab
"Next Question" by Marisa Wolf
"Belle's Fantastical Mechanical Beast" by Jason Cordova and Ashley Prior
"Mother" by Robert E. Hampson
"Tread Softly" by Esther Friesner
Reviewed by Victoria Silverwolf
Inspired by a series of anthologies edited by Esther Friesner, starting with the similarly titled Chicks in Chainmail, this book contains stories involving women and armored vehicles. Despite the punning title and a joke-filled foreword by Friesner, most of the works are serious, with a couple of humorous tales thrown in for contrast.
In "Gadreel's Folly" by Sharon Lee and Steve Miller, a technician saves the life of a severely wounded soldier, placing his brain inside a robotic body. When enemies approach, the technician connects herself to a war machine and the pair defend an otherwise deserted fortress.
It may be of interest to note that religious terms are used throughout. The technician is a Sister, the fortress is a cathedral, and so forth. Flashbacks provide insight into the character of the soldier. The story is part of a long and complex series, so some aspects of it may be unclear to readers unfamiliar with other works by the authors.
In "Hold the Line" by Kevin Ikenberry, the commander of a troop of futuristic tanks goes against the orders of her superiors in a battle against hordes of insect-like aliens. She risks her career in an effort to defeat the enemy.
Despite the science fiction content, this is essentially a war story, with a great deal of detail concerning battle tactics. Fans of military fiction will appreciate it more than others.
The protagonist of "A Girl and her K't'ank" by Jody Lynn Nye is a pregnant police detective who also carries an alien symbiote in her body. Riding in a special flying vehicle, she accompanies her partner on a raid of a hideout of criminals with a stash of a deadly extraterrestrial poison.
Although not openly comic, the story has a tongue-in-cheek mood, with wisecracks from the characters even during times of danger. The climax involves abilities that the flying vehicle possesses. As these are not described earlier in the text, this comes as something of a deus ex machina.
"Airborne: The Next Mission" by David Drake is a brief comedy in which a hapless woman has to deal with her stupid goblin allies as they launch an attack via hot air balloon. This sequel to the anthology's sole reprint is a minor joke.
"Goddess of War" by A.C. Haskins takes place in the near future, when the United States is at war with Russia in Eastern Europe. A tank breaks down in battle, isolating the crew in the midst of the enemy. The three women inside the vehicle struggle desperately to survive overwhelming odds.
As can be seen, this is another war story with minimal speculative content. The sex of the characters is of no importance, and the same basic plot could be set in the present with few changes.
The narrator of "Barbie and Gator Ken Versus the Hurricane" by Joelle Presby is an emergency worker operating a tank that has been converted for civilian use. As a hurricane approaches her area, she uses the vehicle to perform rescue missions and to clear traffic during evacuations.
The premise offers a refreshing change from the many war stories in the anthology. One rescue effort turns out to involve something much different than expected, in a plot twist that is anticlimactic.
"Jeanne d'Architonnerre" by G. Scott Huggins is a work of alternate history set during the Italian Renaissance. A woman lame from birth is a mechanical genius, and becomes an apprentice to Leonardo da Vinci. After a brutal act of cruelty by Leonardo's former patron, the two combine their skills to create engines of war to be used in a battle for freedom against oppressors.
The author creates a completely convincing portrait of the time and place. The protagonist is an intriguing character, and da Vinci and other real people come to life as well. Exciting battle sequences are balanced against more intimate scenes of a pair of extraordinary persons at work.
"Operation Dad Liberation" by Lydia Sherrer and David Sherrer takes place after an apocalyptic war. A teenage girl sets out in a tank equipped with an artificial intelligence to rescue her father, who has been arrested for a crime committed by someone else. She has to face scavengers who inhabit the wasteland as well the authorities who arrested her father.
The protagonist's age, her relationship with the AI, and a touch of sentimentality suggest that this is a story best appreciated by young adults. Older readers may find that the playful, informal dialogue makes it hard to take the suspenseful plot seriously.
The setting for "Between a Knight and a Hard Place" by Phillip Wohlrab is another devastated landscape. Catholic nuns operating a tank battle the forces of a pagan priestess who practices human sacrifice.
As the above synopsis suggests, this is a story of pure good and pure evil. Although the nuns are reasonably well-developed characters, the priestess is a caricature of malevolence, who stabs her own daughter to death. As a technical point, the author is fond of sound effects and shouted dialogue in all capital letters, which seems amateurish.
The main character in "Next Question" by Marisa Wolf is a clone who has had a symbiotic artificial intelligence present in her brain since birth. During a battle, the two become separated for the first time. Contact with another AI gives the clone insight into her own origin and the nature of the war.
This story offers more sophisticated speculative content than other pieces in the book. At times, the exact nature of the relationship between the clones and the AIs is confusing. Readers willing to make the effort to follow the plot will best appreciate it.
Set in France not long after the Seven Years' War, "Belle's Fantastical Mechanical Beast" by editor Jason Cordova and Ashley Prior features a woman who creates an armored vehicle. She uses the small cannon given to her as a proposal present by the wicked aristocrat who wants to marry her to transform it into a war machine, thus fighting off his threats to her village.
The reader is likely to cheer the heroine and hiss the villain, even if the plot is very simple and predictable. One has to wonder why the aristocrat, even if he is a fool, saw nothing wrong with his intended bride requesting a weapon as a gift.
"Mother" by Robert E. Hampson begins with the consciousness of a woman severely injured in combat downloaded into a computer linked to a series of battle vehicles. Her task is to look after the welfare of the soldiers in the vehicles. Many years later, she is able to perform a similar service for others.
The story consists of multiple scenes that take place over a very long period of time. The structure is inherently episodic, and readers may be left wondering which character is really the protagonist. Although the climax ties things together, and the plot has strong emotional appeal, this has a distancing effect.
"Tread Softly" by Esther Friesner, whose previous anthologies inspired this book, is difficult to describe, given the author's everything-but-the-kitchen-sink style of comedy. In brief, it's a parody of Jane Austen's Pride and Prejudice set in post-apocalyptic times, and featuring a woman obsessed with tanks and a suitor who isn't what he seems to be. The whole thing is extremely silly, and the frenetic pace may leave the reader breathless.
Overall, fans of military science fiction, particularly those who enjoy detailed battle scenes, are the best audience for this anthology. Readers unfamiliar with military science may find many of the stories tedious and confusing. There is enough variety among the rest of the contents of the book to allow these folks to find something else more interesting.
---
Victoria Silverwolf has a middle name that is the same as the editor's last name.