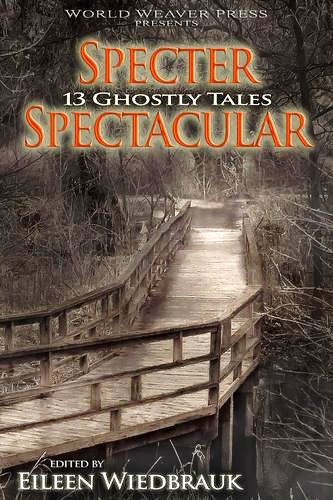 Specter Spectacular: 13 Ghostly Tales
Edited by
Eileen Wiedbrauk
World Weaver Press
(September 25, 2012, 155 pp.)
"My Rest a Stone" by Amanda C. Davis
"Alabaster" by Jamie Rand
"Cinder" by Kristina Wojtaszek
"The Haunts of Albert Einstein" by Larry Hodges
"Safe Upon the Shore" by Kou K. Nelson
"Wendigo" by Shannon Robinson
"The Little House at Bull Run Creek" by Robbie MacNiven
"Death and Taxes" by A. E. Decker
"'What if it could speak!'" by Terence Kuch
"Pushed Out" by Jay Wilburn
"A Fitting Tribute" by Andrea Janes
"The Secret of Echo Cottage" by Sue Houghton
"Cooter, Ass-munch, and Me" by Calie Voorhis
Reviewed by John Sulyok
Specter Spectacular: 13 Ghostly Tales is a nice little collection to read this Halloween. It's a mixed bag in terms of quality, ranging from trope-filled, paint-by-numbers tales to legitimate spine-tinglers, and unique variations on common themes. The tie that binds these stories is the ghost. But they vary greatly in how ghosts and spirits are used, and the tones and atmosphere each story creates. Overall, it's a fun, quick read.
"My Rest a Stone" by Amanda C. Davis
The collection begins with a strong concept in a very short tale. The story of the survivors of a shipwreck hoping to be rescued is told from the perspective of a child aboard the lifeboat. The end has a pleasant surprise, giving the short piece a nice conclusion.
The concept is strong, but the execution is not. The narrative often loses the feeling that it belongs to the thoughts of a doll-clutching child. Words like "spite" are used, which do not seem to fit. And the dialogue uses a strange convention, devoid of quotation marks and punctuation, with every word beginning with a capital letter. It becomes a chore to sift through and could have been improved simply by italicizing.
"Alabaster" by Jamie Rand
Ben is a child, not yet a teen, travelling with his father and uncle to the family cabin in the woods. It is a time for male bonding, and Ben is especially excited to be allowed to shoot a rifle for the first time. But, this being a ghost story, it is not going to be a peaceful weekend. Across the lake rest the remains of an old cabin, long burned down, though curiously regenerating. Ben is warned by his father and uncle to stay away from it, but…
Almost immediately, the story is hampered by a very confusing car ride. It's very difficult to know who is speaking to whom and how the characters are related because of far too many pronouns and not enough proper names. The rest of the story settles in a little better as far as the narrative is concerned. It also feels like the narrative wants to be from Ben's perspective, but is not committed to the concept.
While the story remains fairly interesting, the end does not have enough impact despite its best efforts.
"Cinder" by Kristina Wojtaszek
Edan is a part-time firefighter, husband, and father, kind and empathetic. When he fails to save a woman's dog from her burning house, he offers to bury the creature in his own yard, ensuring it a proper resting place. Without spoiling anything, even from the first few pages, it is enough to say the dog plays a larger role in the story than it would seem.
"Cinder" is a tale that tries to be different. And it succeeds. The prose is strong and action is paced perfectly. A few tired tropes work their way into the story, but they are fleeting and surpassed by the story as a whole. This one is worth revisiting.
"The Haunts of Albert Einstein" by Larry Hodges
Albert Einstein was one of the greatest problem solvers while he lived. As it turns out, he can solve some pretty important problems in his afterlife as well, namely the overpopulation of the Earth by ghosts. With some aid from other great minds and a "mostly still alive" Stephen Hawking, Einstein solves this problem. Kind of.
This is a quirky little tale with some interesting facts and some non-existent science. It really is difficult to criticize for some of these faults because of its comical nature. There isn't much substance to this one, but it's commendable and charming in its own way.
"Safe Upon the Shore" by Kou K. Nelson
The men of the Theresa Maria are returning home to a Newfoundland harbor. Their wives eagerly awaiting, unable to contain their emotions at the thought of holding and touching their husbands once more. After all, it had been twelve years since they were last able to. The sailors' visit is not nearly long enough, the sea that took their lives calling them back, and for the women, it is too hard to bear.
The narrative is affected with a Newfoundland accent that adds so much to the atmosphere of the piece. It is done well and with reason. Although the story leaves one wanting more, nothing more is needed.
"Wendigo" by Shannon Robinson
Maggie lives in Toronto. Her brother Clifford lives in Berlin. He's an alcoholic and she's the only one in the family that will still talk to him. He would call infrequently while he was alive. But now that he's dead he calls more often. And it's freaking Maggie out.
"Wendigo" is a frustrating story because for the first half there isn't much to like about any of the characters. But the ending was absolutely chilling. It's hard to pinpoint why exactly. Whether it was the writing or the atmosphere, or the sense that things were coming to a head, something made my blood race. And that doesn't happen often at all.
"The Little House at Bull Run Creek" by Robbie MacNiven
Set during the American Civil War, a troop of blue coats finds refuge from a bad storm in a seemingly abandoned house. From there, the story follows all the standard haunted house tropes. Sounds heard by some, but not others. Specters seen by some, but not others. Distrust brewing among the troop. And so on.
The biggest problems, however, revolve around the writing itself. Characters are archetypes and do not develop. There is plenty of saying and not nearly enough showing. Emotions need to be acted out by the characters, not just stated in plain text.
"Death and Taxes" by A. E. Decker
Jeck is a headless horseman, once an assassin, and not very scary. Sure, he's tried the old throw-your-head-at-people trick, but maybe he's done it too often. He's not so much a local ghoul as he is a local nuisance. But when he meets a man trying to hang himself, Jeck discovers one sure way to frighten just about anybody.
There's a light-heartedness throughout "Death and Taxes," which sets it apart from some of the more serious content. It might have been nice to have the seriousness wax and wane, however, to keep things a little more interesting.
"'What if it could speak!'" by Terence Kuch
Told from the point of view of a marble effigy, this one gets points for trying something different, but loses points for style. The prose is written in short, sputtering sentences that feel like point-form notes rather than a finished product. The plot is lost amid the narrative, but "vengeance" sums it up.
"Pushed Out" by Jay Wilburn
Al is a recently deceased family man, whose spirit doesn't want to leave his family quite yet. His four-year-old son, Hank, is the only one in the family he can communicate with. But instead of sending his wife a message through Hank that he is still with them, he only manages to confuse and terrify his son.
The two biggest problems with "Pushed Out" are the unrealistic, tired, and clichéd way the family acts and reacts to what's happening around them, and the almost completely absent plot. It just isn't good.
"A Fitting Tribute" by Andrea Janes
The tale of a girl and her dying aunt, it does little more than play on the old twists of comeuppances and be-careful-what-you-wish-fors. The young girl is unhappy with her ailing aunt's presence, so she plays cruel jokes on her and wishes her into the grave. It's a bare story and forgettable, and ends as so many spooky stories do.
"The Secret of Echo Cottage" by Sue Houghton
Alison and Jason are Americans newly relocated to England, and just moving into Echo Cottage. Alison finds herself in the position of the spouse experiencing paranormal phenomena, while Jason plays the role of the disbeliever. What Alison is seeing are people, and what she's hearing are airplanes. There is no airport nearby however, but there was in 1945 when there was an airbase there. The rest is a story about small-town secrets from the past.
The story doesn't go off the beaten track, but moves along in a pleasing way. It's a comfortable tale, perfect for a cool Halloween afternoon with a cup of cocoa.
"Cooter, Ass-munch, and Me" by Calie Voorhis
The collection's finale is a quirky entry with a lot of style. Told from the first-person perspective of a bartender giving an interview to a journalist, it's a fresh break from form. His narrative describes how the bar's owner decided to get the place on the ghost tour, by creating the story of a Confederate ghost named Cooter haunting the bar.
It's a matter-of-fact story, but told with some flare and a nice little ending, bringing the collection to a satisfying end.