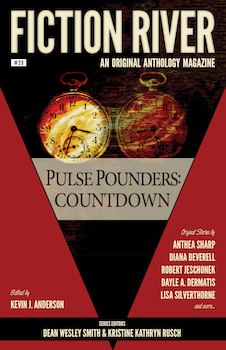 Fiction River #29: Pulse Pounders
Edited
by
Kevin J. Anderson
(WMG Publishing, October 2018, pb, 287 pp.)
"Payback is a Bitch" by Diana Deverell
"Death-Blind" by Robert Jeschonek
"The Airship Adventures of Captain Jane Fury" by Anthea Sharp
"Fifteen Men on a Dead Man's Chest" by Henry Martin
"The Tomb of Arisel" by Bonnie Elizabeth
"Goodnight, Madison" by Lisa Silverthorne
"Romancing the Puffin" by Louisa Swann
"Dominant Species" by Dayle A. Dermatis
"Three Seconds" by T. Thorn Coyle
"Blood Chase" by Leah Cutter
"Caterpillar Boot Man" by Valerie Brook
"The Case of the Dead Son" by Laura Ware
"Breakfast at Luigi's" by Thea Hutcheson
"Black Phantom, Gray Op" by Stefon Mears
"The Last Ramekin" by Liz Pierce
"The Princess, the Huntsman and the Monster" by Erik Lynd
Reviewed by Tara Grímravn
There are sixteen stories in this anthology issue of Fiction River. Aptly named "Pulse Pounders," this selection of tales is fast-paced and explosive. It's like a rollercoaster ride of thrills and excitement. But don't expect this to be all car chases and action heroes. The stories here run the gamut, with excellent specimens from several genres.
"Payback is a Bitch" by Diana Deverell
Bella, a federal security guard for embassies around the world, is being held captive by her former crew. Their intent is to hand her over to the Islamic State but they've severely underestimated their prisoner. Written in first-person present tense, Deverell's story is incredibly fast-moving. The reader is immediately pulled into the action and the tension doesn't let up even at the end.
"Death-Blind" by Robert Jeschonek
A man wakes up in a strange series of rooms. His own voice comes over a P. A. system, telling him that he has to kill one of three people in these rooms in order to be set free. And he only has fifteen minutes to choose a victim. Again written in the first-person present tense, Jeschonek's story is interesting. The nature of the storyline alone lends a sense of urgency to the tale but the author also makes use of some interesting line breaks and half-finished sentences that do a nice job of increasing the tension, as well as perhaps indicating the somewhat broken mental aspects of the protagonist, who is supposedly a hypnotized killer. The ending was my only issue—for me, it sort of fell flat.
"The Airship Adventures of Captain Jane Fury" by Anthea Sharp
An airship captain dodges pirates and sky monsters in order to deliver the true heir to England's throne. This steampunk-style story starts out slow but picks up its pace immediately with a momentum that carries through to the end. The tension in the story is immediately apparent from word one, even if it's due only to the anxiety that the characters feel, which places the reader on edge in anticipation of things to come. The tension continues to build through pirate and monster attacks, only giving the reader a chance to breathe at the very end.
"Fifteen Men on a Dead Man's Chest" by Henry Martin
Modern Navy Seals are deployed to deal with what they thought were Somali pirates aboard a stolen ship. On acquiring their target, however, the mission suddenly becomes a lot more complicated as they find out what was really hidden in the cargo. According to the introduction, Martin is a former military man and his description of the mission operations is certainly detailed. It's easy to imagine this sort of situation could happen, especially in today's global political climate. While not my cup of tea, the story was quite well done and most certainly keeps the reader's attention throughout.
"The Tomb of Arisel" by Bonnie Elizabeth
A grieving woman braves a tomb filled with undead guardians in order to bring her lover back from the dead. Elizabeth's fantasy offering was richly imagined. While not the most "pulse-pounding" of stories, the pace was steady. It was most definitely brisk enough to keep the forward momentum going. The obstacles the protagonist faces were not by any means unique. In fact, anyone familiar with Skyrim or The Elder Scrolls will immediately recognize the fantasy trope of skeletal armored guardians asleep in alcoves waiting to dispatch any intruders wandering into their territory. What made the story stand out was Arisel herself. Although the goddess is only a well-preserved corpse, I would have liked to have seen a little more of her story revealed.
"Goodnight, Madison" by Lisa Silverthorne
An unknown kidnapper targets the children of police in revenge for his own child's death. The officers must find the kids before time runs out. Silverthorne's story keeps up a nice brisk pace throughout, slowing only slightly in the middle. She's created a strong emotional connection between the reader and the narrator. All in all, it was a nice crime story with a sweet happy ending.
"Romancing the Puffin" by Louisa Swann
A biologist is trapped in the body of an emperor penguin after a disagreement with his very odd girlfriend. Leaving him stranded in the Antarctic Ocean, his only chance at getting back to normal is to return to the research station. This is quite an entertaining story. Swann has sprinkled a healthy dose of humor throughout the work, alongside a few pretty scary images, such as having to escape a hungry lion seal. The ending itself is quirky but incredibly amusing in the way it answered the one question threaded throughout the story—just why did Bella turn him into a penguin?
"Dominant Species" by Dayle A. Dermatis
A shapeshifter investigates rumors of animal cruelty in California, only to end up being used as bait in a dogfighting operation. Pitted against another shapeshifter, she has to find a way to escape with her life. Dermatis' story stood out to me mostly for its very imaginative look at shapeshifting. For the most part, the description of the biological changes a shapeshifter goes through was well-thought out. There were a couple of points that I felt broke the illusion, though, as I tried to imagine the mechanics of a few of the protagonist's actions. Things like whether a coyote could carry a duffel bag for a long stretch of time, especially trying to scrabble uphill in rough terrain. Another was the sudden mention of panties at the end of the story. I couldn't help but wonder if her coyote form had been wearing panties all along.
"Three Seconds" by T. Thorn Coyle
After a one night stand, a spy/bodyguard-for-hire wakes to find himself hand-cuffed and strung up in his own bedroom, the most likely culprit being his old partner. Coyle's story is well written, to be sure. The premise is intriguing enough and the ending was certainly a bit of a twist. Unfortunately, in terms of pacing, the narrative seemed to drag a bit for an action tale. Even the parts that were meant to be tense ticked by rather slowly. On the positive side, this does give the reader time to get a very good feel for the narrator's thoughts and feelings.
"Blood Chase" by Leah Cutter
An imperial assassin is sent to eliminate one of the emperor's enemies and encounters more than her share of mishaps. The worst one? A magical hound that enjoys a good game of chase. This tale is something of a backstory vignette for a character in one of Cutter's books. The story starts right in the middle of some pretty tense action, which really doesn't let up until the very end. In terms of world-building, the reader is given enough information, both cultural and geographical, to be able to situate themselves within the story, even if they've not read Cutter's Tales from the Tanesh Empire trilogy. Really, this tale is well worth a read.
"Caterpillar Boot Man" by Valerie Brook
While enjoying a starlit evening on a deserted country road, two young lovers are attacked by a demented man, hell-bent on killing them both. I have to say, this was a very quick read. Not because it was short but because the pacing and tension were such that they carried me through all the way to the end. Much of the focus was on the mental condition of Cuba, the protagonist, and the state of delirium he was in due to the trauma. However, it's the pain-induced delusion of being in a high school wrestling match that carries him through the harrowing ordeal.
"The Case of the Dead Son" by Laura Ware
Humans have discovered that the magical world of fairies and elves has lived beside them all along. Now living side-by-side with humans in an area known as the Neighborhood, a half-elf detective is given twelve hours to find out who killed the son of a powerful councilman or die himself. Like Cutter's story above, Ware's tale is a stand-alone vignette about an established character from some of her other novels. The mix of a gritty modern-day crime drama with strong fantasy elements (like uniformed police trolls) was quite nice.
"Breakfast at Luigi's" by Thea Hutcheson
Deirdre thought a sugar daddy would be the answer to getting her degree bought and paid for. She found exactly what she was looking for and more when she met Luigi, especially when a couple of his old associates show up looking for money. This is a decent action offering from Hutcheson.
"Black Phantom, Gray Op" by Stefon Mears
A former Terran Navy starship pilot who used to fly black ops missions into alien territory is gang-pressed into making one more covert run. This time, however, it's for a civilian rescue mission. Mears' story felt like something of a mix between Firefly, Guardians of the Galaxy, and Star Wars. The three main characters were very likable and well-developed and the series of events was logical and believable. This shouldn't be any surprise, however, as the story itself is based on the universe he created in his novel Stealing from Pirates. What was nice about "Black Phantom, Gray Op" is that it focuses on a much smaller and more personal event than planetary war—one that might change a former military man's outlook or even push him into a new career.
"The Last Ramekin" by Liz Pierce
Witches, wizards, and sorcerers compete in a magical cooking competition. In the final round, however, the use of their magical skills is completely forbidden. One contestant, a kitchen witch, is thought to be a lame duck compared to the other competitors but there's a lesson to be learned about camaraderie. This has to be the most unusual offering in this anthology. The story's premise, in general, is really quite charming, and a competition between magical folk who can't use magic lest they be disqualified was a lot of fun. The heartwarming ending was a nice touch, I thought.
"The Princess, the Huntsman and the Monster" by Erik Lynd
A young girl escapes a madman who held her captive for several days. On the brink of death, she's rescued by a young man who nurses her back to health. Before returning home, she decides to take revenge on her former tormentor. Lynd certainly doesn't hold back when it comes to description. He engages every sense in this story and the way the dialogue is written gives it a fairytale-like feel, which certainly fits in with the title. It was really a very good horror story.